McKendree in Top 15 Percent of 'Military Friendly Schools' for 2013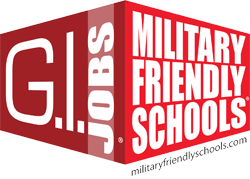 Lebanon, Ill. & Radcliff, Ky. – McKendree University has earned a "Military Friendly School" designation in 2013 for a fourth consecutive year from Victory Media, which markets to military personnel transitioning into civilian life. Its 2013 Military Friendly Schools® list honors the top 15 percent of over 12,000 colleges, universities and trade schools nationwide that are doing the most to embrace the education needs of military service members, veterans and spouses and to ensure their success on campus.

Enrollment of students receiving military benefits has steadily increased at McKendree's Lebanon, Ill., campus, the Center at Scott Air Force Base, and its Louisville and Radcliff, Ky., locations. "We continue our commitment to meeting the needs of these students so that they may achieve their academic goals," said Dr. Christine Bahr, McKendree University provost and dean.

Several McKendree staff members are designated specifically to assist students and their families who are using veteran benefits. They are available to certify enrollment to the Department of Veterans Affairs (VA), help process claims and answer questions concerning veterans' benefits. McKendree also participates in the VA's Yellow Ribbon Program. To qualify, veterans must be 100 percent eligible for the Post-9/11 GI Bill®. Information for military students is online at our MIlitary and Veterans Services webpage.

"Inclusion on the 2013 list of Military Friendly Schools ® shows McKendree's commitment to providing a supportive environment for military students," said Sean Collins, director for G.I. Jobs magazine and vice president at Victory Media. The website militaryfriendlyschools.com features the list, interactive tools and search functionality to help these students find the best school to suit their needs and preferences.

The 1,739 colleges, universities and trade schools on this year's list exhibit leading practices in the recruitment and retention of students with military experience, according to a press release issued by Victory Media. The 2013 list was compiled through extensive research and a data-driven survey of more than 12,000 VA-approved schools. Each year schools taking the survey are held to a higher standard than the previous year via improved methodology, criteria and weightings developed with an Academic Advisory Board of educators from schools across the U.S.

A full story and the detailed 2013 list will be highlighted in the annual "G.I. Jobs Guide to Military Friendly Schools." It will be distributed to hundreds of thousands of active and former military personnel in early October.

- McK -
Victory Media Inc. is a service-disabled, veteran-owned small business founded in 2001. Victory's free, data-driven, Military Friendly® lists can be found at www.ijobs.com/2012Top100. Victory's lists are also published in G.I. Jobs, Military Spouse, and Vetrepreneur magazines, republished in national and local periodicals and are frequently cited on national and local TV stations.