Larry Hundsdorfer Promoted to Lieutenant of McKendree University's Public Safety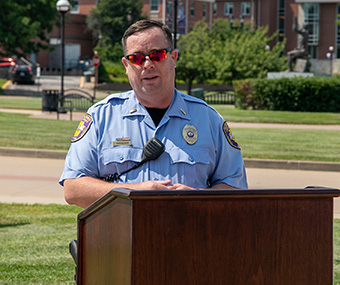 (LEBANON, Ill., May 27, 2021) - Larry Hundsdorfer was promoted to lieutenant during a ceremony in the circle drive in front of the Hett on Wednesday, July 7. His new duties will include supervising the daily activities of the Department of Public Safety and its officers, conducting preliminary investigations of minor incidents occurring on University property, providing investigative assistance to police-involved activity with preliminary and follow-up investigations, preparing comprehensive reports on all reported incidents and more.

"It is my honor and privilege to be able to serve among the officers of Public Safety," said Larry. "I appreciate the opportunity to continue to move the department forward alongside a great team and Chief Tomlinson."

Larry has been with McKendree University Public Safety for 23 years. A 2004 graduate from The Southwestern Illinois Police Academy (SWIPA), he also served his country in the United States Army for 14 years as a military police officer, completing combat tours in Saudi Arabia and Iraq. Larry is married to Melanie and has two sons, William and Elias.

"Larry Hundsdorfer has been an enormous part of the success of McKendree Public Safety. His leadership will undoubtedly enhance the progress of the department," said Tony Tomlinson, director of Public Safety.