Admiral Parkway, Inc. Owner and President Joe Koppeis to Speak at McKendree on October 12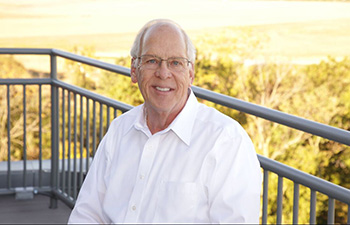 (LEBANON, Ill., October 4, 2021) – McKendree University Board of Trustee member Joe Koppeis, the owner and president of Admiral Parkway, Inc., will discuss his entrepreneurial success on Tuesday, Oct. 12 at the Hettenhausen Center for the Arts on the McKendree University campus in Lebanon, Ill. The lecture is slated to begin at 7 p.m.

The event is sponsored by the University's annual Wayne E. Lanter Lecture Series, which invites influential business leaders and entrepreneurs to share their insight and strategies for success. Admission is free and the public is welcome to attend.

A resident of Columbia, Ill., Koppeis owns restaurants, hotels, hardware stores, shopping centers, supermarkets and other businesses in Southern Illinois. He grew up in the food business with his first job scrubbing floors and cleaning meat equipment at the age of 13. Over the years, he has held various jobs related to the food industry from managing food stores to supervising multiple stores and selecting sites for new stores. Koppeis built, owned and operated The Market Place, a 44,874-square-foot supermarket for 25 years. He sold the grocery operation to Schnucks Markets, Inc. in 2013 but still owns and operates the shopping center.

Admiral Parkway, Inc. is the developer for Rock City, a state-of-the-art development encompassing approximately six million square feet located in an extensive man-made cave system near the bluffs in Valmeyer, Ill. When the Village of Valmeyer relocated following the 1993 flood, the Village took over ownership of the quarry property in 1995. In 2000, the Village entered into an agreement with Admiral Parkway, Inc. to develop the abandoned quarry into an underground business complex.

In early 2007, Koppeis constructed the "Warehouse," a 200,000-square-foot temperature-controlled refrigerated site in Rock City. Infrastructure includes roads, street lights, sewer, fire suppression, electricity, and phone and fiber optic availability. The Warehouse is now 287,403-square-feet with over $40,000,000 in private investments. Tenants include Blueline, Cargill and Branding Iron.

In addition to Admiral Parkway, Inc., Koppeis developed and currently owns and operates several shopping centers and businesses in Southern Illinois, including the Holiday Inn Express Hotel & Suites hotel in Sparta and Murphysboro; shopping centers in Chester, Columbia, Freeburg, Du Quoin, Murphysboro and Sparta; and office buildings in Columbia. He owns the buildings and operates grocery stores in Nashville and Freeburg, owns and operates Ace Hardware franchises in Chester, Du Quoin, Energy and Freeburg; and Domino's Pizza franchises in Carbondale, Chester, Du Quoin, Freeburg, Benton, West Frankfort and Carterville.

For more information, please contact the University's Development, Alumni and Parent Relations office at (618) 537-6862.
-McK-