McKendree University Honors Outstanding Students, Faculty and Staff
Honors Convocation Held During Academic Excellence Celebration

(LEBANON, Ill., April 25, 2019) — McKendree University recognized academic achievers across all disciplines and presented awards to faculty and staff members at its annual Honors Convocation held on April 25 at the Hettenhausen Center for the Arts. The event was part of the university's sixth annual Academic Excellence Celebration. Students were recognized for maintaining high grade point averages while participating in clubs and organizations, athletics, music, and service projects. Photos from the event will be posted at mckendree.edu/photos.

Terese Kasson, accounting instructor, gave the opening address, "Life in Balance" in which she advised students to "plan and save for the future but don't forget to stop and smell the roses. You want to maximize your quality of life quotient today while also building assets on your balance sheet to enjoy life in the future."

Dr. Nancy Ypma received the 2019 Exemplary Teacher Award, given by the General Board of Higher Education and Ministry of The United Methodist Church. Selection criteria include excellence in teaching, civility and concern for students and colleagues, commitment to value-centered education, and service to students, the institution and the community.

The professor of music has taught at McKendree since 1988. She chairs the Division of Visual and Performing Arts, ensuring that the music, art and theatre curricula and programs are of the highest quality. Named a Distinguished Service Professor in 2018, she has led or served on numerous faculty committees and has been the university's pianist and organist for 30 years.

"She is widely regarded as an excellent teacher and a leader among the faculty," said Dr. Christine Bahr, provost. "She challenges students to do their best work and often provides learning experiences outside of the classroom."

Associate Faculty Awards for Excellence in Teaching were presented to part-time faculty members Dr. Tracey Layng-Awasthi and Antonio (Tony) Emanuel. Hired in 2010, Layng-Awasthi teaches classroom and online undergraduate courses in College Writing Strategies, Research and Writing, American Literature, and Coming of Age Literature. She has also tutored for several years in the Writing Center, where she is particularly skilled at teaching English language learners. Her background in secondary education is valuable in preparing students who plan to teach English.

Emanuel has taught part-time in the School of Business since 2016. He teaches Accounting for Managers and Corporate Finance courses online in the MBA program. Faculty colleagues have noted his helpfulness, and graduate students like that he uses a variety of instructional activities, is flexible and accommodating, and provides information that they can readily apply to their careers.

Tim Mullins, printing and mail services manager, received the sixth annual President's Award for Professional Excellence. Recipients demonstrate leadership, distinguished accomplishment, performance beyond the call of duty, creativity and innovation, and outstanding service. Dr. James Dennis, university president, praised Mullins as a "behind-the-scenes employee who is always willing to go above and beyond" to help out, set up, make repairs or offer advice and support, in addition to managing the print shop and mailroom. Currently in his twenty-seventh year of service, "he is 'Mr. McKendree' himself," Dennis said.

School and division chairs introduced the following students for exceptional achievement within their respective areas:
College of Arts and Sciences

Division of Computing, Dr. Kian Pokorny, chairperson
Joshua Muckensturm, Swansea, Ill., computer science

Division of Humanities, Dr. Kevin Zanelotti, chairperson
Sophia Jeffery, Mascoutah, Ill., English
Kaleea Washington, Joliet, Ill., organizational communication
Grant Riggs, Highland, Ill., public relations studies
Darian Hull, Highland, Ill., religious studies

Division of Science & Mathematics, Dr. Michele Schutzenhofer, chairperson
Ashley Hathaway, Carrollton, Texas, biology
Brittni Futrell, Collinsville, Ill., biopsychology
Kristyn Tully, Homewood, Ill., mathematics

Division of Social Sciences, Dr. Neil Quisenberry, chairperson
Sydnie Markowski, Foristell, Mo., biopsychology
Brian Larcom, Shiloh, Ill., history
Jeffery Brown Jr., Fairview Heights, Ill., history education
Andrew Wagner, Waterloo, Ill., international relations
Naeelah Chism, Fairview Heights, Ill., political science
Tionna Hough, Mesquite, Texas, psychology
Jordan Morton, Olathe, Kan., psychology
Jace Mossor, Mascoutah, Ill., sociology
Cassandra Powell, O'Fallon, Ill., sociology

Online Programs:
Thomas LaMora, St. Louis, Mo., psychology
Casey Athmer, Breese, Ill., sociology-criminal justice

Master of Arts:
Sarah Goetze, Green Valley, Ill., criminal justice

Division of Visual and Performing Arts, Dr. Nancy S. Ypma, chairperson
Hailey Kingston, Lebanon, Ill., music education-instrumental

School of Business, Dr. Jean Sampson, chairperson
Morgan Melchert, Mount Vernon, Iowa, The School of Business Outstanding Student of the Year, sponsored by Northwestern Mutual
Brayden Polansky, Troy, Ill., accounting
Melissa Lanter, Mascoutah, Ill., business administration
Patrick Lampe, Centralia, Ill., economics and finance
Gary Ewin, Mt. Olive, Ill., entrepreneurship
Jelisa Wallace, O'Fallon, Ill., human resource management
Blake Benoist, Pacific, Mo., marketing
Katlyn Roe, Okawville, Ill., management
Megan Radae, Glen Carbon, Ill., sport management

Center at Scott Air Force Base:
Jonathan Hendricks, Vacaville, Calif., accounting
Courtney Pillischafske, Belleville, Ill., business administration
Susan Chapman, Troy, Ill., management
Brittney Troie, St. Louis, Mo., marketing

Online Programs:
Jennifer LaCoax, Wood River, Ill., business administration
Jennifer Bruce, Red Bud, Ill., human resource management
Cynthia Johnson, Scott Air Force Base, Ill., marketing

Master of Business Administration:
Jeff Jacober, Trenton, Ill., business administration
Heather Mojica, Belleville, Ill., business administration
Rachel Macon, Mascoutah, Ill., human resource management

School of Education, Dr. Allison Fahsl, chairperson
Ciara Janas, Belleville, Ill., elementary education

Master of Arts in Education:
Alexa Huelsmann, Edwardsville, Ill., special education

School of Nursing and Health Professions

Division of Health Professions, Dr. Dawn Hankins, chairperson
Kyle Klawitter, Mulberry Grove, Ill., athletic training
Evelyn Garren, St. Louis, Mo., exercise science and sports performance
Peyton Ali, Noblesville, Ind., health and wellness
Megan Black, Batavia, Iowa, physical education

Division of Nursing, Dr. Kelli Whittington, chairperson
Keri Brooks, Granite City, Ill., nursing
Lee Ann Anheuser, Du Quoin, Ill., nursing

Master of Science in Nursing:
Tarah Haskenherm, Effingham, Ill., nursing education
Lesli Bethard, Louisville, Ky., nursing management and administration

Doctor of Nursing Practice:
Denise Caldwell, Alhambra, Ill., ethical leadership

Honors Program, Dr. Shelly Lemons, director
Anna Belmonte, O'Fallon, Ill.; Jasmine Bailey, Iowa City, Iowa; Haylee Christ, Edwardsville, Ill.;  Haleigh Day, Sandoval, Ill.; Christie Draper, Heartland, Texas; Justin Fausz, Maeystown, Ill.; Taylor Ganz, Freeburg, Ill.; Morgan Hall, Vandalia, Ill.; Michael Hamilton, Carlyle, Ill.; Mitchell Kunz, Goodfield, Ill.; Hudson Mitchell, Sherwood, Ark.; Jazzmine Mitchell, Chicago, Ill.; Jordan Morton, Olathe, Kan.; Brittany Schmidtke, O'Fallon, Ill.; Rachel Stanley, Marine, Ill.; Paige Stumpf, Waterloo, Ill.; J. Marcus Trout, Waterloo, Ill.; and Andrew Wagner, Waterloo, Ill.

Active Collegians Engaged in Service (ACES), Dr. Joni Bastian, vice president for student affairs and dean of students
Rachael Fulton, Collinsville, Ill.; Kelsey Schultz, Belleville, Ill.

Newman Civic Fellow Award
Ebony Luster, Cahokia, Ill.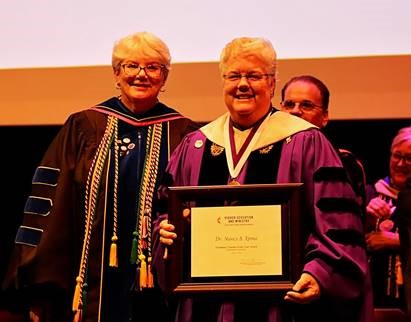 Dr. Christine Bahr, provost, congratulates Dr. Nancy Ypma, 2019 UMC Exemplary Teacher Award winner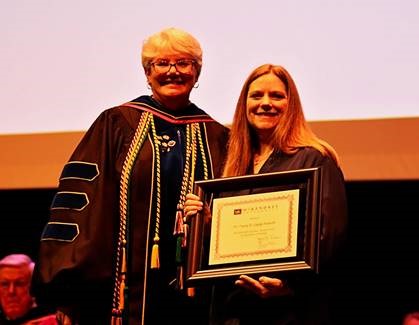 Dr. Bahr with Dr. Tracey Layng-Awasthi, Associate Faculty Award winner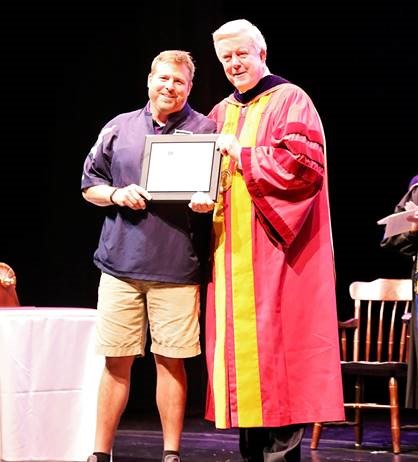 Tim Mullins accepts the President's Award for Professional Excellence from Dr. James Dennis, university president