Gobsmacked! Is Coming to the Hett on Feb. 6
A Capella Beatbox Champions from the U.K.

(LEBANON, Ill., December 14, 2017) - Straight from London, a high-energy concert … without a single musical instrument? That is Gobsmacked!, an all a cappella, all beatbox show coming to McKendree University's Hettenhausen Center for the Arts on Tuesday, Feb. 6 at 7:30 p.m.

"This is high-powered entertainment. People will be blown away by both the talent on stage and the cutting edge musical arrangements," said Peter Palermo, director of the Hett.

Tickets are $26 adults, $24 seniors, $10 students and children, and $5 for McKendree University faculty and staff. Call the box office at 618-537-6863 or visit theHett.com to reserve seats.

Gobsmacked! weaves urban tales of love, loss and redemption through all forms of a cappella, from traditional street corner harmonies to cutting-edge, multi-track live looping. It features three-time undefeated U.K. Beatbox Champion and current World Team Champion Ball-Zee and an international cast of vocalists. Coming off sell-out seasons in London, Hong Kong and Edinburgh, Gobsmacked! is based in the U.K., where critics have called it "entertainment not to be missed" (Broadway Baby) and "better than 'Glee'…mesmerizing" (EdFest Magazine).

Though one of the oldest forms of music, a cappella singing has recently reached mainstream popularity. Movies such as "Pitch Perfect," TV shows like "Glee" and groups like Pentatonix, Straight No Chaser and Naturally 7 have taken a cappella vocals from street corners to stadiums. The producers of Gobsmacked! have created a family friendly show (recommended ages five and older) that takes its audience on a journey through music. The creators have worked with artists such as Daft Punk, Britney Spears, Jose Carreras, Buena Vista Social Club and Soweto Gospel Choir.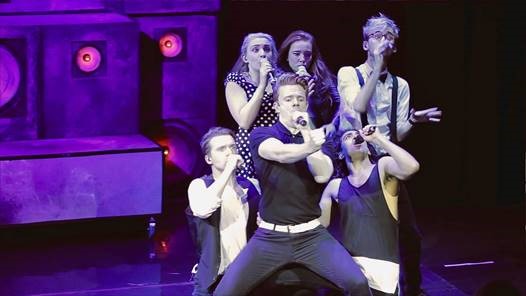 Gobsmacked! will be at the Hett on Feb. 6
-McK-