McKendree Students Among Top Finishers in DoE CyberForce Competition
(LEBANON, Ill., December 11, 2020) — McKendree University students made an impressive showing in the U.S. Department of Energy's (DoE) sixth annual CyberForce Competition™ on Nov. 14.  

CyberForce provides hands-on cyber education to college students and professionals, awareness into the critical infrastructure and cybersecurity nexus, and a basic understanding of cyber security within a real-world scenario. This year's scenario required the student competitors to secure and report on a fictitious wind energy company in charge of more than 20,000 megawatts of electricity generation that had been experiencing abnormal network activity. 

CyberForce is typically an in-person competition for teams of six members. To ensure the safety and health of participants during the Covid-19 pandemic, the 2020 event was designed as an all-day, virtual challenge for individual competitors rather than teams. 

While more than 450 college students across the nation participated remotely this year, only 201 students from 38 states earned points. Two from McKendree University's 117th Cyber Defense Regiment team were among the top scorers: Alyssa Koston, of Rochester, N.Y., a graduate student in the MBA cyber defense program, placed ninth and Jakob Eddleman, a sophomore cyber defense major from Anna, Ill., was 13th. Charlie Vorhees, a first-year computer science major from Mascoutah, Ill., finished in 57th place. 

"This is the 117th's third year in existence and having three people score in the top 60, let alone two in the top 15, is amazing," said George Kriss, director of information technology and the team's advisor. The McKendree students outperformed others from large state schools such as the University of Illinois, Kansas State, and the University of Kansas, for example. 
-McK-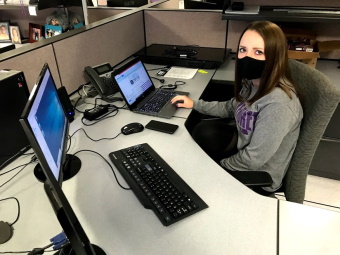 Alyssa Koston, a McKendree University graduate student in the MBA cyber defense program, finished ninth among more than 200 students in the Department of Energy's CyberForce virtual competition.