McKendree University Welcomes Class of 2027
The Class of 2027 represents the second-largest class in University history.
(LEBANON, Ill., August 21, 2023) – McKendree University welcomed the Class of 2027 to campus on Wednesday, Aug. 16 as more than 500 first-year students and transfer students arrived on campus this week. This is the second largest class in the university's history. Excitement filled the air as the new students lined the streets and processed to the university's front lawn, international flags flying and students holding posters of the states they represented.
Continuing a trend from recent years, an increasing number of new Bearcats are from out of state or from other countries. While 56 percent of the Class of 2027 have come from throughout Illinois, others represent 34 additional states, as well as 28 other countries. International students have arrived from Argentina, Australia, Austria, The Bahamas, Brazil, Canada, Denmark, Egypt, England, France, Germany, Hungary, Iceland, Ireland, Italy, Jamaica, Japan, Kenya, The Netherlands, Peru, Scotland, Serbia, South Africa, Spain, Sweden, Thailand, Trinidad and Tobago and Vietnam.
"Today reminds all of us of the reason we are here today – our commitment to serve you," Daniel C. Dobbins, president of McKendree University, said to the incoming class. "Remember this day and how it started. You come to McKendree with a family already, the one you've known throughout your life, and today you formally join a new family – the McKendree family."
Senior Maria Vitoria Salomao, president of the Student Government Association, welcomed the new class of students as well. "Think of your time here as a trampoline. Every time you fall, get back on that trampoline and jump even higher. Don't be afraid to be yourself," she said.
Continuing a longstanding McKendree tradition, all new students signed the matricula, a document that signifies their enrollment and becomes an official, permanent university record. The ceremony concluded with the singing of the fight song, led by senior Brad Eston and the McKendree University Spirit Band. Bogey D. Bearcat also made an appearance to pump up the spirit on this special day.
McKendree also held a Transfer Student Orientation on Friday, Aug. 18 in Holman Library. Incoming transfer students were welcomed by the president, faculty and staff as they received packets and signed the matricula.
President Dobbins relayed his story as a student transferring to McKendree and how it took him down a path he never dreamed imaginable.
"Ask yourself – what's your McKendree experience going to be? What will you do with this opportunity? Don't underestimate the magnitude of the opportunity that you have here at McKendree and set your sights high," he said.
New students also participated in three days of orientation, activities, and "Into the Streets" volunteer service in Lebanon before classes began on Monday, August 21.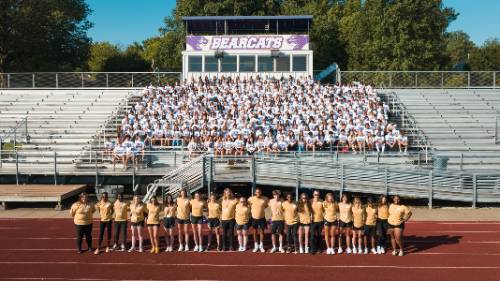 -McK-