POSTPONED: Build-A-Bear Workshop Founder to Speak at McKendree
NOTE: This event has been postponed until further notice.

(LEBANON, Ill., March 4, 2020) — Retail industry innovator Maxine Clark, founder of Build-A-Bear Workshop®, will discuss her entrepreneurial success on Monday evening, March 23 at the Hettenhausen Center for the Arts on the McKendree University campus in Lebanon, Ill. A networking social will begin at 5 p.m., followed by the lecture at 6 p.m. and a reception immediately afterward at 7:15 p.m.

During her career, Clark's ability to spot emerging retail and merchandising trends and her insight into the desires of the American consumer have generated growth for retail leaders, including department store, discount and specialty stores. In 1997, she founded Build-A-Bear Workshop®, a teddy bear-themed retail-entertainment experience. Today there are more than 500 Build-A-Bear Workshop stores worldwide and nearly 190 million stuffed animals have been sold. 

In June 2013, Clark stepped down from her role as "Chief Executive Bear" to apply her entrepreneurial skills to her passion for improving K-12 public education and to invest in and mentor women and minority entrepreneurs.

The event is sponsored by the university's annual Wayne E. Lanter Lecture Series, which invites influential business leaders and entrepreneurs to share their insight and strategies for success. Admission is free and the public is welcome to attend. Reservations are requested; contact the university's Development, Alumni and Parent Relations office at (618) 537-6826.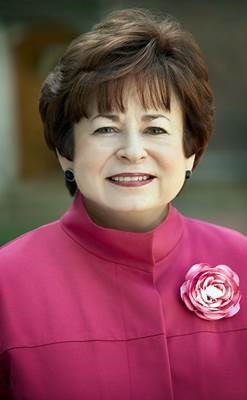 Maxine Clark, founder of Build-A-Bear Workshop®
-McK-