Summertime Cycling Fun in Lebanon on July 28
Ride or Race 'The Great McKendree Bike Chase'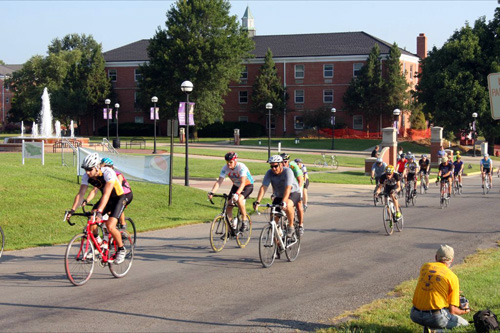 Lebanon, Ill. — Ride or race "The Great McKendree Bike Chase," six three-mile loops through the streets of Lebanon, Ill., on Saturday morning, July 28, hosted by McKendree University.

It starts at the fountain at the center of campus and finishes on the track inside the Leemon Athletic Field stadium. Each of the six three-mile laps travels through Lebanon business and residential areas, into and out of the stadium, and back to the fountain.

"Riders of all levels of cycling expertise and capability are welcome to participate," said Kim Smallheer, assistant director of athletics and event organizer. "You can race it or ride it in the two hours that we'll have the course open. Your bicycle is your choice: cruiser, hybrid, road bike, mountain bike or the Huffy from your basement, but you must wear a serviceable helmet to participate."

Start time is 8 a.m., with a safety briefing at 7:40 a.m. The $15 registration fee includes a T-shirts and post-race refreshments while they last. An additional $5 will be charged to those who sign up that morning. The Bike Chase is not a U.S. Cycling Federation event.

Register in person on campus at the Intramural Gym inside in the Melvin Price Convocation Center on Alton Street, or mail in a downloaded registration form online at www.mckendree.edu/raceday. Mailed entries must be postmarked by July 24.

For more information, call (618) 537-6420 or (618) 537-6941 or visit the website.
-McK-