A New Bearcat is Unleashed at McKendree!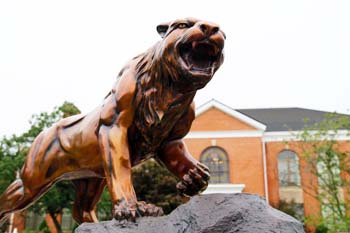 Bronze Statue on the Quad Symbolizes Spirit and Tradition

(LEBANON, Ill., September 2, 2014) — Move over Bogey, a new Bearcat is on the prowl at McKendree University.

On Sept, 2, a fierce and powerful-looking new bronze Bearcat statue was installed at the center of the campus quad. With its claws and bared teeth, Bearcat 2.0 more closely resembles the athletic program's symbol than McKendree's cheerful purple mascot, Bogey.

The new statue weighs 2,500 pounds and measures 5' tall x 9' 3" long x 3' wide. It was sculpted by artist Brian Hanlon of Hanlon Sculpture Studio in Toms River, New Jersey. He is the official sculptor for the Naismith Memorial Basketball Hall of Fame and specializes in college mascots, sports, civic and religious figures. "My goal in creating a mascot statue is to celebrate athletics and the campus community by enhancing the spirit, pride and tradition for the students, faculty, alumni and fans. I'm honored that this will become a signature symbol for McKendree University," Hanlon said.

The university wanted a Bearcat statue to symbolize school spirit and start new traditions, said President James Dennis. "We are thrilled to have this new centerpiece on our campus and expect it will be a gathering place for students and a great place to take pictures. We believe that by featuring our campus mascot, we will add to the sense of tradition and special spirit that permeates McKendree."

Especially noteworthy, he added, is the fact that the statue was privately funded with support from the McKendree student body, the Board of Trustees, Alumni Board, and senior administration. The university is not releasing the cost of the project.

Local contractors for the project were Russ Erlinger Crane Service Inc., and Don Mueller Construction Co. Inc., of Lebanon; and Arthur J. Lager Monument Co. and Joseph F. Becker Brick, of Breese.

The statue will be dedicated during Fall Family Weekend at 3 p.m. on Sept. 27.
-McK-