Author Angie Thomas Addresses McKendree University MLK Event
Naeelah Chism, Ebony Luster, Dr. Lauren Thompson Are Honored

(LEBANON, Ill., January 24, 2019) — Three McKendree University social justice leaders—two students and a history professor—accepted the institution's 2019 Martin Luther King Jr. Humanitarian awards on Jan. 24. Keynote speaker Angie Thomas, author of "The Hate U Give," addressed a sold out crowd at the university's Hettenhausen Center for the Arts.

Thomas' bestselling young adult novel was made into a popular feature film in 2018, both of which earned critical praise. She spoke on "Finding Your Activism and Turning the Political into the Personal."

"My challenge to you is, find your voice, find your activism, get involved, create the change you want to see…. be the light in the darkness," said Thomas. She also participated in a university-sponsored high school leadership conference on campus ("The Hate U Give, The Healing U Bring: #Yourcall"). Approximately 150 students attended from 14 St. Louis area schools: Belleville West, Cahokia, Cor Jesu Academy, East St. Louis, Mascoutah, Metro Academic and Classical High School, Notre Dame, Roosevelt, Saint Louis University High School, St. Joseph's Academy, Villa Duchesne, Visitation Academy, Wesclin and Whitfield.

McKendree's annual MLK Awards celebrate the spirit and legacy of the Reverend Dr. King. The 2019 recipients were recognized for their care and compassion, understanding and tolerance, humanitarian principles and ideals, and participation in service programs.

Naeelah Chism, of Fairview Heights, Ill., is a senior majoring in political science with minors in gender and legal studies. She volunteers at the Family Living Center in East St. Louis, is a leader in the United Feminists group and active in the "It's on Us" week on campus. In 2018 she traveled to Washington, D.C., to advocate for sexual health education and women's rights. Chism was praised for her direct and honest communication with peers to help them understand difficult conversations about privilege, social status and other topics.

Ebony Luster, of Cahokia, Ill., is a senior majoring in secondary education with a focus on English and a minor in psychology. She is active in the Black Student Organization, president of the United Feminists group, active in "It's on Us" week and part of Leadership for Minorities in Education. Her peers regard her as a selfless, compassionate leader who fights for equity and justice.

Dr. Lauren Thompson, an assistant professor of history, chairs the SLATE Diversity Subcommittee on campus, is a member of the Social Justice and Equity Committee and a tireless advocate for students of color and for social justice and equity. Colleagues noted her passionate, dedicated commitment to civic engagement and to interrupting the silence around difficult conversations about issues related to race and racism.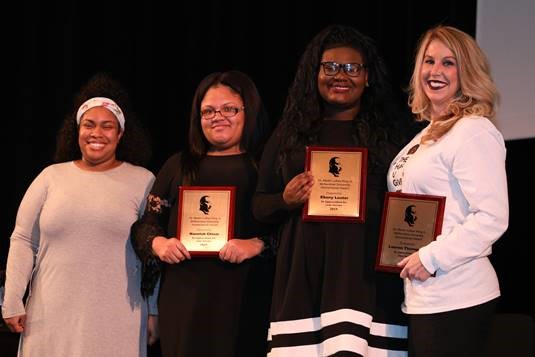 Angie Thomas (left) author of "The Hate U Give" with Naeelah Chism, Ebony Luster  and Dr. Lauren Thompson, the three recipients of McKendree University's Dr. Martin Luther King Jr. Humanitarian Awards for 2019.
-McK-