Missouri Schools Compete in WYSE Math-Science Challenge
2/9/2011
Lebanon, Ill. — More than 150 talented students from nine greater St. Louis area high schools competed at McKendree University in the St. Louis Regional tournament of the Worldwide Youth in Science and Engineering (WYSE) Academic Challenge, on Feb. 8. Clayton High School took top team honors in the large school division and Trinity Catholic High School won the small school division. 
This is the eighth year that McKendree has hosted the annual competition. Participating high schools were Clayton, Hancock, Maplewood-Richmond Heights, Notre Dame, Orchard Farm, St. Charles, St. Joseph's, Trinity Catholic and Visitation.
Dr. Jim Feher, associate professor of computer science and computer information systems at McKendree, is chairman of the WYSE advisory board.
WYSE works to advance excellence in science and mathematics and to promote careers in engineering and the sciences. The Academic Challenge is a series of competitive multiple-choice tests in seven subjects, designed to motivate talented high school students to higher achievement in science and math.
Students are tested as teams and individually in biology, chemistry, computer science, engineering graphics, English, math and physics. Test material is drawn from senior high school and freshman level college curricula and written by college and university faculty. Exams of increasing levels of difficulty are given at the regional, sectional and state finals.
Teams and individuals placing first and second will compete in the Missouri sectionals in March.
McKendree will host more than 250 students at the WYSE Academic Challenge's Illinois sectional on Mar. 8.
 

Team Photos (in alphabetical order)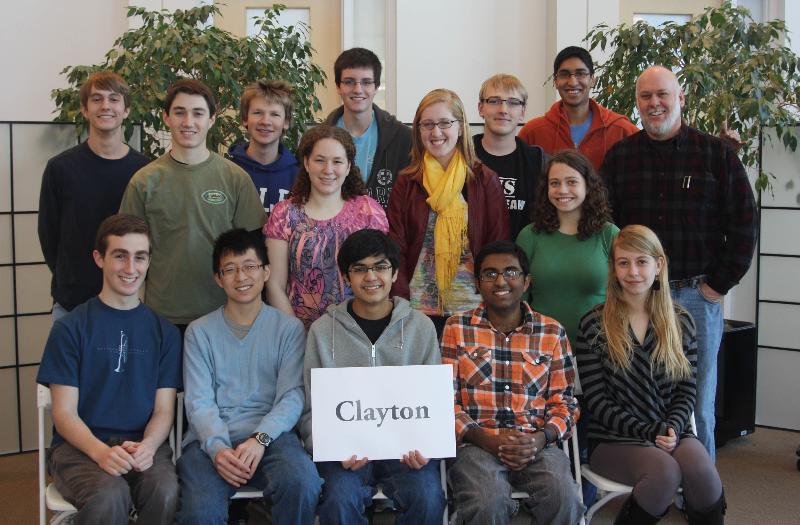 Clayton High School – Varsity
Front row: Paul Lisker, Shuyang Li, Apoorva Sharma, Ikshu Neithalath, Caitlin Kropp.
Center row: Dylan Schultz, Rebecca Steinberg, Maddie Bullard, Lily Gage.
Back row: John Holland, Ian Miller, Brett Downey, Charles Beard, Sagar Yadama,
Coach Rex Rice.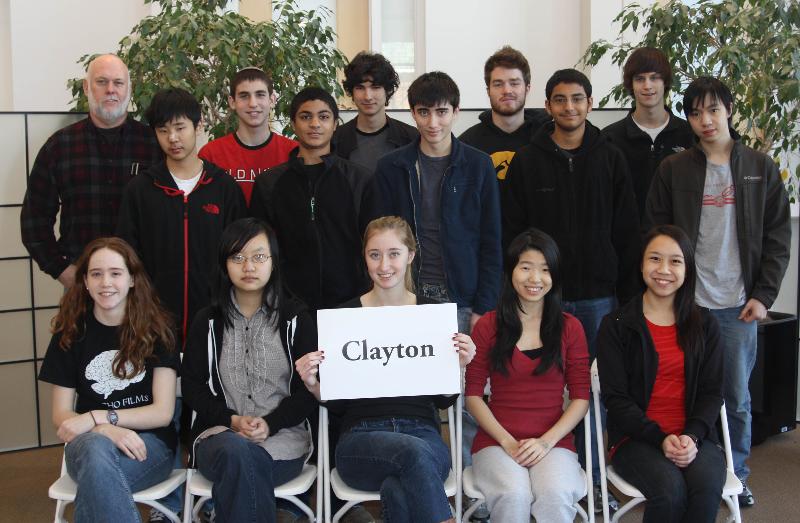 Clayton High School – Junior Varsity
Front row: Ellie Gund, Xiaoya Wu, Monica Gierada, Dee Luo, Corrine Yap.
Center row: Jack Wei, Ali Rangwala, Alex Meneses, Neerav Goswami, Chester Yap.
Back row: Coach Rex Rice, Noam Kantor, Matthew Millett, Kevin Matheny, Zach Praiss.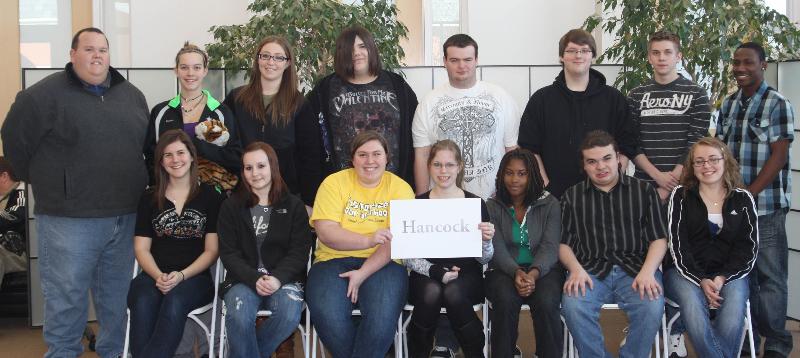 Hancock High School
Front row: Johanna Phillips, Joy Chapman, Lisa Rite, Ashley Eldridge, Tiona Russ, Dru Craig,
Fatima Komic.
Back row: Coach Steve Kelly, Rachel Crider, Jessica Tobin, James Walden, Justin Miller, Josh Goggin,
Jacob Wright, Mario Wilson.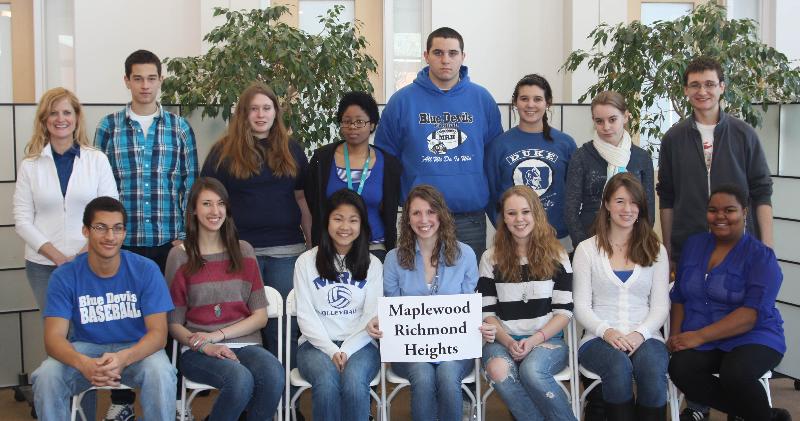 Maplewood-Richmond Heights High School
Front row: Charles Boclair, Kelsey Thompson, Julianna Schenberg, Theresa Peterson,
Samantha Steed Wolfe, Tess Rogers, Jaszmyn Epps.
Back row: Coach Kathleen Dwyer, John Barron, Krystal Peterson, Mioshi Scott, Dominic Campanella,
Alex Campanella,
Jena Doering, Daniel Jamrozik.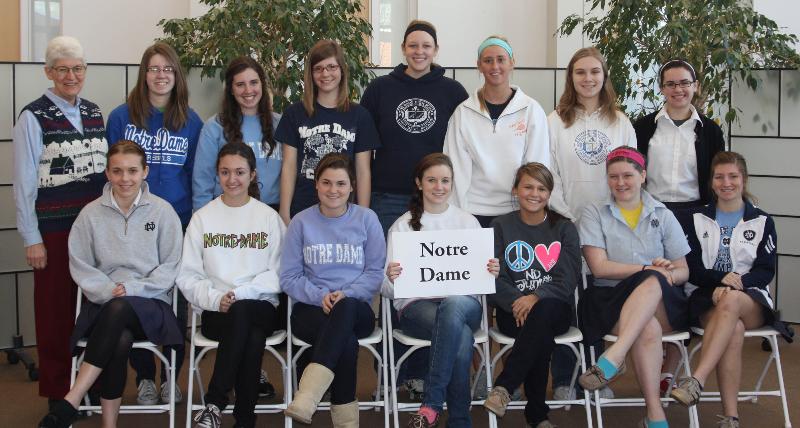 Notre Dame High School
Front row: Kate Mertzlufft, Anna Mattione, Jana St. Eve, Anna Holdener, Rebecca Talley,
Jennifer Burghoff, Sarah Meyer.
Back row: Sister Celine Schumacher, coach; Rebecca Molner, Anna Roach, Melissa Willoughby,
Kristen Kenney,
Laura Seier, Elizabeth Wernert, Claire Zimmerman.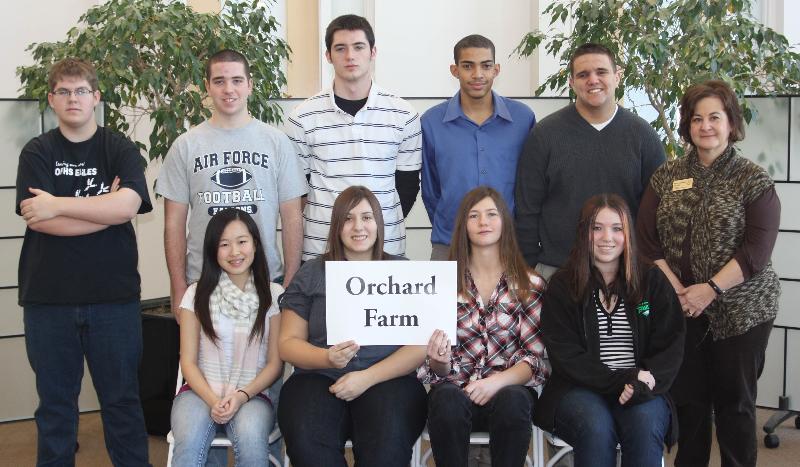 Orchard Farm High School
Front row: Annie Chen, Anna Simon, Allysa Standeven, Shelby Schneider.
Back row: Andrew Russell, David Roy, Chris Burk, Delk Webb, Zach Bine, Coach Luanne Heggs.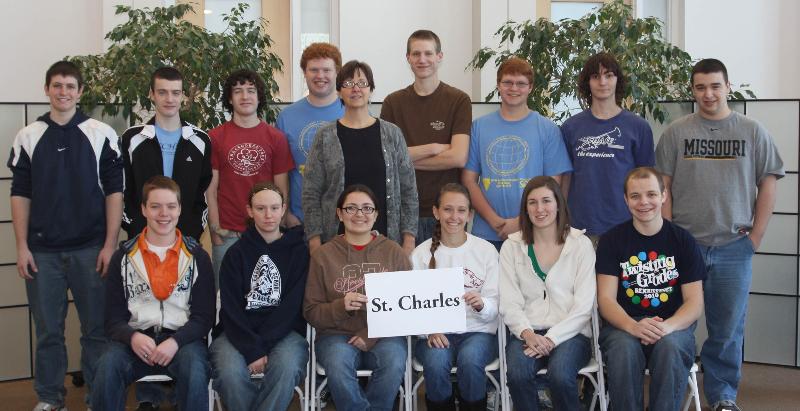 St. Charles High School – Varsity
Front row: Tim Butz, Audrey Brockgreitens, Sierra Davis, Michaela Mertz, Ashton Smith,
Curtis Prost.
Back row: Phil Rohan, Dillon Forbes, Evan Forbes, Alex Fritz, Coach Ellen Zerr, Jordan Schlueter,
Sean Ross, Cody Spradling, Nick Endsley.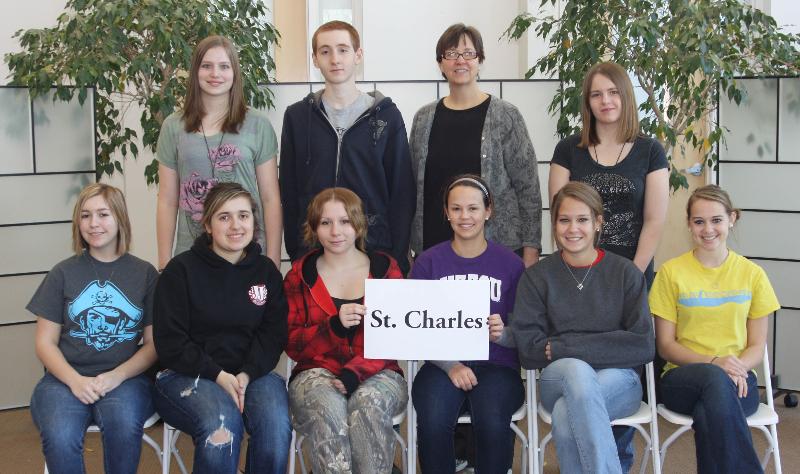 St. Charles High School – Junior Varsity
Front row: Chelsea Branson, Katrina Harlan, Chelsea Rideout, Hannah Slater, Abby Zimpfer,
Candace Mohapp.
Back row: Elizabeth Schlueter, Jakob Oberkrom, Coach Ellen Zerr, Emily Karr.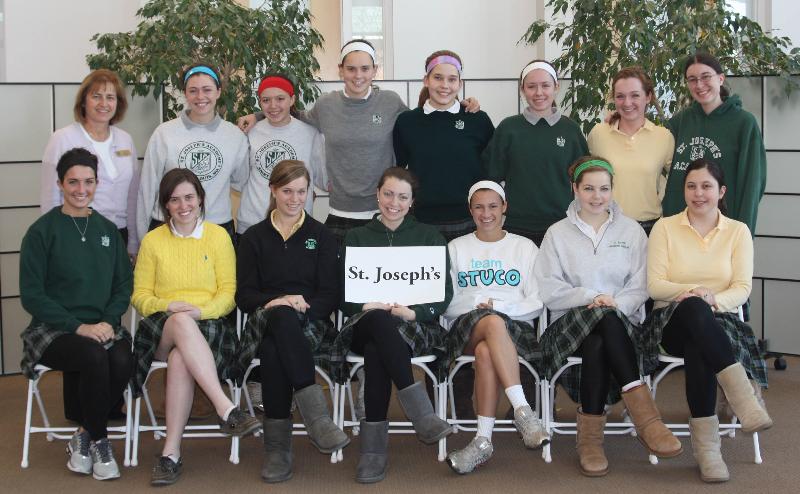 St. Joseph's Academy - Varsity
Front row: Maddie Hanlen, Erin Fagan, Michelle Marchiony, Marie Davidson, Shae Oca,
Stephanie Wehmeier, Sarah Karchunas.
Back row: Coach Julie Haddock, Katie Greaves, Maggie Urschler, Melissa Powers,
Lauren Jacobsmeyer, Abby Carlson, Elizabeth Burns, Kathryn Geoffroy.

St. Joseph's Academy – Junior Varsity
Front row: Kelly Powderly, Kourtney Kostecki, Carolyn Heger.
Back row: Coach Julie Haddock, Sarah Raney, Stephanie McElwarth.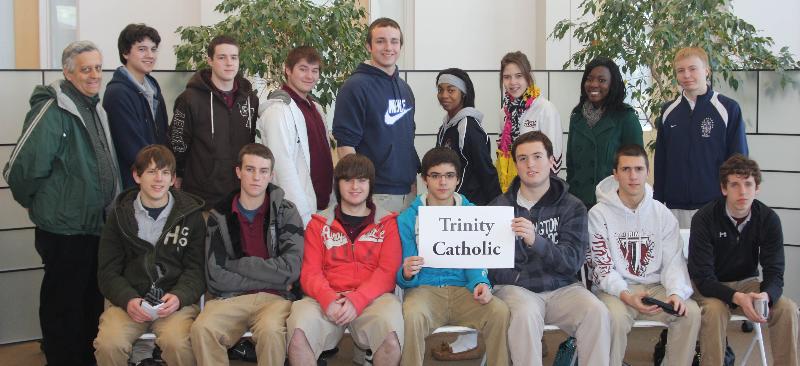 Trinity Catholic High School (1 of 2)
Front row: Eddie Ross, Tyler Willmann, Jeff Guerrant, Dillon Porzel, Andrew Holzum, Kyle Perez,
Nick Sonntag.
Back row: Coach Frank Cange, David Reddan, Conner Walsh, Mike Berliner, Eric Kessler,
Keisha Avery, Grace Brandon, Bola Akinola, Matt Koeller.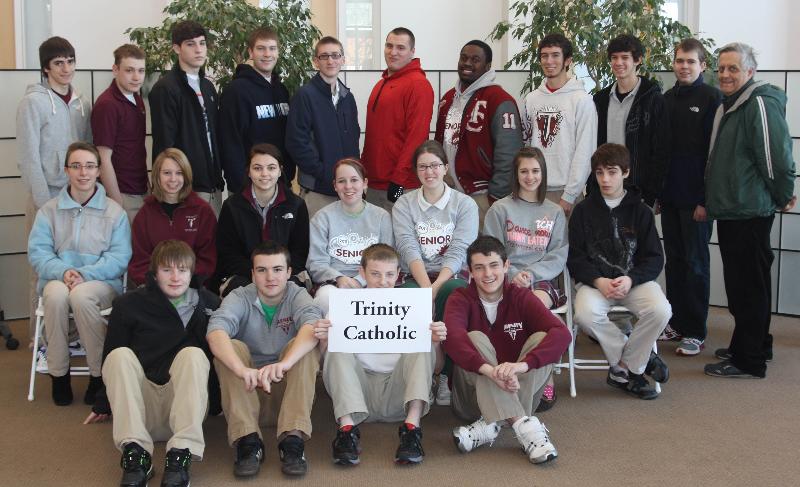 Trinity Catholic High School (2 of 2)
Floor: Matt Scheidker, Kyle Walsh, Jacob Boevingloh, Fausto Tomnasi.
Front row: Anna Duban, Kristen Ferkel, Rachel Hunt, Ellen Hilnes, Amy Lewandowski, Kayla Bulva,
Mike Taylor.
Back row: Joe Anger, Nolan Walsh, Mike Thiemet, Joe Hoffmann, John Ernst, Brett Turnbough,
James Barnes, David Krafft, Justin Krafft, Nathan Bell, Coach Frank Cange.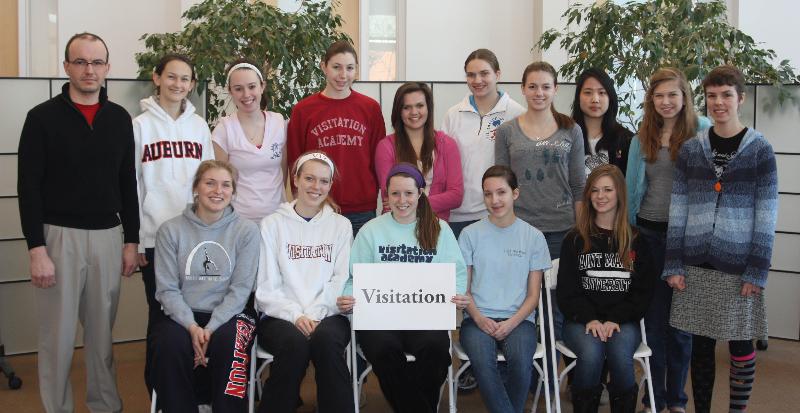 Visitation Academy
Front row: Diana Veit, Cathryn Herbst, Lindsey Koller, Mary Puleo, Michelle Imming.
Back row: Coach Steven Bockhold, Audrey McCandless, Mallory Mitchell, Katherine Lumetta,
Shannon Sheehan, Emily Mausshardt, Andrea Binz, Cynthia Sung, Danielle Niemann, Audrey Kidwell.