High Schools Compete in WYSE Academic Challenge Sectional
3/12/2010
Lebanon, Ill. — It was spring break at McKendree University yet classrooms were filled with hundreds of students concentrating hard on math, chemistry and physics tests. They came to the campus from 33 area high schools to compete in the state sectional tournament of the Worldwide Youth in Science and Engineering (WYSE) Academic Challenge on Mar. 11.
Placing first in their respective divisions were teams from Governor French Academy and Chester, Centralia and Edwardsville High Schools. The top finishers advance to the state finals at the University of Illinois at Champaign-Urbana, Apr. 19 to 22
"Today was just fantastic. This is a unique event where you get people cheering for someone to place first in physics, math or biology with the same enthusiasm as they would cheer for their basketball team," said Dr. Jim Feher, chairman of the WYSE advisory board and associate professor of computer science and computer information systems at McKendree. This is the seventh year that the university has hosted the annual competition. McKendree offers WYSE Scholarships of $1,000 to qualified participants.
WYSE works to advance excellence in science and mathematics and to promote careers in engineering and the sciences. The Academic Challenge is a series of competitive multiple-choice tests in seven subjects designed to motivate talented and diverse high school students to higher achievement in science and math.
Students are tested as teams and individually in biology, chemistry, computer science, engineering graphics, English, math and physics. Test material is drawn from senior high school and freshman-level college curricula and written by college and university faculty. Exams of increasing levels of difficulty are given at the regional, sectional and state level.
Participating schools were: Althoff, Belleville West, Bond County Community Unit 2 (Greenville), Central (Breese), Carlyle, Centralia, Chester, Christ Our Rock Lutheran (Centralia), Collinsville, Dupo, Edwardsville, Freeburg, Gibault (Waterloo), Governor French Academy (Belleville), Highland, Lebanon, Marissa, Mascoutah, Mater Dei (Breese), Mulberry Grove, Nashville, New Athens, O'Fallon, Odin, Patoka, Red Bud, Salem, Sandoval, South Central (Farina), Sparta, Waterloo, Wesclin (Trenton) and West Washington County (Okawville).
Aaron Povolish, of O'Fallon, a 2006 McKendree graduate, was honored as a distinguished WYSE alumnus. As a former member of three Academic Challenge teams for Sparta High School, he finished first in the state in math and third in physics; second in physics and sixth in math his junior year; and helped his school place twelfth 12th in the 2002 state finals.
"I liked challenging myself in math. We had a really good class my senior year and we pulled together as a group," Povolish said. At McKendree, he graduated summa cum laude as a double major in computer science and mathematics. He is now an informational technology analyst at AT&T in St. Louis.
Povolish said he is glad to see his alma mater continue to host the competition, adding that it seems to grow larger each year.
-McK-
2010 WYSE Illinois Sectional Team photos:

Althoff Catholic High School
Mary McGlynn, Jack Cunningham, Gabe Orlet, Coach Leslie Ecker.
Belleville West High School
Front row: Edward Pisarski, Logan Doncarlos;
Middle row: Nicole Geiger, Sara Corn, Coach Cyndi Oberle-Dahm, Katie Neighbors,
Crystal Zimmerman;
Back row: Steven Stennach, Chris Norris, Brad Horton, Phil Pearson, David Naumann,
Mike Hensley, Mark Palmer, Nick Stauder.

Bond County Community Unit #2, Greenville
Front row: Katie Pollman, Logan Lippert, Lauren Karnowski, Bridget Grissom, Nori Stone,
Clara Costa;
Back row: Emily Miller, Steve Dannaman, Jace Reinhard, Trevor Hartnagel, Jimmy Stilt,
Isaac Gilmore, Curtis Simmonds, Aaron Disch, Sara Schlemper, Coach Linda Hinch.

Centralia High School
Front row: Ian Ford, Roger King;
Middle row: Emily Papolczy, Katie Bodine, Ben Huston, Lizzy Bauer, Rebecca Reynolds;
Back row: Zak Shah, Brandon Tate, Brian Evertz, Luke Altenbaumer, Ryan Scheidt,
Ilyas Jabbari, Bredesen Hartmann, Coach Jason Kuester.



Chester High School
Front row: Ashley Lindsay, Laura Liefer, Jillian Yankey, Lauren Hoops;
Middle row: Rebecca Young, Jamie Long, Amy Araiza, Rachel Young, Mollie Laramore;
Back row: Brandon Straight, Miles Zhange, Brett Barthol, Patrick Strickler,
Caleb Courier.
Not pictured: Coach Elizabeth King.

Christ Our Rock Lutheran High School
Front row: Beth Watkins, Emily Droste, Trina Hermsmeyer, Dorothee Belli, Lydia Brandt;
Back row: Coach Wil Pennington, Vince Lentini, Brett Hanenberger, Nathan Schefelker,
Ryan Lape, Carson Fuehne, Quinn DeBernardi, Dylan Antonsen.

Collinsville High School
Front row: Danielle Matthews, Adrianne Maurer, Hector Fuentes, Evan Lloyd;
Middle row: Zac Bennett, Monica Paden, Hannah Fornero, Jordan Fosburgh, Alyssa Dalton;
Back row: Sarah Klarich, Kyle Slattery, Alfredo Pina, Mike Unnerstall, Chris Tenting,
Coach Tom Withee.
Edwardsville High School
Front row: Abigail Veitch, Karly McLaughlin, Jason Prott, Josiah Smith, Stephanie DallaRiva;
Back row: James McCommas, Michael Berman, Luke Bertels, Max Schaettler, William Moy,
Jacob Bertels, Alex Bertels, Stephanie Monroe, Mrs. Rebecca Beal, coach.
Lebanon High School
Front row: Jen Lance, Ryan Helfrich, Andrew Pollard;
Back row: Coach Keith Otten.
Mascoutah High School
Front row: Aleesha Moran, Matt Benson, Kyle Nealy, Parry Draper, Tabitha Miller;
Back row: Katie Knowles, Kelly Perkins, Kayla Wiedau, Justin Pratt, Alexis Geurink, Kelsey Belt,
Eileen Murphy, Lindsay Gray, Breanna Bence.
Not pictured: Coach Christopher Levrault.
New Athens High School
Ethan Tadlock, Austin Range.
Not pictured: Coach Kamra Brandi.

 

Odin High School
Front row: Ian Soper, Caralyn Albert, Amanda Minor, Bethany Ellis, Tonya Donahoo;
Back row: Kaylee Justice, Kaitlin Helpingstine, Zachary Torbeck, Trey Smith, Tyson Minor,
Zachary Mulvaney, Blake Uchitjil, Coach Nancy Schaefe

O'Fallon Township High School
Front row: Jessie Ehlers, Ryan Patterson;
Middle row: Danielle Carter, Kaitlyn Lenkeit, Heidi Friedeck, Rachel Freese, Katy Beebe,
David Tsueda;
Back row: Kevin Tormasi, Michael Scolanci, Victor Ramirez, Cody Davis, Isaac Eickmeier,
Katherine Bowman, Coach Ginger Johnson.

Patoka CUSD #100
Coach Christine Meng, Rik Fisser, Paige Myers.
Sandoval High School
Brittany Meyer, Katie Lyons, Cassandra Morris, Braedyn Claybourne, Coach Amy Telford.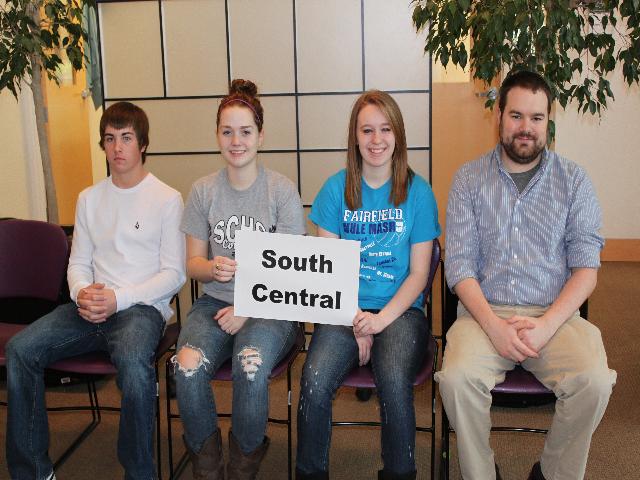 South Central High School, Farina
Colby Bushue, Brandy Webster, Dani Hall, Coach Levi Bridges.
 

Waterloo High School
Brian Schaab, Dylan Lawrence, Coach Lisa Tiedemann.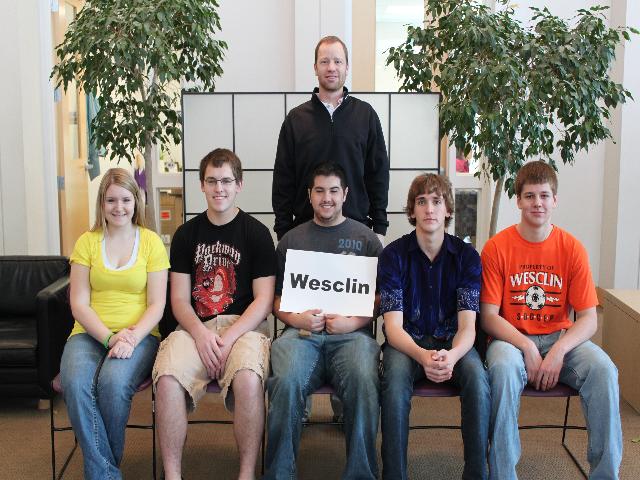 Wesclin High School, Trenton
Front row: Brittany Mueller, Michael Bateman, Robert Robison, Conrad Swift, Nick Takacs;
Back row: Coach Jason Schleifer.

West Washington County High School, Okawville
Front row: Mallory Klingenberg, Megan Middendorf, Jaci Lake, Stephanie Kraus, Melissa Frederking;
Back row: Coach Rhonda Hormann, Alexis Lintker, Alyssa Brammeier, Taylor Walton,
Tyler Brammeier, Nolan Middendorf, Ryan Burrough, Jared Blumhorst, Stephen Lake,
Lyndsay Fuhrhop.