McKendree Named a 2015 Military Friendly® School by Victory Media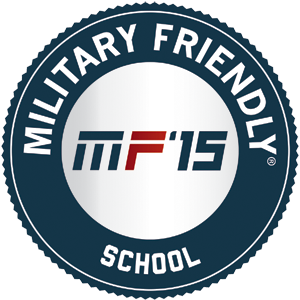 (LEBANON, Ill., September 23, 2014) — Victory Media once again has designated McKendree University a Military Friendly® School for 2015. The designation is given to the top 15 percent of colleges, universities and trade schools in the country that do the most to embrace military students and to dedicate resources to ensure their success in the classroom and after graduation. The Military Friendly Schools list provides service members data-driven ratings about post-military education and career opportunities.

"Our staff sets an example that other off-campus schools strive for but seldom achieve. We do this by creating a student friendly environment, minimizing administrative tasks and stressing the importance of classroom education," said Tom Pawlow, associate dean at McKendree's Center at Scott Air Force Base.

The university's Center at Scott Air Force Base offers degrees in business administration, accounting, management, marketing, human resource management, computer science, computer information systems, general psychology and sport management. Classes are taught in an accelerated format of four to six weeks, which is advantageous for students whose schedules may change frequently. The center also offers reduced tuition and the convenience of a one-stop location on base, where students can register for classes, apply for financial aid, buy books, pay tuition and get their parking sticker.

For more information about McKendree University's commitment to military students, visit www.mckendree.edu/military.
-McK-
Founded in 1828, historic McKendree University is a College of Distinction, among "America's 100 Best College Buys," and recognized as a "Military Friendly School" by Victory Media for 2014 and 2015. www.mckendree.edu
About Military Friendly® Schools:
The Military Friendly® Schools designation process includes extensive research and a data-driven survey of schools nationwide approved for Post-9/11 GI Bill® funding. The school survey, methodology, criteria and weightings are developed with the assistance of an independent Academic Advisory Board comprised of educators from schools across the country, and are independently tested by Ernst & Young LLP based upon the weightings and methodology established by Victory Media. The survey is administered for free and open to all post-secondary schools who wish to participate. Criteria for consideration can be found on our website, http://www.militaryfriendly.com, and a complete list of schools can be found through our Schools Matchmaker tool on http://www.gijobs.com.
About Victory Media:
Victory Media is a service-disabled, veteran-owned business serving the military community since 2001. Its data-driven lists are published in G.I. Jobs®, Military Spouse, and Vetrepreneur® media channels, republished in periodicals such as USA Today, The Wall Street Journal, Fortune, Bloomberg BW, and frequently cited on national TV by NBC, ABC, CBS, CNN, CNBC, Fox News and others.
-McK-