McKendree's Avidity Winter Guard is Second in the World!
Group Earns Silver Medal in World Competition

Lebanon, Ill. — In just four years, the Avidity Independent Open Winter Guard of McKendree University has risen from newcomer status to second best in the world, by a narrow margin.

The 17-member group received a silver medal in its class at the Winter Guard International (WGI) World Finals competition on April 5 in Dayton, Ohio, which drew over 12,000 participants. WGI is called the "Sport of the Arts" because it brings music to life through performance in a competitive format. Groups are judged on their movement, design, equipment, timing and overall effect. Competing in a field of 39 teams from across North America and Europe, Avidity performed "Time Lapse" and scored 94.7, two-tenths of a point behind the University of Central Florida's Pegasus.

"This exceptional accomplishment is the result of a tremendous work ethic and commitment to excellence cultivated by Jayson Johnson and the Avidity staff," said David Boggs, director of athletic bands. "The Avidity Guard has also placed first for the last two years in the Mid Continent Color Guard Association finals and placed tenth last year at WGI Finals. This is a phenomenal accomplishment for a winter guard in its first few years."

"Avidity has made history in 2014 as the first independent class team to receive a medal at the WGI World Championships for our local circuit, MCCGA," said Jayson Johnson, who directs McKendree University's color guard and Avidity Winter Guard. "Because of our placement, we are now promoted into the highest competitive class, Independent World. With this new classification we will see a greater number of people through our doors. Our placement and performance this past weekend has put McKendree on a much bigger map. I expect we will start seeing individuals from much farther away becoming interested in the program."

Avidity Independent Open Winter Guard members are McKendree University students Anastacia Harrell of Alton, Chelsea Ellebracht of Defiance, Mo., Cassi Flores of O'Fallon, Mo., and Dawn Schmid of Columbia, Ill.; and high school students Zac Barber of Elsberry Mo., Cheyenne Brauns of Highland, Ill., Allison Coffey and Hannah Connors of St. Charles, Mo., Chaise Crenshaw of St. Peters, Mo., Jacob Hens of Trenton, Ill., R.J. Howe of Webster Groves, Mo., Alyssa Navarro and Teighlor Young of O'Fallon, Mo., Korina Self of Joplin, Mo., Brittany Tate of St. Louis, Brooke Wallace of Olathe, Kan., and Megan Hinman.

In addition, the 15-member Avidity Independent A Winter Guard of McKendree received the silver medal at the MCCGA Finals for the second consecutive year. Established in 2012, this "feeder" guard is made up of students who are unable to commit to the Independent Open program but still want to participate. Members are McKendree students Jordan Barker of Highland, Ill., Nancy Lilley of New Baden, Ill., Mariah Logan of St. Louis, Megan Schmid of Columbia, Ill., and Julianna Swanson of Godfrey, Ill. High school members are Jessica Andrews of Highland, Kate Bender of Maryland Heights, Mo.; Chloe Compton, Madai Enriquez and Shelby Lohrenz of Troy, Ill., Zachary O'Connor of St. Charles, Mo., Vanessa Nava of Mascoutah, Ill., Ashten Perigo of Granite City, Ill., Stephanie Taylor of Belleville, Ill., and Heather Cochran of Ballwin, Mo.

Avidity has become an important marketing and recruiting tool for McKendree University, not only for its entertaining performances but also for attracting prospective students. The university offers scholarships of up to $4,000 to those who participate in the 70-member Marching Bearcat Band's color guard and the Avidity winter guard. The university also hosts spin clinics and a special Guard Preview Day.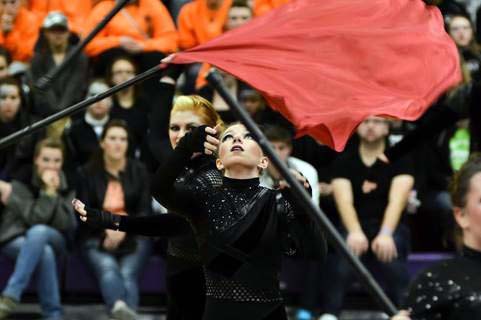 A member of the Avidity Winter Guard of McKendree University in a recent performance.