McKendree Students' Android App Wins $3K in National Competition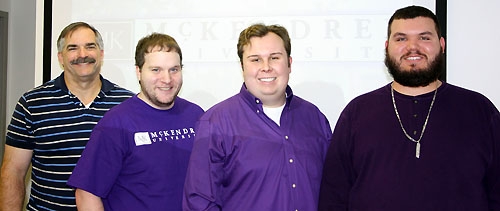 Team is Among Five National Finalists in TradeKing's API Campus Challenge

Lebanon, Ill. — A team of three McKendree University computer science students received a $3,000 prize as a school winner and national finalist in online broker-dealer TradeKing's $100K API Campus Challenge.

The unique collaboration between academia and the financial services industry fostered creativity and awareness about innovative entrepreneurial possibilities around Application Programming Interfaces (APIs). The fall 2011 semester-long Challenge provided undergraduate students with real-life experience developing investment-focused "apps" and "user interfaces" using TradeKing's API.

McKendree's "Open Source Bogey" team developed a new Android web and mobile application that enables investors to look up quotes, trade stocks and tweet their quotes via a Twitter API connection.

Albert Cooper, Michael Cox and Dustin Page were recognized for their impressive finish during a live streaming event on Feb. 15 that demonstrated the seven top apps online. They were among the national finalists that also included teams of undergraduates from Loyola University Maryland; Villanova University; Rensselaer Polytechnic Institute; and the University of Nebraska (Lincoln), winner of the $50K grand prize. Twenty-nine teams from more than a dozen universities across the U.S. participated.

In addition to the "Open Source Bogey" team, McKendree students Myron Hicks, Trent Sondag, Joshua Wilhelm and Brandon Nigro also wrote Android applications for the API Challenge.

"I enjoyed seeing the students work through a very unstructured problem," said Computing Division instructor Nathan White. "The contest rules were pretty simple: 'Use the TradeKing system to create something new for our customers.' The students developed a trading app for an Android phone. As one of TradeKing's signature features is social networking, the team also integrated the ability for the customer to tweet about their trade.

"Before this competition, the team knew very little about stock trading and nothing about Android development. They know a lot more now," added White, who received a $1,000 Professor's Award.

"The TradeKing API Campus Challenge gave my team and me the opportunity to learn about mobile application development, which is a growing field in the tech industry," said Dustin Page, a senior from O'Fallon, Ill. "The project was quite challenging since I had no previous experience working with an API, with Java, or with Android development. It is very rewarding to know that our application was chosen as one of the top submissions in the country. Working on the API Campus Challenge was an interesting and gratifying experience. As a result, I have chosen to work on another mobile application for my senior project."

"We faced hard deadlines and had to meet specific requirements while still being sure to make use of the creative freedom we were given," said Michael Cox, a junior from Mascoutah, Ill. "The most valuable thing I took from this experience, honestly, was that I learned how to teach myself. Our professor helped when we asked, but he really encouraged us to figure it out for ourselves. It was really frustrating at first but eventually I realized I was actually getting the hang of things. Looking back, I really learned a lot last semester because of this experience."

"It was gratifying to see bright young minds realize their potential, take on the challenge and prove to themselves that with focus and hard work, they can cross every frontier," said Don Montanaro, CEO and chairman of TradeKing. "Since September, I've watched closely as the Campus Challenge student teams worked diligently to understand the online brokerage industry and put their creative technical skills to work developing next generation apps to let investors learn and trade in innovative new ways. The breadth of the students' imaginations translated into apps that strike at the very essence of what this competition was all about. My fellow Challenge judges and I were impressed with the caliber of work submitted by these students, which made choosing the winners a difficult task. I congratulate the entire McKendree community for the school's performance in the API Campus Challenge."

Montanaro and the chief information officer of TradeKing visited the McKendree University campus and spoke to White's electronic commerce and business classes last semester.

To learn more about the TradeKing $100K API Campus Challenge, visit http://apicampuschallenge.com/.
- McK-