McKendree's Nursing Program Receives Full 10-Year CCNE Accreditation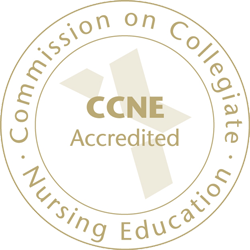 McKendree University's Nursing Division is celebrating the news that its BSN and MSN degree programs have received 10-year accreditation, the maximum allowed, by the Commission on Collegiate Nursing Education (CCNE).

The CCNE is an autonomous accrediting agency that reviews baccalaureate, graduate and residency programs in nursing to ensure their quality and integrity. Its Board of Commissioners met earlier this month to review for accreditation all nursing programs that hosted an on-site evaluation earlier this year. Four nursing experts conducted an on-site accreditation visit on campus Feb. 27 to 29. McKendree's BSN and MSN degree programs were granted accreditation through February 2022.

"We are thrilled with the news that we have achieved the full 10-year accreditation," said Dr. Richelle Rennegarbe, nursing division chair and associate professor. "The culmination of the process is the determination of accreditation status, along with the length of time awarded. I appreciate all the hard work of the nursing faculty and administration in accomplishing this huge endeavor. The achievement of the accreditation demonstrates the high standards and a mark of achievement of the McKendree University RN to BSN completion program and MSN program."

Designed for working nurses who want to advance their careers, the RN to BSN completion program builds on an associate degree education. It is offered at the McKendree campuses in Lebanon, Ill., Louisville and Radcliff, Ky.; online; and at Alton Memorial Hospital, Memorial Hospital in Belleville, Kaskaskia College in Centralia, Marion Veteran's Administration Hospital and John A. Logan College in Carterville.

The graduate level MSN program offers two tracks. The nurse educator track is designed for those who desire to teach nurses or patients within the clinical setting. The nurse management-administration track is for those seeking a leadership position in the nursing profession.
For more information, visit www.mckendree.edu/nursing.
-McK-