New Endowed Professorship Supports the Study of Science
2/25/2010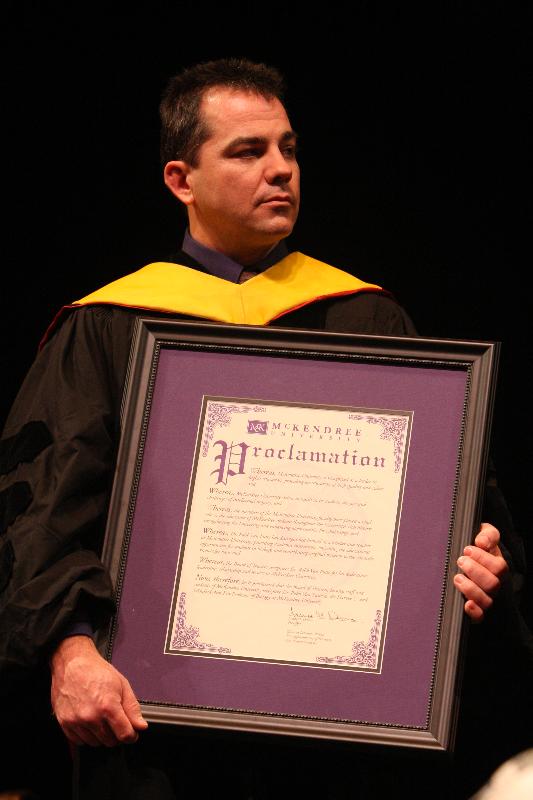 Lebanon, Ill. — A new endowed professorship will support the study of science at McKendree University, thanks to the generosity and vision of two alumni benefactors, the late Harvey C. Pitt and Winifred "Mickey" Pitt of Du Quoin, Ill.
Dr. Robb Van Putte, associate professor of biology and chair of the division of science and mathematics, received the Harvey C. and Winifred Ann Pitt Professorship of Biology on Feb. 18. The inaugural presentation took place during the university's Founders' Day celebration at the Hettenhausen Center for the Arts on campus.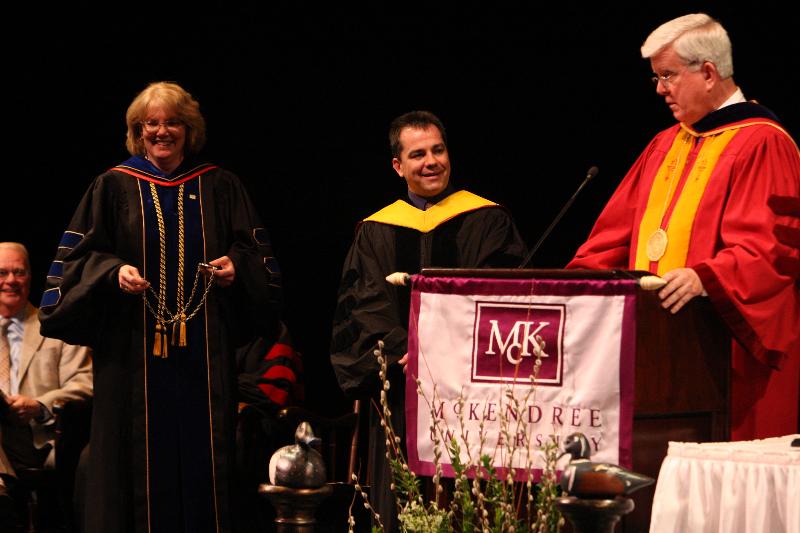 "During the past 11 years, Dr. Van Putte has distinguished himself as an outstanding teacher, an accomplished scholar, and a respected leader among his peers," said Dr. Christine Bahr, provost. "Students appreciate his passion and enthusiasm for science, the fact that he sets the bar high and challenges students to reach it, and the many ways that he demonstrates that he cares about students as individuals."
Van Putte, of O'Fallon, teaches several biology and honors courses, and advises the Sigma Zeta science honor society chapter on campus. As part of a worldwide network of researchers who are developing alternative new biofuels, he is studying the DNA structure of algae to understand how it produces oil so that it can be engineered to produce oil on a massive scale.
He joined the McKendree faculty in 1999, after receiving a Ph.D. in botany from Texas A&M University. He was named to "Who's Who Among America's Teachers" in 2004 and served as national president of Sigma Zeta from 2004 to 2006. In 2005 he was promoted to associate professor of biology and received the United Methodist Church Exemplary Teaching Award. He is a member of the Phycological Society of America, Phi Kappa Phi national honor society, and the Illinois Academy of Science.
It is fitting that he carries Mr. Pitt's legacy into the future to ensure that his passion for science will be shared with McKendree students for years to come.
"Harvey and Mickey Pitt had a love for learning and nature that lasted a lifetime. They were both of high moral character, high integrity and they will always be an example to our students," Van Putte said. "As this endowed professorship's first recipient, it is my pledge to uphold these values through my teaching, my research, and my service to this university. The endowment of this professorship will help to ensure a high quality educational experience for our current and future students alike."


Mr. Pitt, a Mascoutah native, participated in Sigma Zeta as a college student and received a bachelor's degree in biology from McKendree in 1950. He earned a master's degree in biological science from SIU-Carbondale and went on to a successful career in management with the Pepsi-Cola Corporation in DuQuoin.
A passion for water fowl hunting led Mr. Pitt to amass a world-class collection of decoys, many of which he crafted himself. He gained an international reputation as the preeminent collector of duck decoys in the U.S. Inspired by a lifelong love of nature and dedication to their alma mater, the Pitts donated much of their collection and the proceeds from its sale to establish the endowed professorship. Mr. Pitt passed away in 2005 and Mrs. Pitt in 2007.
-McK-