Missouri High Schools Compete in Academic Challenge
Lebanon, Ill. — Over 150 students from eight high schools competed in the St. Louis regional tournament of the Worldwide Youth in Science and Engineering (WYSE) Academic Challenge, hosted by McKendree University on Feb. 3. Clayton High School took top team honors in the large school division and Trinity Catholic won the small school division.

This is the sixth year that McKendree has hosted the annual competition. Participating high schools were Clayton, Chaminade, Incarnate Word, Visitation, Maplewood-Richmond Heights, Trinity, Hancock, and St. Charles West.

"I am proud that McKendree University sponsors this event that highlights the academic achievement of the area's high school students in science and math," said Dr. Jim Feher, chairman of the WYSE advisory board, and associate professor and chair of the Division of Computing at McKendree.

WYSE works to advance excellence in science and mathematics and to promote careers in engineering and the sciences. The Academic Challenge is a series of competitive multiple-choice tests in seven subjects designed to motivate talented and diverse high school students to higher achievement in science and math.

Students are tested as teams and individually in biology, chemistry, computer science, engineering graphics, English, math and physics. Test material is drawn from senior high school and freshman level college curricula and written by college and university faculty. Exams of increasing levels of difficulty are given at the regional, sectional and state finals.

Teams and individuals placing first and second will compete in the Missouri sectionals in March.

McKendree will host the WYSE Academic Challenge's Illinois sectional on Mar. 12.



-McK-

Team Photos: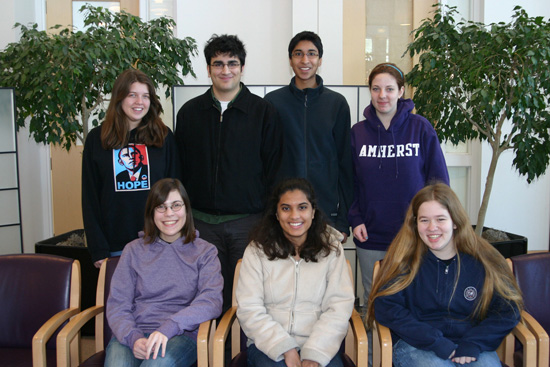 Clayton - At Large
Front row: Carol Iskiwitch , Sneha Viswanathan, Laura Klamer;
Back row: Nina Oberman, Allie Lake, Sagar Yadama, Ali Sehizadeh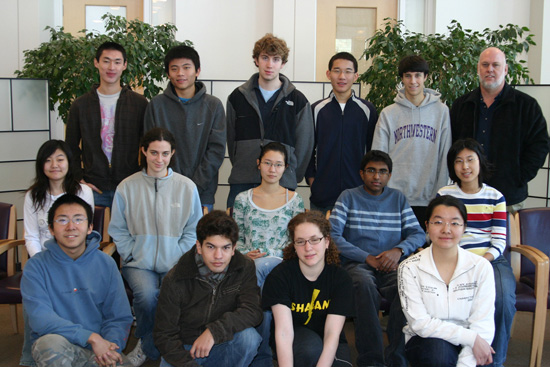 Clayton - Varsity
Front row: Chi Zeng, David Angeles-Albores, Rebecca Steinberg, Yilin Lu;
Middle row: Puhan Zhao, Kathleen Naccarato, Lisa Tang, Ikshu Neithalath, Yiliu Zhang;
Back row: Rowland Han, Yiran Su, Jeremy Bleeke, Kaize Zheng, Aaron Praiss, Coach Rex Rice.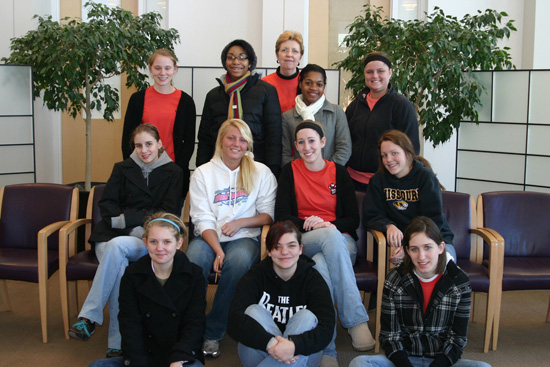 Incarnate Word
Front row: Kelsie Howle, Allison Becnel, Rebecca Buescher;
Middle row: Melanie Jorgenson, Carolyn Speier, Erin Davey, Kaitlin Conroy;
Back row: Kami Ahrens, Celeste McCaw, Coach Trudy Swan, Tierra Washington, Allison Yates.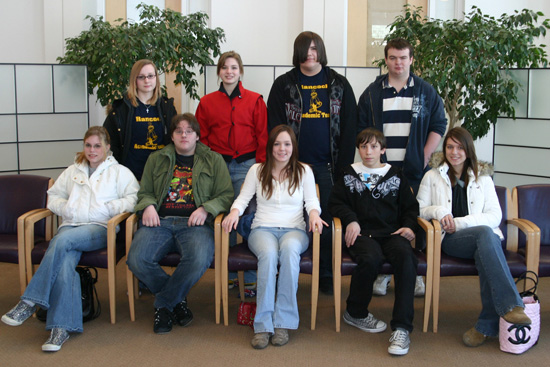 Hancock - Junior Varsity
Front row: Ashley Eldridge, Josh Goggin, Kelly Blaney, Bryant Woods, Natasha Sajic;
Back row: Joy Chapman, Carmen Turnbough, James Walden, Justin Miller.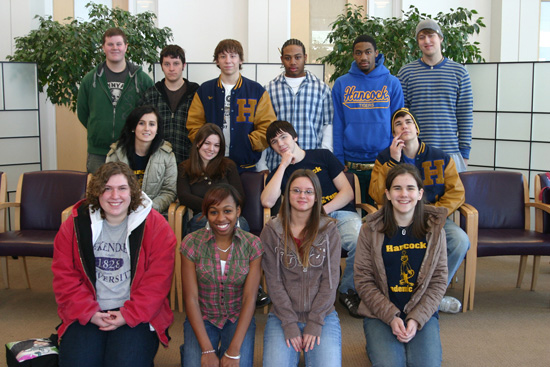 Hancock - Varsity
Front row: Lisa Rite, Brittany Conners, Sarah Caudill, Johanna Phillips;
Middle row: Alma Beganovic, Amela Alibegovic, James Blaney, Mark Phillips;
Back row: Jordan Baynes, Kenneth Courtois, Tyler Woods, Juawan Caradine, Elcid Strickland, Aaron Dekanter.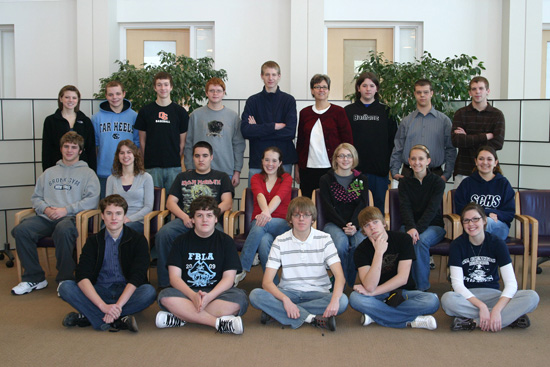 St. Charles
Front row: Joe Buse, Mike Duncan, Ethan Beck, Andrew Boyd, Maggie Patterson;
Middle row: Matt Gualdoni, Lydia Ede, Ron Mays, Joey Jackson, Catherine Gravemann, Michaela Mertz, Sierra Davis;
Back row: Moira Smyth, Curtis Prost, Justus Forbes, Sean Ross, Jordan Schlueter, Coach Ellen Zerr, Jeremy Pope, Brian Hermann, Ray Gillespie.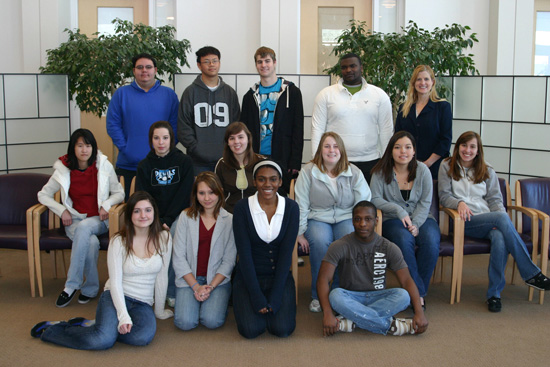 Maplewood-Richmond Heights Varsity
Front row: Faith Stemmler, Amanda Ayers, Alissa Shives, Kris Womack;
Middle row: Caroline Hoang, Kara Pierce, Bethany Nobbe, Tiffany Moore, Nicole Nong, Deanna Mirelli;
Back row: Antonia Sanchez, Henry Sengmany, Andrew Doering, Lonnie Stuckey, Coach Kathleen Dwyer.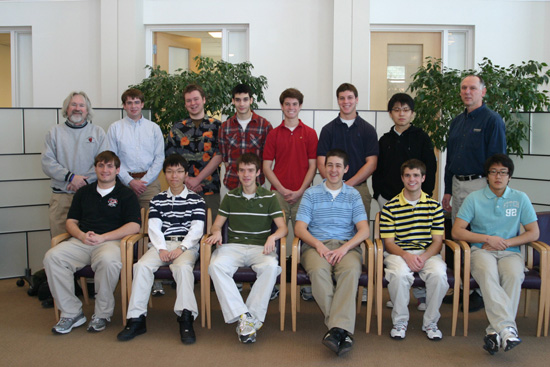 Chaminade
Front row: Anthony Postiglione, Byeonghee Yu, Matt Estlund, Chris Cook, Nick Grabbe, Hyun Han;
Back row: Coach Mike Francis, Ben Johnson, Gus Steurer, Tony Gaia, John Clote, Andrew Mower, Yang Yang, Coach John Lawrence.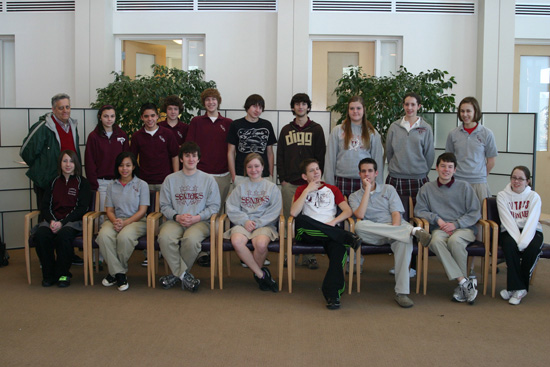 Trinity Catholic, Group 1
Front row: Rachel Toczylowski, Monica Goodland, Nick Lewandowski, Hannah Oberlohr, Ed Ross, Nick Bell, Ben Batzer, Ellen Hilmes,
Back row: Coach Frank Cange, Rachel Hunt, Connor Walsh, Dillon Porzel, Joe Hoffmann, Dan Becker, Tim Fries, Jenny Pearl, Alana Schlemmer, Alyssa Tonner.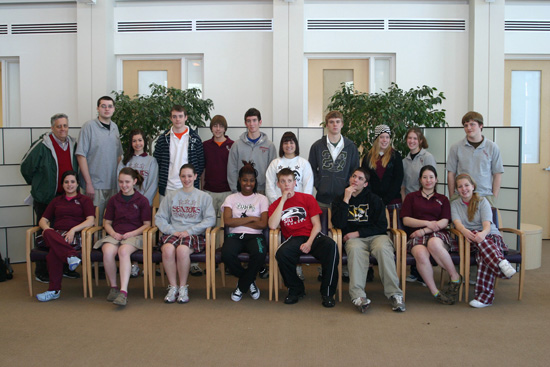 Trinity Catholic, Group 2
Front row: Jennifer Astudillo, Katie Carpenter, Megan Trentmann, Alexandra Thompson, Mike Ross, Garrett Beckham, Samantha Tatoian, Kelsey Weiler;
Back row: Coach Frank Cange, Mark Becker, Emily Frenz, Matt McWilliams, Rick Hilmes, David Krafft, Skylar Allen, Brian Dailey, Jeanne Evelda, Amanda Lewandowski, Matt Juengst.
Visitation
Front row: Marti McGraw, Julia D'souza, Jessica D'souza, Harleen Grewal, Kate Wagner, Mariclair Bennet;
Back row: Micaela Shocklee, Molly Schultz, Mallory Mitchell, Audrey McCandless, Katie Fischer, Jessica Puricelli, Laura Klasek, Coach Steven Bockhold.