Wes Werner '21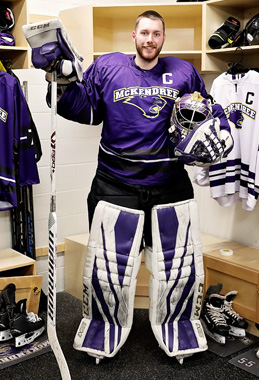 Business Administration major from LaSalle, Ontario, Canada

Captain of men's DI hockey team

Member of Phi Kappa Phi Honor Society

President of Tau Sigma Honor Society

Vice President of Fellowship of Christian Athletes

Campus Ministries CORE team member/worship leader

Named to the President's List

Management and marketing intern at Silvester & Associates Real Estate Team

By Stephanie (Coartney) Dulaney '10

Just like choosing a major, sometimes selecting the university that's your perfect fit means starting again until you find it. For Business Administration major Wes Werner '21, it meant transferring from his hometown university in Canada to make his mark on McKendree and get the college experience he was craving all along.

Wes knew that, more than anything, he wanted to play collegiate hockey, and he started out doing just that at the University of Windsor in Canada. Located close to home, it gave him the opportunity to compete on the junior hockey team, but he felt lost in huge lecture halls alongside more than 500 students at a time. "I didn't get the more intimate learning experience that McKendree offers and that I very much appreciate," he said. "When I was brought to McKendree by Garry Henson, the men's hockey coach, I fell in love with the school and the vision for the men's hockey program and knew McKendree was the place for me."

Wes not only helped lead the newly created Bearcat hockey team to victory after victory, but he also discovered more opportunities to meet new people and cultivate other passions. He took on the role of President of Tau Sigma, the honor society for transfer students, and even attended the 2019 national conference in Washington, D.C., to learn more about how other colleges have grown Tau Sigma on their campuses. "Tau Sigma is a critical organization as it not only recognizes the outstanding achievements of transfer students, but also gives transfer students an opportunity to connect with one another," Wes said. "Often transfer students tend to be a few years older and come in not having connections, so this gives them a chance to meet new people and have a group they can be a part of on campus."

Faith is also an important part of Wes' life, so he took advantage of McKendree's Campus Ministries program, becoming a CORE team member and worship leader on campus, as well as Vice President of the Fellowship of Christian Athletes (FCA). He witnessed the programs grow from just a handful of students participating to more than 60 actively involved, and he is grateful to have been a part of it.

Although Wes didn't begin his college journey as a Bearcat, he is finishing as a McKendree graduate with countless achievements and unforgettable memories. After graduating in May, he plans to start a contracting business with him family back home, as well as get involved with a program to introduce young people to investing. He hopes to coach one day and will continue to grow his podcast "Offside with Big Wes" on the side. His advice to other transfer students is simple: make McKendree your home.



"College is an important part of life and it will be so worth it to look back and see the memorable experiences you have gained as part of the McKendree community."

Learn more about opportunities at McKendree University.
Make It McKendree