Sydnee Carroll '19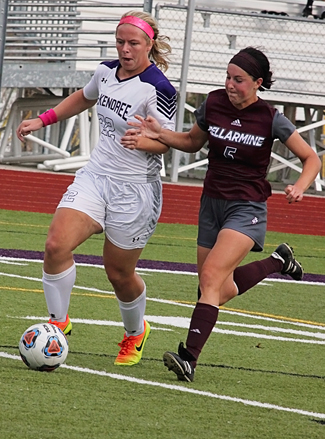 Elementary and Special Education Major from Millstadt, Illinois

Named to the Dean's List

Great Lakes Valley Conference (GLVC) Offensive Player of the Year for 2016

Member of the All-GLVC First Team

Student lab worker for McKendree's computing department

First McKendree women's soccer player to be named All-American Honorable Mention for the Division II Conference Commissioners Association

Named to the National Soccer Coaches Association of America's All-American Second Team
by Stephanie (Coartney) Dulaney '10

She made McKendree sports history with her game-winning goal at the GLVC Championship Game in 2016, but star soccer forward Sydnee Carroll '19 has learned that being a regional champion is not about what you get. It's what you give that really counts.

As an incoming first year student, Sydnee knew she wanted to major in Education and attend a university close to home. "All of my teaching friends went to McKendree to get their degree and loved it," she said. "The soccer program was a plus to coming here too. I loved where Coach Strange said he believed the program was headed, and I knew I wanted to be a part of it."

In only her second year of play as a Bearcat this season, Sydnee led the team with ten game-winning goals out of 18 in total. One of her biggest contributions, however, occurred in the GLVC Championship Game against Rockhurst University. With the score tied in overtime, Sydnee kicked in the final goal for McKendree, bringing home the university's first-ever GLVC Championship victory in any sport.

"... when the ball found the back of the net in overtime, it was the coolest thing I have ever been a part of."

"That game was one of my worst games of the season," she confessed. "I wasn't playing well, and I knew it. However, being down 1-0 at the half meant we needed to work that much harder. When we scored the goal to tie the game, we knew we could win this thing, and when the ball found the back of the net in overtime, it was the coolest thing I have ever been a part of. I remember getting piled on top of, and the excitement that everyone felt was amazing. That game will always hold a special place with me."

Sydnee credits her success on the field with a teammate who challenged her to play harder than she thought she could and a team that she says "believed we could do the impossible all season long." One of her most memorable games of the season was in fact a disheartening loss, but it inspired her to push herself even farther for her teammates. "We as a team knew we deserved to win the game against Truman State, and I realized then how much everyone was willing to fight for one another on the field. That was a really cool thing to see."

Among many honors this year, Sydnee was recognized as the GLVC Offensive Player of the Year and the first McKendree women's soccer player to be named an All-American Honorable Mention by the Division II Conference Commissioners Association.

In addition to soccer, Sydnee is a big fan of movies, music, and reading, often carrying a book with her wherever she goes. While becoming an educator is still her main goal, she plans to stay involved in the soccer community to give back what her experience as a Lady Bearcat has given her.

Learn more about McKendree University and Women's Soccer.


Make It McKendree  Apply Today!