Meet Shelby Summer '22: Educator, Math Whiz, Teammate, and Bearcat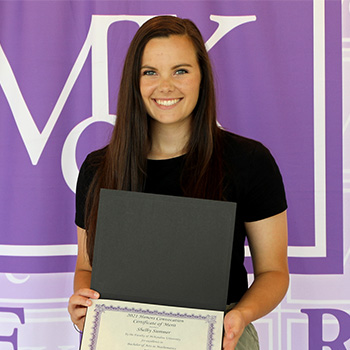 By Tina (Napper) Tebbe '08

What do you get when you add academic excellence, outstanding athleticism, unflappable diligence, and a zeal for extracurricular activities? Two words: Shelby Summer. This secondary education mathematics major has been involved in nearly every aspect of college life on McKendree's campus, but her true passions lie in numbers and helping the next generation understand them in a clear, engaging way. Read all about one of McKendree's most remarkable students below:

Exceptional Extracurricular Excellence

A rich college life can present countless opportunities for any student: the opportunities for leadership, networking with likeminded peers, forming lifelong friendships, and creating treasured memories. To say that Shelby has truly taken advantage of what McKendree has to offer is an understatement. She's been inducted into a handful of impressive societies, including Phi Eta Sigma, Kappa Delta Pi, Pi Mu Epsilon, and Phi Kappa Phi, holding officer positions in many of them. She has also been involved with Student Government Association (SGA), New Student Orientation, and McKendree Rotaract – serving as Vice President from 2019-2020 and President from 2020-2021.

Shelby's hard work in and out of the classroom hasn't gone unnoticed. She has been named to the President's List each semester since she became a Bearcat in 2017 – and still maintains a 4.0 GPA. She has also received several awards, including the Brother James Gaffney Distinguished Scholar Award for the past three years, the Council of Presidents Academic Excellence Award in 2021, the GEICO Academic All-GLVC Award during all four years, and was named an NFCA Scholar-Athlete Honoree in 2018. Shelby has received nearly half a dozen scholarships for all her hard work as well, including both the Presidential Scholarship and the Leadership Scholarship at McKendree, the Lauren S. Young Endowed Scholarship, the 2020 Phi Eta Sigma Distinguished Scholarship, and the 2021 NCAA Division 2 Degree Completion Scholarship.

"To win these awards and scholarships means a great deal to me," Shelby said.

"It shows that my hard work in the classroom and on the softball field has paid off!"

Unafraid to Step Up to the Plate

An outfielder for the McKendree softball team, Shelby also shines on the field. Most recently, her four RBIs led the Bearcats to an impressive 9-1 victory over the Drury Panthers during the Great Lakes Valley Conference Tournament held in East Peoria, Ill., this past May. It was the first inning when Shelby swung her bat and got the Bearcats on the board, thanks to a 2-run infield single. Perhaps she felt a surge of determination from being close to her stomping grounds of Washington, Illinois. Regardless, her proudest moment on the team was helping her teammates make it to their first ever NCAA tournament.

But her favorite part about being on the Bearcat softball team? Meeting her friends.



"These are my life-long friends – friendships that will last forever!" she said."

Making Math Add Up for Future Generations

Shelby always knew that she wanted to be a teacher, but it wasn't until the 5th grade that she knew she wanted to teach math, thanks to her own math teacher. "I knew after learning mathematics from Mr. Lediger in the fifth grade that I wanted to be a mathematics teacher," Shelby said. "He changed my perspective on teaching mathematics because he used manipulatives, interactive games, and board work to not only teach but also enhance our learning. I plan to use my knowledge and pay it forward to my current and future students."

Her deftness in the field seems to come naturally. She was told at an early age that she would excel as a teacher, and earlier this year McKendree recognized her for her excellence in study of mathematics. Moreover, what fuels Shelby is her determination and passion in helping students better understand what is usually considered a difficult subject. "I want to show them if you have the right mindset, you can master anything," she added.

Now, Shelby is in the middle of her student teaching experience at Breese Central High School under the supervision of her cooperating teacher, Mrs. Julianne (Harris) Jacob '07, and, unsurprisingly, she seems to be fitting in quite well. "The most enjoyable part of student teaching thus far is getting to know my students," Shelby said.

"It feels great that even though I am only a student teacher that my students feel comfortable coming to me with questions."

Forging Unbreakable Friendships at McKendree

Choosing where to attend college is one of the most important decisions any high school student can make. Shelby realized this when she chose McKendree – "primarily for the education program," she said. "This university is well known for their education program, and it did not disappoint. I also loved the hometown feel of Lebanon – it reminded me of my own hometown." In addition, she decided to become a Bearcat because of her desire to continue her softball career. "I knew Coach Fleming and Coach Thomas would help me grow as an athlete, and most importantly, as a person. I learned a great deal from them and will forever be thankful they chose me to be a part of their program," she said.

While Shelby of course invested in McKendree for her educational and athletic experiences, she gained something even more precious – treasured relationships with others. "Making lifelong friends has been the best part of my experience at McKendree," she reflected. "From the students to my teammates and even my professors, I have gained priceless friendships. Also, experiencing softball at one of the highest levels has been a lifelong dream and has given me some great memories."

"From the students to my teammates and even my professors, I have gained priceless friendships. Also, experiencing softball at one of the highest levels has been a lifelong dream and has given me some great memories."

Learn more about McKendree University.
Make It McKendree  Apply Today!