2023 Graduates Who Have Made Their Mark
by Hailey Rose '23



Emmanuel Segbedzi '23


Emmanuel Segbedzi considered many important factors that ultimately led him to pursue a degree in computer science. Because of the motivating challenge set forth by his professor, Emmanuel's mentality quickly shifted from "using" to "creating" as he originally set out to learn about app development and follow the path of becoming a network engineer.



"It develops your problem-solving, critical thinking, and complex analytical skills. It challenges you every day to think about real-life problems," Emmanuel explains.


Throughout his time at McKendree, Emmanuel has gone above and beyond to make his mark. He has been actively involved in several extracurricular activities from sports and student organizations. To name a few of his record-breaking firsts, Emmanuel is the first international student to serve two terms as a Student Government Association (SGA) President as well as the first student to serve as a student board member on the Illinois Board of Higher Education.

In addition, Emmanuel has left a lasting mark on McKendree through his engaging, unique, and unforgettable experiences during his time as a Bearcat. Through the support of the McKendree community and Chaplaincy board, Emmanuel was able to visit Israel and pass his advanced level exam for Teaching English as a Foreign Language certificate.  This certificate allowed him to land a prestigious scholarship opportunity to teach English as a second language to Ukrainian students in Poland.



"For me, my opportunity cost was traveling from Ghana to study at this noble institution--McKendree University. One of the gains is that I have fully lived my dream of attending higher education and serving my purpose for coming here," he said.

Emmanuel will never forget his time at McKendree and thanks the university for providing the tools and resources necessary to succeed. He is looking forward to his bright future ahead working in New York as a network engineer and serving in the Young Professional Program with the United Nations. He also plans to continue his education in graduate school with a leadership and entrepreneurship degree in the networking and software development field.


Breanna Sampo '23

Why did you choose your degree program and/or McKendree?



"I chose McKendree University because of the small class sizes and family feel on campus. I major in psychology with minors in clinical and counseling psychology and communication studies, which are taught by incredible faculty members."

What activities were you involved in at McKendree?



"I am the president of the psychology club and Psi Chi, the psychology honors society. I am also a student academic mentor through the student success and resident life association. I am the student captain of McKendree's color guard and love leading my fellow peers as we celebrate all that McKendree has to offer. Throughout my four years at McKendree, I have worked as a research assistant for both Dr. Boysen and Dr. Hahn. This has allowed me to grow in my confidence and ability to present our findings through article publications and poster presentations at conferences. Another amazing opportunity that I had at McKendree was interning at our student success center mentoring students."

What is next after graduation?



"All my incredible experiences at McKendree have led me to pursue a Ph.D. in Positive Developmental Psychology. I will be attending Claremont Graduate University this upcoming fall semester to continue my studies."

Bradley Eston '23
Bradley Eston's decision to choose music education as his major at McKendree was two-fold. First, he wanted to be a part of the music department, which showed a profound care and passion, and the astounding education department at the university. Secondly, McKendree provided Bradley with the perfect location to pursue his love of music and a personal, small school size that enhanced his educational experience.



"Many professors here don't just want to teach the content; they want to know who YOU are and help you discover yourself as an educator or whatever you want to be," Bradley said.

During his time at McKendree, Bradley has made a lasting mark through his extensive involvement on campus. This year marks his third year as a New Student Orientation (NSO) leader, which has given him the unique opportunity to teach new students the McKendree fight song for the past two consecutive years.

Bradley has never missed a beat when it comes to getting involved and getting to know those around him. As president of the Illinois Collegiate Music Education Association Chapter, Bradley has learned the importance of networking and forming connections.



"I have learned how to truly connect with people and show that I care, thanks to many of my professors. I have also gained a greater understanding of myself and my purpose in life," Bradley explained.

Even though Bradley's time has come to an end at McKendree, he will always cherish the memories, connections, and experiences he's had during his four years. Bradley will continue to use what he's learned at McKendree as he teaches in the surrounding area. He plans to continue his education after gaining teaching experience to get his Master's in Wind Conducting.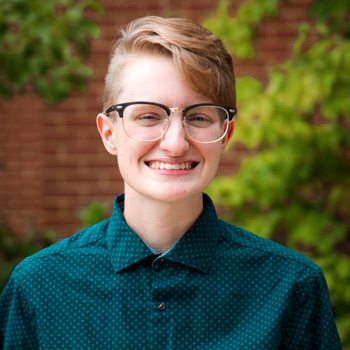 Peyton Osgood '23

Why did you choose your degree program and/or McKendree?



"I chose to pursue psychology because of my desire to help people improve their mental health, coping, and communication skills. I chose to come to McKendree because I found myself drawn to the small school environment; I really wanted to go somewhere where I wouldn't be just a number. I wanted to go somewhere where I could feel like I was part of the community."


What activities were you involved in at McKendree?



"At McKendree I have been involved in the concert band and wind ensemble for 4 years, playing the French horn. I have been a New Student Orientation (NSO) Leader and UNI 101 peer mentor, a research assistant for Dr. Guy Boysen, and I interned in Student Success for a semester helping to advise students on academic probation. Over this past summer, I was awarded the Mitacs-Fulbright Scholarship and had the opportunity to travel to Canada and work as a research assistant in a gambling and addiction lab. I have also worked at Holman Library and as a Resident Assistant in the residence halls, and I participate in our Preview Day student/faculty panels. I am also part of the honor societies Phi Eta Sigma, Pi Gamma Mu, Psi Chi, and Phi Kappa Phi."

What is next after graduation?



"After graduation, I will be moving out to California and pursuing a degree in school counseling. My goal is to become a middle school counselor."

Leonardo Schmitz-Frederico '23
Why did you choose your degree program and/or McKendree?



"I decided to come to McKendree because I liked the tennis coach, the campus and the small classes."


What activities were you involved in at McKendree?



"I've done two internships outside of McKendree. Also, I have worked on campus for Sodexo, the mail room, campus activities, and sporting events."

What is next after graduation?

"I'm still unsure of my plans after graduation. I am heading to work from May until August in the same place as my past internships. I might start my master's in August, but I am not completely sure yet."


Make It McKendree