Seniors Who Have Made Their Mark
by Grace McDowell '17



Krystin Major '16




Business Administration Major

Women's Lacrosse Team Captain: (2012-2016)

All Academic Honors under GLIAC Conference: (2015)

Secretary and President of Student Athletic Advisory Committee: (2014-2016)

Student Government Association Senator: (2014-2015)

Sigma Sigma Sigma Member, Positivity Chair, Secretary: (2012-2016)

Organized The Chili Cook Off at McKendree University to benefit the Wounded Warrior Project: (2013-2014)

Phi Beta Lambda Business Fraternity Member: (2014-2016)

Voted Member of Senior Class Gift Committee: (2015-2016)

Student Ambassador: (2012-2014)
Throughout her time as a student at McKendree, Krystin has been able to balance three internships. The first being an event planner for a country club in Delaware named Bear Trap Dunes. She had the opportunity to work golf tournaments, fundraisers, and weddings. During her senior year alone, she has held two internships and is currently interning at Cosmopolitan Events, an event planning service for weddings and other celebrations, in St. Louis. Krystin is able to be a part of the bride's big day and helps to ensure that their wedding reception runs smoothly. She says, "This internship has really shown me how much I want to get into event planning and management as my dream job!" She is also interning for Sarah Klucker, the Director of Leadership and Student Development in the Student Affairs Office. Under this internship, Krystin assisted in planning the Leadership Banquet and other related events.

After graduating from McKendree, Krystin will continue her internship with Cosmopolitan Events throughout the summer and hopes to make connections through the company that will help her secure a full time position. She has applied for jobs across the country including states such as Colorado, California, Texas, and North Carolina. While keeping her options open, She is also considering continuing her master's degree at McKendree.

Krystin credits the quality of her experience at McKendree to helping her become more personable and able to work well with others.

"McKendree was the best decision I have ever made and I am truly grateful for the sport of lacrosse for bringing me half way across the country and introducing me to these people and this institution."

Dakota Reed '16


Residence Life Resident Assistant

Hettenhausen Center for the Arts Resident Lighting Designer

McK Goes Green Living Learning Community Advisor

Student Coordinator for "It's on US!" Campaign

Spectrum Alliance President and Vice President

Honors Program Member

Campus Ministries Core Team Member
During the summer of 2014, Dakota was given an internship opportunity with the McKendree University Office of Residence Life. Here, he served on the housing collateral working to match first-year students with their new roommates and residence halls. He also helped co-coordinate a professional development conference for the College Housing Association of the St. Louis area. On top of that, Dakota worked to plan student-staff training for new Residence Assistants for the fall of 2014. In the summer of 2015, Dakota interned as the Assistant Director of Conference Services at Denison University in Granville, Ohio, under the ACUHO-I (Association of College and University Housing Officers- International) internship program. He was the primary supervisor for nine student-staff members, the main point of contact for crisis management and hospitality for on-campus groups, and a central organizer for daily activities on the campus. Dakota will be interning at Denison University again this summer.

After graduation, Dakota hopes to work as a Resident Director at a college or university with the goal of eventually becoming a dean of students. He is currently searching through the OPE (Oshkosh Placement Exchange) for professional positions in Student Affairs at Universities across the United States.

McKendree has gone above and beyond in helping Dakota achieve the skills he needs to enter his future career. McKendree has allowed him to conduct two research studies involving Student Affairs employees and the role they play in student engagement. Additionally, McKendree has encouraged and supported Dakota in taking upper-level Master's courses that have exposed him to more material than an undergraduate student typically has access to.

"I'm graduating from McKendree with confidence in what I know and the experiences to support my mindset."
Erin Genteman '16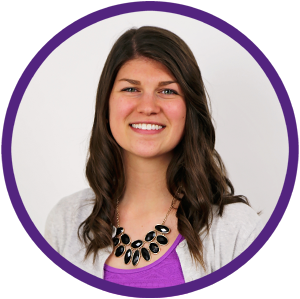 Education Major

Treasurer, Vice President, and President of Student- Illinois Educators Association: (2014-2016)

Fellowship of Christian Athletes Officer: (2012-2015)

Education Director, Music Chair, Parliamentarian, Newsletter Chair, Historian, and Awards Chair of Sigma Sigma Sigma: (2012-2016)

New Student Orientation Leader/Peer Mentor: (2013-2015)

Advanced Leaders Program: (2013-2015)
Being an education major, Erin has had to complete several student teaching and observation hours. She has observed in classrooms at Albers Elementary, Illini Elementary, and Roosevelt Elementary. During her observation at Roosevelt, Erin helped teach class periods, attended parent-teacher conferences, and assisted the teacher with student assessments.

Currently, Erin is student teaching in a 3rd grade classroom at Shiloh Elementary School in Shiloh, IL. She has been able to assist in planning weekly curriculum, create assessments to monitor students' learning, volunteer at an after-school Mad Science program, judge science fair entries at the middle school, and start full-day teaching.

After graduating from McKendree Erin hopes to obtain a job in an elementary or middle school, preferably in or around the St. Louis area. She looks forward to spending her days teaching young children.

Entering the education program, Erin realized the heavy responsibility of being fully in charge of a classroom of young minds. She has been able to feel comfortable and confident in her teaching abilities thanks to the support of her professors. McKendree has prepared her to teach diverse students with a range of needs and interests, and take on every challenge with enthusiasm.

"I cannot emphasize enough how wonderful this school's Education Department is. This program has reminded me to always be caring, encouraged me to continually seek knowledge, and prepared me for the journey of lifelong learning. Most importantly, my time here has taught me to believe in myself and to 'make my mark' on any student who walks into my classroom."

Deshawnta Houston '16


Health and Wellness Major

BSO (Black Student Organization) Member

Amazing Ladies Pursuing Holistic Activities (ALPHA) Member

Wonders of Wellness (W.O.W.)

Student Government Association

JV Volleyball: (2012-2013)
Deshawnta has had the opportunity to intern with Sodexo, McKendree's dining services offered in Ames Dining Hall and 1828 Café. This internship has allowed her to gain experience that complements her Health and Wellness major while enhancing the campus dining experience for students, faculty, and staff.

After graduation, she hopes to obtain a job working with children and teens who need assistance in the nutritional aspects of life.

Deshawnta believes McKendree has provided her with the necessary tools to be successful.

"Career services helped me in determining where I wanted to do my internship and made sure I was on top of my game with getting the paper work signed and creating a presentable resume."
She also comments that working as a phone-a-thon caller and lab assistant for the IT department has prepared her for a variety of opportunities that will approach her upon graduation.



Mandy Aoieong '16




Speech Communication Major

Change Ambassador (2015-2016)

Competitive Dance Team (2015-2016)

New Student Orientation Leader (2013-2014)

PomCats Dance Team (2012-2014)

Kappa Sigma Tau Sorority Member (2012-2013)
Mandy has been successful in obtaining an internship with Allied Integrated Marketing, an agency in St. Louis that partners with movie studios such as Disney, Warner Brothers, Pixar, Lions Gate, and much more. However, she was primarily an intern under Warner Brothers. During this internship, she set up advance screenings and promoted upcoming movies through small businesses, companies, and nearby universities. Through it all, Mandy enjoyed best the opportunity to work with a variety of people as a team.

At this moment, Mandy is still making future career decisions, but plans on taking a marketing and promotions career path after graduation. She recently received an interview with Apple, Inc., in Cupertino, CA, for a position of event coordinator. The interview was a success and Mandy is keeping this position, as well as others, in mind as she makes her decision.

Mandy credits her professors at McKendree for providing her with a variety of skills she needs to be successful in her future career. The personal advice she has received from professors has helped her prepare for the challenges that may come her way.

"The time and effort these instructors and professors have provided for me really makes a difference. I wouldn't be where I am if it wasn't for McKendree University."
Make It McKendree