Where Our Graduates Are Headed
by Grace McDowell '17

Brandon Mihalich '16


Pre-Professional Major

Honor's Program Member (2012-2016)

Peer Tutor for Biology and Chemistry (2014-2016)

Vice President of Alpha Delta Gamma National Fraternity (2015)

Vice President of Finance, Alpha Delta Gamma National Fraternity (2013-2015)

Treasurer of Inter-Greek Council (2013-2014)

Alpha Delta Gamma Representative for Inter-Greek Council (2012-2013)
In the summer of 2015, Brandon was able to familiarize himself with the dental profession through an internship at Innovative Dentistry under dentist, Dr. Jeffrey Lautz. He regularly observed dental operations including extractions, crown preparations and placements, implants, and root canals. This internship opportunity assisted Brandon in solidifying his decision to pursue a career in the dental industry.

After completing his Bachelor's degree at McKendree, Brandon plans to continue his education at The Ohio State University College of Dentistry. He looks to specialize in oral and maxillofacial surgery with a specific interest in oral cancers. Additionally, he hopes to become actively involved with research on cancer or oral infectious disease at the College of Dentistry.

Brandon believes collaboration has been an important aspect in his learning experience at McKendree. By allowing him to work with other individuals to solve problems, he was able to gain an understanding of ideas from people of different backgrounds. Community service through McKendree has helped him gain a greater understanding of different perspectives. Brandon notes that service is a fundamental attribute of the dental profession.

"I am confident that my experiences at McKendree University involving the exposure to diverse course subjects, discussion of community issues, and volunteering with individuals of varying backgrounds will allow me to successfully transition into dental school and further progress throughout my career in the dental field."
Joshua Brandon '16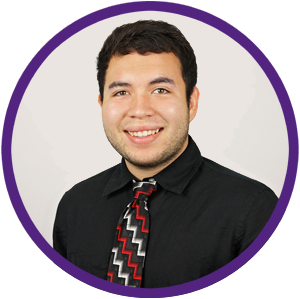 Academic Support Center Tutor (2014-2015)

Campus Ministries Worship Leader (2013-2015)

Homecoming King (2014-2015)

Lyn Huxford Center for Community Service Fellow (2014-2015)

Sigma Zeta (2014-2015)

Student Government Association Treasurer (2014-2015)

Student Government Association Senator (2013-2014)

Alpha Phi Omega (2013-2014)

Campus Activities Board (2013-2014)
To better prepare for his future after McKendree, Josh chose to perform research in fungal applications for biofuels. He was able to work with research advisor, Dr. VanPutte, and scientific materials manager, Dave Dressel, in a team oriented approach that allowed him to gain skills needed for a future career in medicine. Josh spent long hours in the research lab on weekends that were crucial to the process and development of becoming the physician he aspires to be.

Josh completed his bachelor's degree at McKendree last December and is currently tutoring at Sylvan Learning Center in Carterville, IL. He also rotates as a substitute teacher in math and science at local southern Illinois schools. Although he is still waiting on a few more medical school interviews, he has been accepted to and plans on attending Southern Illinois University School of Medicine in the fall to continue pursuing a physician's career.

Josh believes his mentorship, leadership opportunities, and community support from McKendree were all key in his acceptance to medical school. Although classes were challenging, his professors were more than willing to stay late and rearrange their schedule in order to clear up concepts and provide mentorship. Josh believes serving as a leader at McKendree has rounded out who he is as a person. These experiences allowed him to work with a broad range of people who taught him the core values of true servant leadership. Lastly, the community support at McKendree was stronger than Josh ever expected.

"Whether at Leemon Field on a Saturday afternoon, PAC lounge between classes, or even the study room at the end of the hall, one can be certain that a Bearcat friend is sure to smile and greet you."

Taylor Cope '16


Campus Ministries Core Team (2012-2015)

Emerging Leaders / Advanced Leaders (2013-2015)

McKendree Lyn Huxford Center for Community Service Scholar (2012-2015)

Social Justice and Equity Committee (2015)

Justice Walking (2013)

Student Government Association
As a business major, Taylor secured an internship with American Financial Wilks and Associates in Swansea, IL from May to December of 2015. The intent of the internship was that the employer could train and prepare Taylor to become a full-time employee after graduation. She prepared for client meetings, made outgoing client calls, scheduled appointments, ran account reports, and performed several other one time projects for the company. She was also given the opportunity to sit in on client meetings to observe and learn about the role of a financial advisor. Although she does not currently work for a personal finance business, Taylor believes the financial processes she learned are beneficial and useful for her future.

After completing her degree in December, Taylor began working in her hometown, Bloomington, IL, at State Farm Insurance's corporate office as an Assistant Financial Analyst in the Capital Management department. Currently, she is working with a team to build a stress test model that measures how well State Farm could financially handle catastrophic scenarios. Taylor feels that State Farm employees are highly encouraged to continue their education through degrees and other means. She plans to earn her master's degree in the next couple of years, with the help of State Farm.

Taylor is thankful for the extracurricular opportunities McKendree provided that assisted her in growing her skill set. By observing and learning from the leaders that surrounded her, she was able to apply these skills when leadership opportunities arose. Her business professors at McKendree were able to provide their business experience as examples to learn from.

"I had professors who had worked for corporations prior to teaching, so they were able to teach me about the various topics covered in those classes through real-life and applicable examples."
Rhoda Warner '16


Campus Ministries (2012-2016)

Resident Assistant (2014-2016)

Student Government Association Senator, Parliamentarian, and President (2012-2016)

Center for Public Service (2012-2015)

Resident Hall Association (2012-2014)

Student Ambassador

A.L.P.H.A.
To gain experience in religious studies, Rhoda worked with the McKendree Center for Faith and Spirituality during an internship with Rev. Tim Harrison her junior year. She was able to gain hands-on experience in ministry planning while learning how to effectively lead a faith-based group. This opportunity also allowed Rhoda to create meaningful relationships between various faiths on campus through service. This was an unforgettable experience that provided many tools for church leadership to equip her future. She has also held an internship at Christ Church UMC. The large size and congregation of this church allowed her to work in various aspects of Christian ministry. Her internship at Christ Church UMC enabled Rhoda to practice what she was learning in the classroom at McKendree.

Upon graduating from McKendree in May, Rhoda will continue her education at Duke Divinity as a seminary student. She will be on track to obtain her Masters of Divinity within three years. While attending Duke, Rhoda is looking forward to being actively involved in many students organizations such as Graduate and Professional Student Council, Students Thinking Theologically about Reconciliation, Global Fellowship, and Black Seminarians Union. During her graduate experience, she also hopes to work with diverse groups and congregations in the southeastern jurisdiction of the United Methodist Church. Currently, Rhoda is in the process of becoming a candidate for ordination as a UMC pastor. She notes, "My ultimate pursuit after McKendree is to use my skills, talents, and platform to create a world of reconciliation and understanding beginning with the church."

During her four years at McKendree, Rhoda has grown as a leader, employee, and as a student. She has had the opportunity to acquire the skills needed to successfully achieve her future goals.

Rhoda remarks about the pleasure of studying under some of the most insightful professors at McKendree, "They have both challenged and molded me into the critical thinker I am today."
Lauren Putbrese '16


Student Ambassador (2012-2016)

Sport Management Society (2014-2015)

Tri-Sigma (2012-2015)

Women's Tennis (2012-2015)

Student Worker for the Office of Communications (Summer 2015)

Phi Kappa Phi

Sigma Beta Delta

Vice President of Inter-Greek Council
In the summer of 2014, Lauren began her journey with the St. Louis Blues working as an intern in the Operations Department. When the summer ended, her internship did not. She continued working events throughout the 2014-2015 academic year. In May of 2015, Lauren was hired part-time as the Building Operations Coordinator for the Blues and maintained this job while finishing her degree at McKendree.

Upon graduating from McKendree, Lauren received a promotion to her current position as the Manager of Guest Services and Event Operations for the St. Louis Blues/Scottrade Center. In this position, she is expected to manage all part-time event staff including ushers, hosts, ticket takers, and security. Lauren is present for most events, ensuring a positive guest experience for all. Keeping her on her toes, Lauren comments that she can always expect something new and loves the career she has found.

Career Services played a vital role in securing Lauren's internship with the St. Louis Blues by helping her revise resumes, cover letters, and assisting her in the internship search process. Her advisor, Dr. Watters, provided guidance throughout the internship process and all the way up to graduation. As a student ambassador, Lauren boasted about McKendree faculty to prospective families, believing her experience at McKendree was a testimony to just how much time and devotion professors give to students.

"I could go on and on about all the great things so many professors and staff did for me at McKendree, the extra time they gave outside the classroom, and recommendations they were willing to give."
Other Interesting Class of 2016 Career Destinations




Alexandria Adams '16 is a community living instructor at Easter Seals Midwest in Kirkwood, Missouri.

Luis Alba '16 is a farm intern at Urban Harvest STL in St. Louis, Missouri.

Sarah Anderson, MAED '16 is the graduate and ABS academic advisor for the School of Nursing at Southern Illinois University in Edwardsville, Illinois.

Lauren Apetz '16 will be production assistant at KSDK Channel 5 in St. Louis, Missouri.

Chrisin Austin '16 will pursue a law degree in health law and policy at Saint Louis University School of Law in St. Louis, Missouri.

Timothy Barker '16 is employed in the IT Department at Centene Healthcare in St. Louis, Missouri.

Robert Breneman '16 will pursue a master's degree in occupational therapy at Indiana Wesleyan University.

Pierce Borah '16 will be a Social Science Teacher at Mt. Vernon Township High School in Mt. Vernon, Illinois.

Kendall Butler '16 will be an account executive at the Dallas Cowboys AT&T Stadium in Arlington, Texas.

Terwrin Crippen '16 is the manager of LDRP and Newborn Nursery at Presence Health in Danville, Illinois.

Olivia Dosier '16 is employed in the Pre-Registration Department with SSM Healthcare in Creve Coeur, Missouri.

Andrew Falls '16 is an operations intern with the Nashville Sounds Baseball Club.

Isaac Fisher '16 will be a professional quarterback for the WASA WA1LD Royals in Helsinki, Finland.

Katie Greco '16 is an universal banker at First Collinsville Bank in Swansea, Illinois.

Sandra Grossman '16 is a tax associate at CliftonLarsonAllen in Belleville, Illinois.

Maleah Grothaus '16 is an accountant at Kerber, Eck & Braeckel LLP.

Allison Harres '16 will pursue a master's degree in occupational therapy at Rockhurst University in Kansas City, Missouri.

Lauren Haukapp '16 is an inside sales representative at the St. Louis Blues.

Edward Hegner '16 is the operations manager at The Furies in Wellfleet, Massachusetts.

Joseph Horstmann '16 is the president/LPL financial advisor at Horstmann Premier Financial in Highland, Illinois.

Arielle Hummel '16 is the HR assistant/leave coordinator for ALTOUR in Jeffersonville, Indiana.

Amanda Kowalczyk '16 is a Title RTI support at Dupo School District 196 in Dupo, Illinois.

Allen Lanning '16 is an executive IT analyst at Yum! Brands in Louisville, Kentucky.

Tanner Libbra '16 is an estimator at Budnick Converting, Inc. in Columbia, Illinois.

John Link '16 will pursue a medical degree from University of Missouri Columbia Veterinary School.

Mariah Logan '16 will pursue a master's degree in creative arts therapy at Lesley University in Cambridge, Massachusetts.

Karlie Loop '16 will pursue a master's degree from Loma Linda University School of Allied Health Professions in Loma Linda, California.

Amara' Lyons '16 is a patient care tech at Missouri Baptist Medical Center in St. Louis, Missouri.

Greg McDaniels '16 is pursuing a master's degree in college counseling and student development at Kansas State University.

Jeff Nicolaides '16 is the director of operations at Premise Health in Smyrna, Tennessee.

Samantha O'Neil, MAED '16 is a success coach in the Office of Student Success Utica College in Utica, New York.

Allex Perigan '16 is a bank teller/bookkeeper at the Bank of O'Fallon in O'Fallon, Illinois.

Dakota Reed '16 will be a resident director at the University of Wisconsin in Platteville, Wisconsin.

Austin Rettke '16 is an employment service coordinator at Empac Group in Washington, Missouri.

Everett Rodgers '16 is an IT analyst at Hyatt Regency St. Louis at the Arch.

Alexis Sauerwein '16 will be an intern with Alta Modacomm in Los Angeles, California.

A.J. Schmidt '16 will be a sales representative for Meade Tractor.

Zane Schmudlach '16 is an accountant at Bridgeway Inc. in Macomb, Illinois.

Harrison Skokos '16 is a recruiter at Insight Global in Bradenton, Florida.

Thea Smekens, MAED '16 is a residential life coordinator at Ohio Wesleyan University in Delaware, Ohio.

Riley Smith '16 is a Transportation Analyst with ULine Shipping.

Jamie Steward '16 is a math teacher at Alton Senior High School in Alton, Illinois.

Katherine Stuckmeyer '16 is an inventory accountant at Veritiv in St. Louis, Missouri.

Kellsei Tate '16 is an assistant hall director at Western Kentucky University in Bowling Green, Kentucky.

Sydney Thompson '16 will pursue a Master's in Clinical Child Psychology at SIUE.

Alyssa Twigg '16 is a retail sales representative at The Hershey Company in O'Fallon, Illinois.

Dylon Viglasky '16 is a management trainee at Enterprise Holdings in St. Louis, Missouri.

Hope Waters '16 is a music/band teacher at Grantfork Elementary School in Grantfork, Illinois. She is also the band director at Highland High School in Highland, Ill.

Hannah Wessel '16 will pursue a chiropractic degree at Logan University in St. Louis, Missouri.
Make It McKendree  Apply Today!