Lucky Baar '17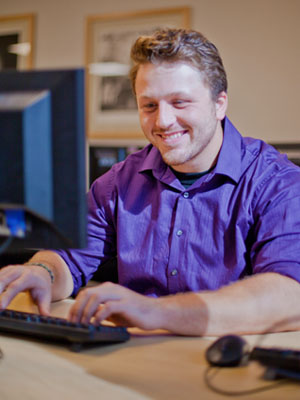 Senior computer science major from Chicago, Illinois

Summer internship as a system administrator for the Federal Reserve Bank

Student lab worker for McKendree's computing department

Named to the Dean's List and member of Phi Eta Sigma and Upsilon Pi Epsilon

Defensive lineman for McKendree football team

Great Lakes Valley Conference Defensive Player of the Year for 2015

McKendree's first-ever Associated Press Little All-American
by Stephanie (Coartney) Dulaney '10

Whether he's managing the network for the university's computing program or making history on the football field, computer science student Lucky Baar '17 knows that his McKendree experience has given him all the right ingredients for success.

A Chicago native, Lucky enjoys the small-town feel of McKendree's campus community. On the field, he's broken school and conference records for his number of quarterback sacks and tackles for loss. In the classroom, he's tackled challenges with that same perseverance and dedication, while building relationships along the way.

"My favorite part about being a student here has to be how close I was able to get with my professors. They enjoy seeing me succeed and really try to get me prepared for life after school."
For Lucky, the ability to get to know faculty, coaches, and fellow students on an individual level has opened countless doors of opportunity, both academically and professionally.

It all started when he volunteered for the job of student lab worker for the computing department. He quickly learned what it was like to be a network administrator in a real world setting, configuring the machines that other computing students used for class. "One day an employee from the Federal Reserve Bank emailed my professor about a job opening that described everything I was doing in the lab. He told me, 'This sounds like your dream job.'"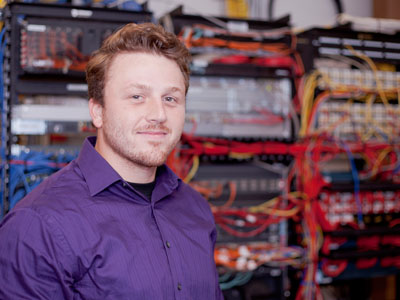 Lucky was hired for a summer internship as a Linux system administrator for the Federal Reserve's research department. The Federal Reserve Bank of St. Louis is one of 12 regional Reserve banks in the federal system, providing services in seven different states and playing a key role in the economic stability of the country. Lucky's job involved setting up servers, managing the computer systems used for FRED (Federal Reserve Economic Data), and coding programs that would automate many of the system tasks. "Without the extracurricular work I did in the lab for the CSI Department, I would never have been able to get this job," he said. "I left with a greater knowledge of the setup of an enterprise-level web environment, and the things I learned can be carried over into anything else in my field."

Lucky has also learned that at McKendree, unique, meaningful experiences often find you when you least expect them. It's one reason why he's going into his senior year with the goal to savor every moment and keep an open mind on where the future will take him next.

Learn more about McKendree University and the Computer Science program.
Make It McKendree