Luca Simonetti '20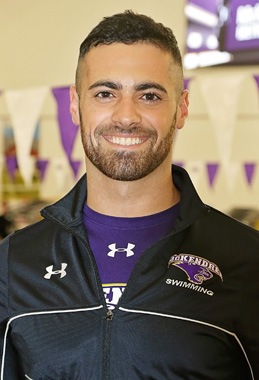 Data Analytics major with minors in Physics and Mathematics

International student from Sassari, Italy

Men's swimming and diving team

Data analyst intern at Carnival Corporate Shipbuilding in the United Kingdom

Data analyst intern at the Water Research Institute of the National Research Council of Italy

Vice President of the Future Data Scientists of the World

Member of Phi Eta Sigma National Honor Society

Named to President's List and Dean's List

By Stephanie (Coartney) Dulaney '10

For swimmer and Data Analytics major Luca Simonetti '20, taking the plunge into the unknown has meant discovering new opportunities and creating his own path. When he first came to McKendree, not only did he arrive in a new country, but he also became a founding member of the university's swimming and diving team and majored in one of McKendree's newest degree programs, Data Analytics. Now as a senior, Luca looks back on the important skills, friends, and experiences he gained from his decision to make McKendree his second home.

"I had never been to the United States before my journey at McKendree started in August 2016," Luca said. "My passion for swimming was probably one of the main reasons why I decided to look for a college in the States. Unfortunately in Italy, it is quite complicated to combine sports and higher education since Italian institutions do not have any sort of collegiate sport associations that go along with their academics. Coach Tierney's experience and the idea of being part of the 'founders' of the McKendree swimming and diving team got me extremely excited and motivated to commit to the Bearcat family and pursue my undergraduate studies here."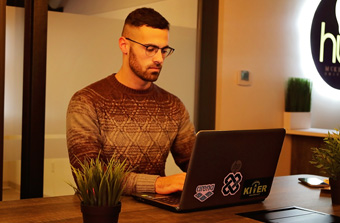 In addition to helping establish Bearcat swimming and diving as a strong competitive force, Luca has also excelled academically. He chose to major in Data Analytics, a rapidly growing field that relies heavily on mathematical concepts and technology to draw conclusions from massive data sets. McKendree added the new degree program just in time for Luca to take advantage of coursework that would prepare him for two exciting internships.

The summer before his junior year, Luca served as a data analyst intern for the Water Research Institute of the National Research Council of Italy. He worked directly with two researchers there to develop a numerical model that simulated snowpack melting and compacting. This model was designed to help scientists understand and predict how climate change is affecting the water supply chain in watershed basins intersected by snow. The internship gave Luca the opportunity to experience real world situations where he could apply classroom concepts, namely quantitative data analysis, numerical modelling, and technical statistical analysis.

One year later, Luca landed another data analytics internship, this time for a company in the United Kingdom. "I was specifically brought in by Carnival Corporate Shipbuilding under the guidance of Vice President of Strategic Sourcing Jon McKeown and Vice President of Asset Management Nick Goddard to explore how data analytics could be applied within these areas of shipbuilding activity," he said. 

"I undertook a wide range of tasks in support of the asset management, sourcing and technical disciplines, including data cleaning, analysis, modeling, and developing an analytics tool aimed at assessing space utilization in the company's new-build vessels by platform type."

Luca credits his McKendree coursework for giving him the foundation he needed to break into the data analytics field and grow his skills in two meaningful internships. His love for swimming brought him here, but it was his willingness to step outside the familiar and try something new that led him to achieve so much in four years.

Learn more about opportunities at McKendree University.
Make It McKendree