Lesley Onstott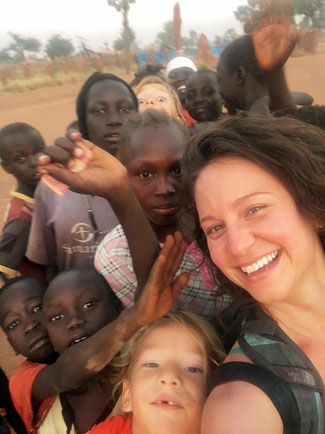 Daughter of Associate Professor Dr. Karan Onstott and volunteer on McKendree mission trip to Nicaragua

Project Manager and Producer for Not Impossible, a company dedicated to sharing the stories of the world's most vulnerable populations and offering practical solutions to improve their lives

Founding partner of a sustainable 'tween clothing line that utilizes the talents of traditional Bangladeshi craftspeople while generating awareness about the lives of girls around the world

Currently living and working in Yida, a refugee camp in South Sudan
Whether she's interviewing young girls in the slums of Bangladesh or photographing a Sudanese amputee being fitted with his first prosthetic, Lesley Onstott has learned that solving global issues and telling people's stories go hand-in-hand. Her background in photojournalism and documentary film led her to an incredible career traveling the world. Today she's working to provide real solutions to human needs in developing countries and share the message that we're more similar than we know.

How did you first get interested in experiencing life on a global scale?

I'm not sure how it started, but I was always interested in different cultures and working abroad. When I was preparing for college, I wasn't sure what to major in, but I knew it should be international. So I started with international affairs and ended up adding journalism. Now I understand journalism is a hugely important responsibility that plays an integral role in everyone's lives.

What are some of the initiatives you're working on in South Sudan right now?

I was first here at the end of 2016, and at that time, we worked on a prosthetic project. In 2013, our founder 3D printed prosthetics in the Nuba Mountains of Sudan. The idea behind the design is that all pieces needed to build and individually fit a prosthetic will be contained within a box the size of a shoebox. With minimal training, someone can build and fit a prosthetic for an amputee out in the field. This entire approach makes a prosthetic affordable and accessible to most people around the world. Eighty percent of amputees do not have access to a prosthetic; many of them live in the developing world.

We're also working with young students to supplement the education provided in the schools. In one school, we were told there are 4,000 students and 12 teachers. I document our progress, as well as interview and follow others in the community, making sure we tell very human-driven stories.

What gave you the idea to create a sustainable clothing line based in Bangladesh?

I was traveling in India and Bangladesh in 2015 and met a group of adolescent girls living in the Beribadh slum community in Dhaka. These girls were some of the most inspiring people I've ever met. Despite their environment, they were so driven to better themselves and their community. I discussed how we could create something that would provide them with education and economic opportunity. The garment industry is one of the leading economic drivers in Bangladesh, so many girls have basic sewing skills. We decided to grow upon this knowledge and experience.

My friend Julia, who is now my business partner, discovered that the 'tween market provided a great opportunity for finding our niche. It would target a demographic that could garner some important ideals that our clothing line will embody: conscious consumerism, sustainability, cultural awareness.

The young women in Bangladesh will be provided phased skills training that supports their interests. We'll be paying fair wages at safe and comfortable working spaces, sourcing ethically made and dyed materials, and incorporating a lot of other aspects, such as free clothing upkeep and incentives to recycle used clothing. We are returning next month to launch many aspects of the business and are hoping to have our first products out by the end of 2017!

Why are global issues so important to you?

When you travel and see firsthand how people are suffering in a way you have never had to overcome, it's natural to feel compelled to do something.. Putting resources in place so that people can gain education, trades, knowledge, whatever it is that will allow them to better themselves and those around them is key.

I love to document and share imagery and stories from the places I visit. Creating awareness and understanding is what will change the world. Stories have the power to change perspectives, even for a moment. Strong images are very emotive for people. Doing my part and showcasing the commonalities rather than the differences between us all, I believe, has the ability to encourage movement and change. I have had the fortune to experience shared humanity firsthand, so I try to do my best in helping others experience it no matter where they are in the world.