Kelly Damann '21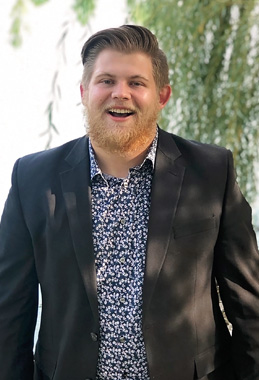 Music Education major from Mascoutah, Illinois

Member of the Band, Concert Band, Wind Ensemble, Percussion Ensemble, Jazz Ensemble, Jazz Combo, Concert Choir, and Chamber Choir

Performed with the Highland Muny Band, Saint Louis Brass Band, and No-Name Chorale

Member and former President of McKendree's Chapter of the National Association for Music Education

Golden Apple Scholar

Named to the Dean's List

Served on the staff at Wesclin Sr. High School, Highland High School, Okawville High School, Breese Central Community High School, and Mascoutah High School

By Stephanie (Coartney) Dulaney '10

Big dreams lay at the foundation of all great accomplishments, and for senior Kelly Damann '21, those dreams began in the music classroom. They started as a deep appreciation for the effect music can have on a single life and soon blossomed into a passion for bringing that positive force to others. Kelly's talent as a musician has already led him to achieve much during his time at McKendree, from becoming a Golden Apple Scholar to performing alongside professional musicians to even serving as a composer/lyricist for an upcoming musical. Thanks to the unique opportunities he has received, he's more prepared than ever to take his dreams to new heights.

"I chose music education as my major because the music classroom is how I discovered myself and how I improved as an individual and a musician," Kelly said.



"My teachers nourished my musical passion and helped me through some of the darkest times of my life.Towards the end of my sophomore year of high school, I knew I would pursue music education in the hopes I would reach students much like my instructors reached me."


Kelly's desire to give back what he experienced as a music student fueled his drive for professional growth opportunities. As a Golden Apple Scholar, he is one of a select number of teacher candidates in the State of Illinois to take part in special development seminars with a commitment to teaching five years in a school of need. "Golden Apple has strengthened not only my teaching, but also my worldview as Golden Apple takes a strong stance against racism and takes great pride in helping its Scholars create inclusive classroom environments throughout the state," he said.

In addition to hands-on experiences performing in McKendree music ensembles and outside professional groups, as well as leading band students at five area high schools, Kelly also finds time to compose his own music. It's been a hobby of his since he was a child, but it wasn't until spring 2020 that he picked it up again and noticed a call for composer submissions for a new musical. He applied and was selected to work with Straton Rushing, a playwright/lyricist in the Master of Fine Arts Dramatic Writing Program at Arizona State University. They met and finished their first song for the show on the same day.

In spite of the challenges the global pandemic has brought to 2020 and college students in particular, Kelly has used every moment of his time as a Bearcat to advance closer to his dreams. "McKendree has prepared me to meet my goals by encouraging me to be in charge of my own learning, and giving me access to a number of first-hand experiences I could not have gotten in other settings," he said. "I have been able to teach private lessons, help work McKendree Band Camps, conduct various ensembles on and off campus, work with local music programs, and perform professionally in the Metro-East. What McKendree does best is enable students to become the musician and educator that they want to be, and it has afforded me the opportunities to prove myself and hone my craft every step along the way." Kelly plans to eventually attend the two to three year-long BMI Lehman Engel Musical Theatre Workshop in New York to continue learning and sharing his voice in musical theatre on a new stage.

Learn more about opportunities at McKendree University.
Make It McKendree  Apply Today!