Kara Grafton '20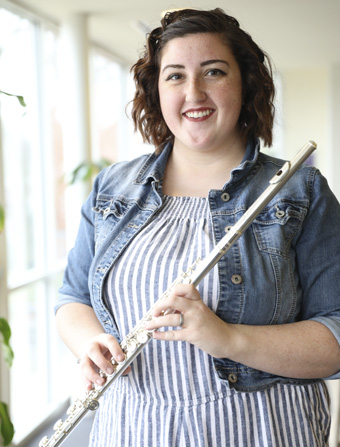 By Grant Riggs '19


As a music education major, Kara Grafton '20 has been able to fulfill one of her lifelong passions. "I chose music education as my major, because music was always something that was a part of my life growing up," Kara said. "Music helped me through some rough times in my life."

Along with her music education major, Kara is involved with concert band, wind ensemble, flute ensemble, concert choir, chamber choir, and was a part of Legally Blonde: The Musical. These experiences stand out to Kara, with concert band and the musical teaching her lifelong lessons. "The best part of my McKendree experience has to be getting to perform in all of the different ensembles," Kara said.

"We play about two concerts a semester, and I have learned so much about perseverance, dedication, and work ethic through preparing for these concerts. The musical was also another great opportunity where I learned about teamwork and leadership."

This past semester, Kara also served as the fundraising chair for Kappa Lambda Iota, a Clionian Literary Society founded in 1869. Kara is set to become the sorority's next president for the next calendar year, beginning in the spring semester of 2019. "Something that makes us so unique is the fact that we are a smaller group," Kara said. "This really aids us in becoming closer and focusing on the aspect of sisterhood."

"I was drawn to McKendree because I got the feeling of 'home' here. I knew almost instantly that this is a place where I would be a face with a name, and not a number in a crowd."

Kara chose to attend McKendree because she joyed the small feel of the campus. Here, she has found her true self and has learned along her journey. "Some advice that I would give my freshman year version of myself is that it is okay to not know what you want to do with your life, or to change what you want to do," Kara said. "Finally, I would say sit in the front of the classroom so you are better engaged and your teachers may see that you care about their class."

Learn more about the Music program and McKendree University.
Make It McKendree