Dr. Jennifer Moder-Bell Honored for Hands-On Learning Experiences in Music Education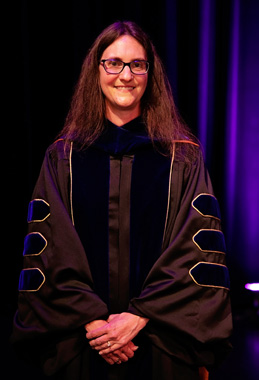 By Stephanie (Coartney) Dulaney '10

When Associate Professor of Music Dr. Jennifer Moder-Bell received the Grandy Faculty Award this year, she was honored to be recognized for what she considers the best part of her job: giving students and young musicians throughout the community out-of-the-box learning opportunities they couldn't get elsewhere.

Each year, the Grandy Award is presented to one McKendree faculty member who has demonstrated a commitment to students and the values of the university, as well as a passion for community outreach. Dr. Moder-Bell's innovative approach to learning made her the perfect fit. From hosting music camps for local middle school and high school students, to organizing master classes with outside professionals, she has brought countless learning opportunities to present and future Bearcats.

"Our Music Department works together as a team to bring in professional artists to enrich the musical experience of McKendree students and area high school musicians," said Moder-Bell. She has helped run such campus events as the ILMEA audition clinic for high school musicians, in which they work directly with McKendree faculty to prepare for the all-district audition, and Music Major Experience Day, which brings professional guests to campus, such as Grammy-winning soprano Christine Brewer, to perform and lead master classes. During instrument development nights, McKendree faculty present a master class to music majors and high school musicians. Just last year, Moder-Bell helped create an Honor Band and Choir Festival, bringing to campus top musicians from local high schools and community colleges.

One of her favorite events to lead, however, is the annual McKendree University Junior High Concert Band Camp. Started in 2015, the program brought 128 junior high musicians to campus last year for a four-day camp. Each day students participate in full band rehearsals, master classes and sectionals led by McKendree music education majors, a special topics class on areas such as the basics of composing, music theory, or music history, performances by McKendree music professors, and a culminating performance for their parents.

"I model the camp after the Bradley University Central Illinois Summer Band Camp that I helped start when I was a junior high director in Peoria, Illinois," she said. "This camp is one of the highlights of my year as I get so much pride and honor watching my music education majors teach the young musicians in sectional and master classes, and I love making music with the junior high students."

In addition to her work in the classroom and on-campus events, Moder-Bell serves as the President and solo trombonist of the St. Louis Brass Band, enjoys biking and running half-marathons with her husband John, and loves spending time with Wiggles, her Cavalier King Charles Spaniel. Her parents taught her the importance of having a foundation of support when pursuing one's passions and still make it a point to attend her concerts on campus. That personalized support is something she brings to each of her students and seeks to share with other young musicians.



"It's important for faculty to be an outreach to our community. We have been given gifts in our own specific disciplines, and sharing them with area youth and community members is a special way to share our passions and knowledge base with others. Hands-on experiences prepare the next generation of music educators for careers where they can make a positive difference in their students' lives," said Dr. Moder-Bell.

Learn more about opportunities at McKendree University.
Make It McKendree