Students Take Advantage of Unique Internships
by Stephanie (Coartney) Dulaney '10

From working with national corporations to professional sports teams to government agencies, these McKendree students spent their summer having fun and gaining real world experience at some awesome internships.



Lindsey Jansen '17


Accounting Intern at Enterprise Fleet Management in St. Louis, Mo.

Double Major in Economics & Finance and Accounting with a Management Minor
Spending the summer with one of the nation's leading car rental companies, Enterprise, proved to be an unforgettable experience for Lindsey Jansen '17. A St. Louis native, Lindsey was attracted to Enterprise because of its large-scale success and headquarters in St. Louis. "I went online and found they were looking to fill an accounting internship within their business department, so I applied right away," she said.

After two interviews, Lindsey was selected for the job and soon found herself working in a building with more than 500 employees and 40 other interns. Her responsibilities included issuing payments to car dealers and manufacturers, as well as activating customer leases. "Enterprise human resources set up the internship so that all the interns could gain as much as possible from the experience," said Lindsey.

"The best thing I gained from this opportunity was just being in the real workforce and experiencing how normal work life will be."
One of the coolest parts of her internship was the day she and her fellow interns took a corporate tour to meet the Enterprise president, CEO, CFO, COO, and many other company administrators. They were able to network with managers and even took part in a volunteer event alongside their supervisors at the St. Louis Food Bank. "It was a cool way to mingle and work together in a different environment while providing for the community," she said. Lindsey plans to pursue an MBA after graduation, and she knows that her internship experience will help her achieve her personal and professional goals.
Madelaine Zinser '17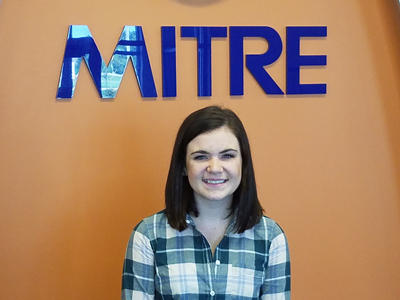 Software Engineering Intern at MITRE Corporation

Computational Science and Biology Major

When someone is truly passionate about something, you can hear it in their voice. Ask Madelaine Zinser '17 about her summer internship, and you know she's found the path to her perfect career.

When Madelaine first applied to the internship program with the MITRE Corporation, she wondered if it was beyond her reach, but she took a chance. She spent hours preparing for the interview with help from her professors and McKendree's career services staff and was thrilled to be chosen as a software engineer. With locations all over the world, MITRE is a Federally Funded Research and Development Center (FFRDC), a non-profit organization that supports government and military projects. Madelaine helped support operations on Scott Air Force Base, primarily mission management for U.S. Transportation Command and cloud development for work load balancing. "My internship focused on my needs and interests," she said. "I more than doubled the amount of content on my resume in three months." Madelaine also contributed to a research project on containerization, the process of creating applications that can run on any technology infrastructure.

"One of the best parts of my internship was traveling to MITRE headquarters in Washington, D.C. to attend presentations on machine learning and artificial intelligence."
"This is a rare and incredible opportunity for interns," she said.  Earning a U.S. Dept. of Defense security clearance was also one of her highlights.

Madelaine hopes to land a full-time job with MITRE and pursue a doctoral degree in the future. In the meantime, she's thankful for an internship experience that gave her much more than she ever imagined. "Learning so much in the industry has given me a new perspective in the classroom. I now have a greater understanding and appreciation of applying classroom content."

Sarah Goetze '17


Peoria County Probation Intern with the County Government in Peoria, Ill.

Double Major in Professional Writing and Rhetoric and Sociology with an Emphasis in Criminal Justice
It started out with an email to the Peoria County Probation Office seeking openings for an intern. It resulted in an incredible three-month experience that showed Sarah Goetze '17 what it's really like to work in a correctional facility.

In the classroom, Sarah had already formed a strong foundation of the many complex issues that make up the criminal justice field. It wasn't until her internship, however, that she discovered what it was like to work with them all on a daily basis. Sarah was immediately paired with a domestic violence officer and had the opportunity to conduct meetings with many of his clients, checking in with them to make sure they were taking the steps to successfully complete their probation sentence. She also spent hours observing mental health, drug, and DUI court sessions every week and visited the jail to conduct interviews and write pre-sentence investigations. Sarah even attended training sessions led by Illinois Attorney General Lisa Madigan.

More than anything, however, Sarah loved the opportunity to work one-on-one with officers from so many different fields. "I sat in with the regular line, domestic violence, mental health, drug, and DUI officers, so I got to see a little bit of everything that happens," she said.

"Everybody there always turned everything into a learning experience for me, whether it was an officer, supervisor, director, or even a judge." 
Sarah says she learned the importance of truly listening to people's life stories in order to understand them. After graduation, she plans to take that passion to the next level by pursuing her master's in criminal justice from McKendree. "My sociology professors are absolutely amazing and so knowledgeable. I wouldn't mind getting to spend two more years with them. Getting that personal connection with faculty and even the president here has helped me learn how to communicate with supervisors at work, which really gave me confidence in my internship."
Connor Cooper '17


Sales and Service Intern with Monumental Sports and Entertainment in Washington, D.C.

Sport Management Major
For Connor Cooper '17, working as an intern with the Washington Mystics was everything he envisioned sports sales would be when he decided to pursue a degree in sport management. It started when a networking contact introduced him to a ticket sales representative for the NBA. "I found out more about the industry and fell in love with it," he said.

"I started sending my resume to teams and set up a few interviews. When the Mystics offered me the position, I accepted right away. I had always wanted to visit Washington, D.C."
Connor was selected as an intern for Monumental Sports and Entertainment, parent company of the Washington Wizards, Capitals, Mystics, and new AFL team Valor. Since the Mystics were in season over the summer, Connor worked at every game coordinating fan benefits and serving as guest services assistant in the arena. During regular office hours, he worked one-on-one with season ticket members and prospective clients to promote sales for the Mystics.

"The coolest part of my internship was selling VIP season tickets for Valor, the new AFL team, on the first day tickets went on sale," he said. Connor came away from his internship energized with a renewed sense of where he wants his career to take him in the years to come. After graduation, he plans to stay in the sports sales industry and eventually become ticket sales manager for a major sports organization.
Brad Groleau '17


Athletic Training Intern with the Chicago Bandits

Athletic Training Major
Athletic training student Brad Grolaeu '17 dreams of one day working with professional athletes to ensure they're always performing to the best of their abilities. Fortunately, he got a taste of that dream when he landed a summer internship with the professional softball team, the Chicago Bandits.

Brad first reached out to Athletico, a physical therapy company associated with sports teams across the country, regarding internship opportunities. After a series of phone and in-person interviews, he was delighted to hear he had been selected to intern for the Bandits. "Working with a professional sports organization was really cool," he said.

"Not only did I get to work with the players and the Bandits athletic trainer, but I also interacted and worked with the team doctor and chiropractor."
Brad provided therapy to treat players' chronic conditions, such as shoulder impingement and biceps tendonitis, and performed a variety of stretching movements and massage treatments, along with strengthening exercises and tapings. While being in the dugout was a lot of fun in itself, Brad says the internship gave him insight on what it really takes to work as a professional athletic trainer. "One experience I took away from working with these professionals was observing their interactions with the athletes and realizing the importance of trust and effective communication," he said.

Brad's internship experience is just another stepping stone to his goal of earning his master's in athletic training and continuing his work with athletes. During his time at McKendree, he's had the opportunity to work with athletes in men's and women's soccer, men's volleyball, men's basketball, and football, as well as serve on the Iota Tau Alpha Athletic Training Honor Society and Student Athletic Advisory Committee. "All of these experiences have allowed me to gain confidence in my abilities and made me well prepared for my future."
Christian DiBerardino '18


Intern at rEvolution in Chicago, Ill.

Double Major in Sport Management and Marketing
For sport management and marketing student Christian DiBerardino '18, interning at one of Chicago's top sports marketing and media agencies was the perfect way to blend two of his passions into one remarkable experience. He first landed the role at rEvolution after hearing about the company's internship opportunities through a family friend. After a rigorous interview process, he was chosen for an internship position with rEvolution's production team.

Christian quickly learned how to make production schedules, manage production budgeting, and work together with members of the client services team to create marketing plans that best fit each client. rEvolution specializes in brand building for all different kinds of sports teams, so after learning the ins and outs of the process, Christian was put in charge of managing a full series of activations for first-time client, the Ultimate Fighting Championship (UFC).

One of the most memorable parts of the internship for him came when he went on a travel assignment states away.

"I was flown out to Connecticut to work the annual PGA golf tournament, the Travelers Championship."
"This is one of the company's biggest events of the year with one of their biggest clients," he said.

Through it all, Christian says he experienced something that few people actually see: the behind-the-scenes work of the sports marketing world. "I learned how to confidently complete all steps in presenting the best marketing plan possible," he said. After graduation, Christian plans to continue working for a sports marketing agency, and he knows that his accomplishments during his internship have given him the confidence to reach those goals.
Make It McKendree