Hope Gramly '22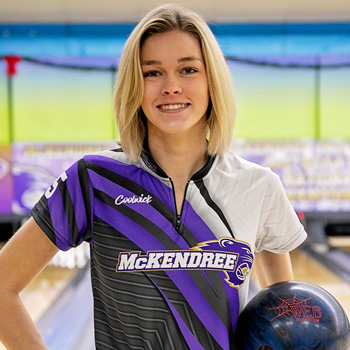 Senior Exercise Science and Sports Performance major from Prosper, Texas

Bowling team

Middle Blocker on Volleyball team

2022 Women's Bowling NCAA DI National Championship

2021 National Tenpin Coaches Association (NTCA) Division II Bowler of the Year

2021 and 2022 Great Lakes Valley Conference (GLVC) Player of the Year for Bowling and Academic All-Conference Honoree

2018 GLVC Freshman of the Year for Volleyball and Second-Team All-GLVC Honors in 2018 and 2019

Named to President's List and Dean's List

Member of Phi Eta Sigma National Honor Society
by Stephanie (Coartney) Dulaney '10

Inspired by her love of sports, Hope Gramly '22 has garnered national accolades as a Bearcat athlete in not one, but two different collegiate sports programs. Volleyball and bowling may seem to have little in common, but Hope has found they each enable her to exercise her different strengths while also preparing her for a career working with athletes from all backgrounds.

She first began competing in bowling ten years ago and started volleyball when she earned a spot on her middle school team. "Both sports have allowed me to grow more as an all-around athlete," she said. "The combination has worked so well for me because of the drastic differences between the two. Volleyball is fast-paced with quick reaction times and split-second decisions. Bowling is more technical and mentally demanding." 

Hope seized the opportunity to compete in both as a Bearcat. Now a senior, she reflects on the challenges, accomplishments, and unforgettable memories she made along the way. She was recognized as GLVC Freshman of the Year in Volleyball, as well as the NTCA Division II Rookie of the Year in Bowling, while still in her first seasons of play. Most recently, she was unanimously chosen as the GLVC Player of the Year in Bowling in both 2021 and 2022 and named the 2021 NTCA Division II Bowler of the Year, as well as NTCA First-Team All-Region. Her impressive scoring helped McKendree solidify its hold as the No. 1 seed in bowling last season.

"Receiving these accolades is an amazing accomplishment, and I'm proud for putting myself in a position to be considered for them," she said.



"It's with great pride that I'm able to compete at the highest level and bring light to our sport."

Hope will earn her Bachelor's degree in Exercise Science and Sports Performance in May 2022 and plans to obtain her Master's in Athletic Training in 2023 through McKendree's accelerated program. She looks forward to helping countless other athletes achieve their dreams while staying in the game longer and healing injuries faster. "Sports have always been my life, and I've grown to love every aspect of it," she said. "I'm most proud of how far I've made it competing for two teams at the collegiate level. I can't imagine my life any different."

Learn more about McKendree University.