Grace McDowell '17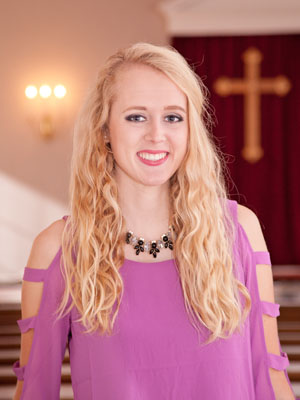 Senior speech communication major from Mount Vernon, Ill.

Bearcat Pride Award winner for 2016

Named to the President's List every semester

Core Team President and Bible study leader for Campus Ministries

New Student Orientation Leader and Peer Mentor

Journalist for the McKendree Review student newspaper

St. Louis Stray Rescue volunteer

Contestant on "McKendree Idol" and "McKendree's Got Talent"
by Stephanie (Coartney) Dulaney '10

When you're proud to be a McKendree Bearcat, your school spirit goes deeper than the number of games you attend or how much purple you wear. Senior Grace McDowell '17 knows that Bearcat pride means being part of a community that supports one another, knows how to have fun, and helps you grow along the way.

As a first-year student, Grace knew she wanted to take advantage of every opportunity to get involved in McKendree's vibrant student life. With countless clubs, organizations, volunteer groups, and student events to choose from, the close-knit campus offered her endless creative outlets for her many passions and interests. She joined Show Choir, took a leadership role in the Campus Ministries team, wrote articles for the McKendree Review, volunteered as a dog walker for a local shelter, and mentored the next class of McKendree students at New Student Orientation (NSO).

"Although I'm not a student athlete, I wanted to find other ways to get involved and meet other students," Grace said.

"McKendree has so many opportunities for students to get involved. I've learned a lot about myself, gained leadership skills, and made friends with students I may have never met otherwise."
Now a senior, she's thankful for the countless memories, friendships, and experiences that she said "yes" to during her time on campus. Some of her favorite stories include the time she sang her heart out in McKendree Idol, meeting her best friend in Show Choir, and the thrill of welcoming a brand new group of students to campus for NSO.

"Being a contestant on McKendree Idol for three years was such a blast! Singing and performing with other students who have the same passion as me was a thrilling experience I'll never forget," she recalls. "Joining Show Choir, I was part of a team that encouraged each other and helped build each other's confidence. I'll always remember the blood, sweat, and glitter that went into those dances! As an NSO leader, I was able to connect with the freshman class and help ease their transition at McKendree. NSO is one of the most exciting times of the year, and it made me proud to be a Bearcat."

Grace's zest for soaking up the full McKendree experience led her to receive honors last spring as one of the top inspirational student leaders on campus. She won the Bearcat Pride Award for her spirit of involvement and dedication to making others' college experience unforgettable too.

"Join an organization, volunteer, become a student leader," she tells new students. "Even if you aren't an athlete, McKendree provides ample opportunities to build a community with others. These are experiences you won't look back on with regret!"

Learn more about McKendree University and the many student organizations available.
Make It McKendree