About the Great Lakes Valley Conference (GLVC)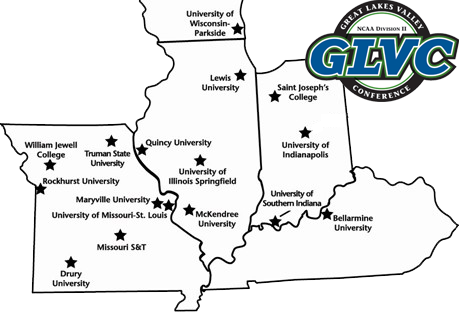 In 2010, McKendree University received and accepted an invitation to become a member of the Great Lakes Valley Conference (GLVC). McKendree was unanimously approved for membership at a meeting of the GLVC Council of Presidents.

The GLVC was established in 1978 and currently offers championships in a number of intercollegiate sports. The conference has fully embraced the National Collegiate Athletic Association (NCAA) Division II. GLVC schools have won a total of 12 national championships in basketball. The league also claimed national titles in softball, baseball, and men's soccer.

Member institutions for the GLVC come from five different states. GLVC schools from Illinois include Lewis University, McKendree University, Quincy University and the University of Illinois at Springfield. Conference members from Missouri are Drury University, Maryville University, Missouri University of Science and Technology, Rockhurst University, Truman State University, the University of Missouri-St. Louis and William Jewell College. GLVC members from Indiana include Saint Joseph's College, the University of Indianapolis and the University of Southern Indiana. The lone GLVC institution from the state of Kentucky is Bellarmine University and in Wisconsin - the University of Wisconsin-Parkside.

GLVC Member Institutions

Bellarmine University (Louisville, Kentucky)
Drury University (Springfield, Missouri)
University of Illinois at Springfield (Springfield, Illinois)
University of Indianapolis (Indianapolis, Indiana)
Lewis University (Romeoville, Illinois)
Maryville University (St. Louis, Missouri)
McKendree University (Lebanon, Illinois)
Missouri University of S&T (Rolla Missouri)
University of Missouri-St. Louis (St. Louis, Missouri)
Quincy University (Quincy, Illinois)
Rockhurst University (Kansas City, Missouri)
Saint Joseph's College (Rensselaer, Indiana)
University of Southern Indiana (Evansville, Indiana)
Truman State University (Kirksville, Missouri)

William Jewell College (Liberty, Missouri)
University of Wisconsin-Parkside (Kenosha, Wisconsin)
GLVC Sports

Baseball
Men's Basketball
Women's Basketball
Cross County
Football
Men's Golf
Women's Golf
Men's Soccer
Women's Soccer
Softball
Men's Tennis
Women's Tennis
Track & Field

Volleyball
Websites
Great Lakes Valley Conference (GLVC)