Emmanuel Segbedzi '23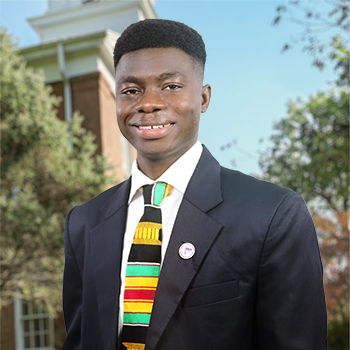 Computer Science major and Biology minor from Accra, Ghana

New Student Orientation (NSO) leader

UNI 101 Peer Mentor

Student Government Association (SGA) President

Member of Phi Eta Sigma Honor Society

Bearcat Cross Country and Track & Field Teams

Volunteer for the Center for Community Service and Center for Faith & Spirituality
by Stephanie (Coartney) Dulaney '10

When Emmanuel Segbedzi '23 was searching for the perfect university, he knew he wanted to go somewhere that he could make a difference. Even if it meant traveling thousands of miles from his hometown in Ghana, Emmanuel's philosophy of thriving where you're planted inspired him to put down roots at McKendree, where he felt empowered to contribute his own talents to the benefit of the entire community.

"I started getting involved with Student Government Association (SGA) my freshmen year as a meeting attendant to get a conceptual learning process of addressing student-related problems," he said.



"I got enlightened by the discussions and all the agenda proposed for the student body, so I took a further step to run as a senator to participate in the solution and decision-making process."

This year Emmanuel was elected SGA President, and he already has an ambitious list of goals to accomplish. Furthering social justice issues on campus, improving communication through the McKendree App, and launching an inter-college allegiance board are just a few of the highlights.

"As the author John Maxwell said, 'The pessimist complains about the wind. The optimist expects it to change. The leader adjusts the sails.' I ran for SGA President to be the leader that adjusts the sails," said Emmanuel.

In addition to his campus activism, Emmanuel is a valued athlete on the Bearcat Cross Country and Track & Field teams, as well as a Computer Science major. His passion for working with others and learning from different perspectives has enabled him to apply a unique mindset to projects in the classroom and in his personal life. "I chose to major in Computer Science because I knew how important looking at problems and ideas from different angles and finding new solutions would be in almost any profession," he said.

As an international student, Emmanuel has found this wide range of perspectives and close campus community to be just what he needed in a university. He takes great pleasure in encouraging others to add their own voices to McKendree through his work as NSO Leader and UNI 101 Peer Mentor to first-year students. At his best when he's collaborating with others, Emmanuel is making his mark through his passion for problem-solving and determination to make the most out of his time as a Bearcat.

Learn more about McKendree University.
Make It McKendree