New Entryway Monument

 "The new entryway monument will make a bold statement to visitors and welcome them to McKendree University." ~ Dr. James Dennis, former president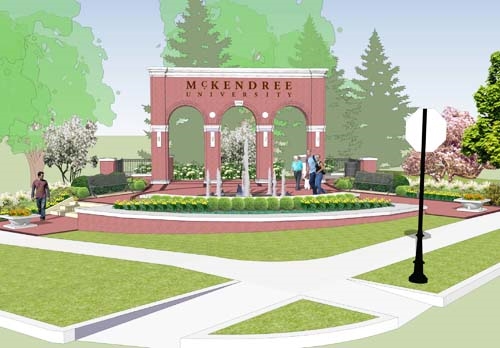 What: Design features a large brick structure with three archways that reads "McKendree University" and "1828" (the year McK was founded) below that. In front of the archway is a circular patio made of brick pavers, with a "dancing" fountain that projects intermittent jets of water upward. There are two entries to the patio; one with stairs and one with a ramp for wheelchair access. The front and sides of the patio will be bordered by landscape plants.

Where: At the corner of Alton and St. Louis Streets.

Who: Designed by Arcturis; built by Holland Construction.

When: Completion is expected sometime in November, 2013.

Why: The new entryway will be a major focal point as one arrives on campus coming from St. Louis Street to the east or Belleville Street to the west. The area will be an important new place in the future life of the campus community, where class, individual or group photos may be taken.

How Much: The project has been financed by donor funds.