Arela Williams '18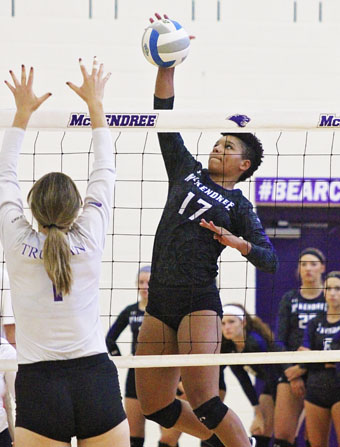 Senior Exercise Science and Sports Performance major from San Diego, California

Outside hitter for women's volleyball

Named Great Lakes Valley Conference (GLVC) Fall Scholar-Athlete of the Year for Women's Volleyball for the 2015 and 2016 seasons

Member of the 2016 All-GLVC First Team

American Volleyball Coaches Association (AVCA) All-Midwest Region Honoree in 2016

All-American Honorable Mention in 2016

Named to Division II Conference Commissioners Association (D2CCA) All Midwest-Region Second Team in 2016 and First Team in 2015

Named 2014 NCAA Division II Midwest Region Freshman of the Year and 2014 GLVC Volleyball Freshman of the Year

Named to President's List and Dean's List

Student Ambassador
by Stephanie (Coartney) Dulaney '10

With a relentless drive and strong belief in her ability to succeed, Arela Williams '18 has always been determined to "Make her Mark" wherever she goes. At McKendree, she's found the perfect place to grow her talents and leave a lasting impression on a team and sport that keep inspiring her to reach new heights.

"I came to McKendree because I was looking for a small school with small class sizes, and I knew I would make an immediate impact on the volleyball team," Arela said. She was definitely right about that. In just her first year on campus, she earned the honors of NCAA Division II Midwest Region Freshman of the Year and GLVC Volleyball Freshman of the Year.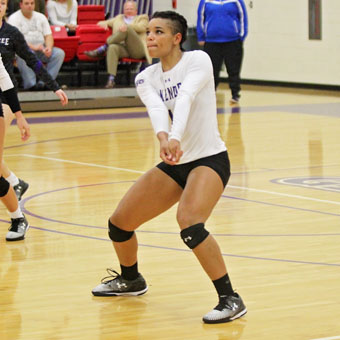 Since then, Arela has made school history as the first-ever McKendree student to be named GLVC Fall Scholar-Athlete for Volleyball and only the second McKendree student to be named GLVC Scholar-Athlete of the Year in any sport. She was also part of the university's first volleyball team to earn a bid to the NCAA Division II Championships and led the Lady Bearcats to finish runner-up in last year's GLVC Conference Championship Tournament.

"It was great getting to be a part of the first volleyball team that went to an NCAA Championship, and knowing that I was a direct influence in that accomplishment," she said. "But just going was definitely not enough for me or the team, and the standard is set even higher this year."

Arela's success in class and on the court reflects the persistence and winning attitude with which she approaches life. She says it's what she expects from herself and is a way of honoring those who've believed in her. "Every single one of my volleyball coaches has inspired me because they always demanded more than what I thought I could give. My parents definitely inspire me because they have sacrificed so much for me to be where I am. I am only where I am now because they gave me the tools to get here."

A senior majoring in Exercise Science and Sports Performance, Arela plans to pursue her Master's degree after graduation and continue her volleyball career by competing internationally. She also hopes to pass on her enthusiasm for the sport as a coach for a local club team.

"The best part about being an McK student is definitely the people I've met and the connections I've made while here," she said.

"I've enjoyed getting to do what I love with great coaches and teammates and becoming a stronger person through it all."

Learn more about McKendree University.
Make It McKendree