Michelle Magnussen, M.F.A.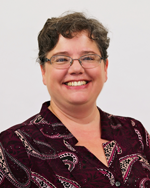 Associate Professor of Theatre
Office: Eisenmayer Hall 105
Phone: (618) 537-6586

Education

M.F.A., Theater Performance, University of Louisville (1996)
B.A., Speech Communication and Theatre, Carthage College (1991)

Research Interests

Whatever time period the current department show requires!

General Interests

Elizabethan performance and costume
Tennessee Williams
Commedia dell arte
Stage combat styles and weaponry

Professional Theatre

1990-1992 scenario cast member, contracted combatant, Bristol Renaissance Faire, Bristol, WI
1994 member, Creation Theatre Group, Louisville, KY
1995-1999 founding member, Actors Renaissance Theatre, St. Louis
2002 member of acting company and costume designer, (mostly) Harmless Theatre, St. Louis

Teaching Philosophy

Theater classes benefit everyone, regardless of their end goals in the field. Performance classes should allow student-actors to progress as far as their drive and talent will take them. Whatever a student's end goals in theatre, I believe the study of acting can help them in their personal development as well as their education. In acting, a performer's instrument is the self. Imagination, discipline, and empathy are all developed as an actor works on his or her craft. These skills are helpful in life regardless of a student's major or personal goals.

In Introduction to Theatre, I want students to understand how many interrelated subjects come together to make the unified whole that is theater. In such an introductory course, my goal is to make a student, at the very least, a more appreciative audience member. For more interested students, the course serves as a solid base for further study in theater.

In working on mainstage productions, a good director should work for maximum student involvement, while maintaining the quality of the final performance. Once students are cast, then a director must work through the rehearsal process to challenge each student-actor as he or she develops his or her role. Within rehearsal, a director must create an environment of exploration, experimentation, and fun, while maintaining high standards of discipline and courtesy.
Overall, a student leaving McKendree with a theater major should be a well-rounded theater artist, with a solid base in all of the different fields that contribute to the realization of a production. All students involved in theater, regardless of major, should come away with an understanding and appreciation of the work that goes into a production, and experience in the joy and magic that theater can create for both the participants and their audience.

Advising/Committee Work

Advisor to Alpha Psi Omega, national honorary theater fraternity
Served on the McKendree College Search Committee for the position of Director of the Russel E. and Fern M. Hettenhausen Center for the Arts
Served on the McKendree College Center for Fine and Performing Arts User Committee, Student Affairs Committee, Technology Advisory Committee.
Member of Brown Bag Committee
University 101 Instructor/Advisor