Daryl Hancock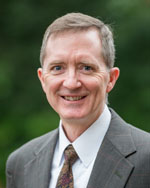 Chief of Staff
Executive Director for McKendree Worldwide

Office: Wildy Hall, 2nd Floor

Phone: (618) 537-6870
Responsibilities

As Chief of Staff and Executive Director for McKendree Worldwide, Hancock oversees and advises on a wide variety of executive duties and institutional initiatives. He serves as the primary liaison between the President and the various Vice Presidents and Directors to enhance coordination and communication. Leveraging his experience in education and the military, he guides several institutional initiatives to promote enrollment growth, regional partnerships, retention, and financial strength, including a new 21st Century multipurpose learning space call theHub, that combines cutting edge technology and collaboration tools into an active learning environment. He was instrumental to the establishment of a new chapter of the SALUTE National Honor Society, and several new student focused groups, such as the Student Veteran Association, McKendree's Cyber Academy, and a National Collegiate Cyber Defense Competition Team.

Hancock leads many of the day-to-day operations and helps drive the strategic direction of McKendree Worldwide, which includes graduate and online programs, Kentucky Campus, and the Center at Scott Air Force Base. With a focus on meeting students' needs, regardless their condition or stage in life, the McKendree Worldwide team strives to provide a high quality educational experience through the delivery of rigorous online degree programs that meet the needs of today's busy students. Committed to opening new pathways for adults and nontraditional students, Hancock is passionate about enabling students to complete their education so they can continue their life story.

Background

Hancock retired from the U.S. Navy following 30 years of service. Early in his career he served as a surface warfare officer aboard a guided-missile destroyer, and also had several unique tours, including aboard USS Constitution, as a university ROTC instructor, and as officer-in-charge of a Navy Sail Training Ketch. As an intelligence officer, he served with the Flag Staffs aboard USS Wasp, USS George Washington and USS Bonhomme Richard. Operating afloat & ashore, he supported stabilization and combat operations in Iraq, the Balkans and Haiti, tsunami relief operations in Indonesia, and counter-piracy operations off Somalia. He served in senior leadership roles in Washington, D.C., at the Office of Naval Intelligence and the Pentagon, as well within the Intelligence Community, and with NATO as U.S. Senior National Representative and Team Leader for NATO's Advisory Team to the Tunisian military. He was the Director of Intelligence, and Commander of the Joint Intelligence Operations Center, at U.S. Transportation Command, and the first Director of Intelligence for U.S. Tenth Fleet and Fleet Cyber Command.

Honors & Education

Hancock was selected as a recipient of the Illinois Bicentennial HONOR 200, which honors the work of 200 veterans who continue to make extraordinary contributions to the people of Illinois. During his Navy career, he received numerous personal awards and decorations, including multiple awards of the Defense Superior Service Medal, Legion of Merit, Defense Meritorious Service Medal, and Meritorious Service Medal, as well as the NATO Meritorious Service Medal, Military Volunteer Service Medal, the Defense Intelligence Director's Award, and the Edwin T. Layton Award for leadership in the Intelligence Community.

He holds master's degrees from the Naval War College and Purdue University. He is a Senior Executive Fellow from Harvard's John F. Kennedy School of Government, and his undergraduate degree is from the University of Illinois, Champaign-Urbana, where he is currently enrolled as a doctoral student. He and his wife Colleen have been married for over 30 years and have two adult children.


Areas of Expertise
Leadership and Organizational Dynamics

Online education and Adult learning

Veteran & Active Duty Support

Active Learning Environments

Technology and E-Learning

Intelligence Studies

Cybersecurity and Cyber Defense