Online Master of Arts in Performance Psychology and Leadership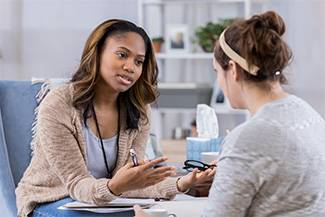 The Master's in Performance Psychology & Leadership program at McKendree provides a high-quality educational experience for leaders who will drive the future of performance psychology. As a performance psychology practitioner, you will focus on helping others with goal setting, stress management, resilience training, coaching, leadership, teamwork, and motivation. Through the performance psychology degree, you will learn to apply psychological theories and research to sports, business, military, high-risk careers, and other activities that involve psychomotor performance.
Online Class Format

All courses for this program are offered over an 8- or 16- week period. Many students choose to take two or three courses during each semester.
MA in Performance Psychology and Leadership Curriculum
The master's in performance psychology coursework is completely online and consists of 9 courses and the option of either an Action Research Project or Practicum that will teach you to integrate pathopsychology and theoretical foundations of emotion, cognition, and behavior in performance settings.
The courses are aligned with the Association for Applied Sport Psychology (AASP) Certified Mental Performance Consultant (CMPC) guidelines.
MPP 601 - Professional Ethics And standards
MPP 602 - Sport Psychology
MPP 603 - Sport Science
CNL 601 - Social and Cultural Foundations of Counseling
CNL 605 - Research and Evaluation
CNL 606 - Human Development and Learning
MPP 620 - Psychopathology and Maladaptive Behavior I
MBA 652 - Organizational Behavior
MPP 612 - Professional Seminar
MPP 610 - Action Research Project OR MPP 611 - Practicum
Total Credits: 30
Note: This master's degree does not include the work or hours required to be a licensed counselor.  
Interesting Courses
MPP 602 SPORT PSYCHOLOGY (3)
This course explores the psychological factors influencing peak and non-peak performance in sports and other areas of endeavor. Current theory and research in the practice of sport psychology are presented to develop an understanding of behaviors in performance settings. In addition, students will study basic techniques and methods for enhancing performance.
CNL 606 HUMAN DEVELOPMENT AND LEARNING (3)
This course provides a broad understanding of the developmental needs and tasks of individuals during infancy, childhood, adolescence, and adulthood. Major theoretical perspectives of normal and abnormal behavior, personality development, and learning will be reviewed. Cultural differences in development and learning will also be discussed.
CNL 605 RESEARCH AND EVALUATION (3)
This course provides an understanding of basic statistics, research design and implementation, and research report development. Additional topics reviewed include program evaluation, needs assessment, publication of research findings, and ethical and legal considerations relevant to professional counselors.
MBA 652 ORGANIZATIONAL BEHAVIOR (3)
Individual and group behavior in the organization setting is investigated in this course. The principles of organizational behavior are studied with a focus on application. Topics covered will include but are not limited to motivation, teamwork and group behavior, employee participation, job enrichment, job design, communications, diversity, decision making, change, and conflict resolution.
Action Research Project or Practicum
As part of the sport and performance psychology curriculum, you'll have the option to complete either an Action Research Project or a Practicum.
MPP 610 ACTION RESEARCH PROJECT (3)
The purpose of this project is to facilitate the process of analyzing and organizing data from action research, interpreting the data within the research project parameters, and writing a clear and accurate report of the research process, results, and implications. You will review your research with your peers and work together on ways to organize data, techniques for interpreting data, developing a logical statement of findings, organizing the information, and effective drafting of the report. Either MPP 610 or MPP 611 must be taken during the final semester of study.
MPP 611 PRACTICUM (3)
The practicum is a concentrated practice experience involving 80 hours with a preceptor, supported by conferences with faculty. Specific areas of concentration include communication/relationship building, leadership in the performance psychology environment, professionalism, and business skills. At the end of the practicum, you will have produced an application project that demonstrates the ability to perform systematic inquiry and analysis using process evaluation. The project displays professional relevance, as well as practical and direct application of evidence-based principles. Either MPP 611 or MPP 610 must be taken during the final semester of study.
Career Opportunities
The performance psychology degree is designed for leaders who want to improve the performance of the people they work with in sports, the performing arts, and other areas of exercise. This performance science degree can prepare you for a career in many fields, including:
Sports coach

Sports center manager

Sports research specialist

Sports psychology professor

Sports rehabilitation director

Clinical sports psychologist

Sports psychology consultant

Performance enhancement specialist
Transfer Credit
Following matriculation, students are expected to do their course work at McKendree. However, prior to matriculation, up to 12 credits from another accredited institution may be applied toward completion of the requirements for the Master of Arts in Performance Psychology and Leadership degree at McKendree. All transfer courses are evaluated by the director of the program.
Key Faculty
William Moore
Lecturer of Health and Physical Education
(618) 537-6983
WGMoore@mckendree.edu
Take the first step to start your future as a performance psychologist!