Fall Family Weekend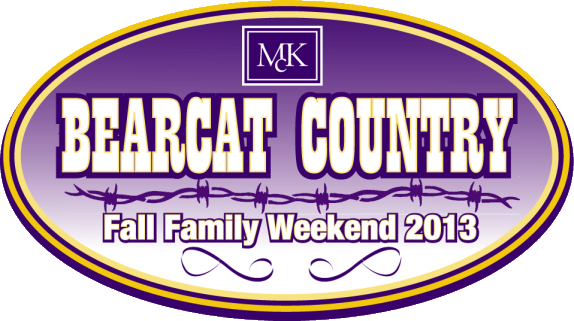 We are pleased to extend this invitation to you and your family to join your McKendree student November 1-3, 2013 for Fall Family Weekend.  Please save the dates.  This annual event promises several things:  a chance to learn about your student's life at McKendree, activities for the mind, body and soul, as well as entertainment for the whole family. 

A schedule detailing the fall 2013 events is now available.  Don't forget to book your hotel early for the weekend!  Click on the Accommodations link to the left. 

Participate in the Bearcat Big Give event.  This year, help us stock the shelves at the Lebanon Food Pantry and provide necessary supplies for children who have been removed from their home because of abuse or neglect at CASA - Court Appointed Special Advocates.  The Alpha Phi Omega service fraternity and the Campus Activities Board have partnered again to provide this annual community service event.
The football pre-game tailgate on Saturday is always a blast and this year's event will continue that trend.  In conjunction with our theme, two nationally touring bands will be the featured entertainment.  Scarletta is a trio based out of Nashville, and was included in Billboard's Top 10 Country Artists to Watch in 2013.  Their single, "Right Here Right Now" reached number 28 on the Music Row Radio Chart.  Natalie Stovall and the Drive make their second appearance at McKendree University, having previously played the End of the Year Concert on campus in spring 2012.  Natalie's motto is Peace, Love, and Fiddle and she brings a high energy show for all to experience.  Her reputation for lighting up the stage has made her a favorite to warm up audiences for country stars like Gretchen Wilson, Josh Gracin, Dierks Bentley, and others.  She was named the Campus Activities Magazine Entertainer of the Year and Female Entertainer for 2012.

If you have additional questions, please contact the McKendree University Office of Campus Activities at (618) 537-6856 or email us at campusactivities@mckendree.edu.  Please keep in mind that our staff may be difficult to reach in the week prior to Fall Family Weekend as we prepare for your arrival.  We look forward to seeing you in November!
*Please note that some events, activities, and times may change.
**The mailed registration form contained an error on the Campus Activities Office fax number and zip code.  Corrections have been made on the online schedule and form that can be downloaded.  We apologize for the error.