Fall Family Weekend - Friday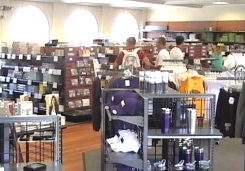 Campus Bookstore Open
8:00am to 4:00pm, Upper Deneen Center
The campus bookstore is located on the second floor of the Deneen Center. Visitors are welcome to browse their selection of merchandise. Receive a 30% discount on all clothing and gifts.
Registration, Information, and Big Give Donation Drop-Off
4:00pm-7:30pm, Lower Deneen Center, The Lair
Have questions, need directions, or want more information? Stop by our table and a Fall Family Weekend committee member will be happy to help you with registration. Donations will also be accepted for the Bearcat Big Give. You can also pick up guides to metro east area restaurants, hotels and areas of interest. Schedule changes will be posted at this location. Don't forget to purchase a ticket for a chance to win a semester of free books. Tickets are $5.00 each and available only to families with a currently registered McKendree student. A maximum of 20 tickets may be purchased per family.
FRIDAY EVENTS FOR FALL FAMILY WEEKEND ARE YET TO BE DETERMINED.  PLEASE CHECK BACK LATER.