Student Learning Outcomes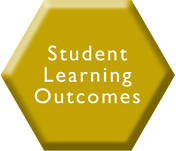 Undergraduate Student Learning Outcomes

Diverse Perspectives
Students will understand human and cultural differences, engage with diverse individuals, and embrace variety in viewpoints.


Personal and Social Responsibility
Students will exhibit personal and social responsibility.

Engagement
Students will participate actively in classroom, co-curricular, and community experiences to enhance learning.

Effective Communication
Students will communicate effectively in oral, written, and creative forms.

Inquiry and Problem Solving
Students will develop and apply analytical, critical thinking, and problem solving skills.

Discipline-Specific Competence
Students will demonstrate the knowledge, skills, and attitudes required of their chosen discipline.

Lifelong Learning
Students will develop dispositions and skills for lifelong learning.