Academic Excellence Celebration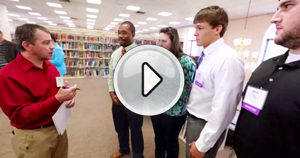 The 2017 Academic Excellence Celebration will be held on Thursday, April 27, 2017, throughout the Lebanon, Illinois campus. On that day, we will showcase our students' scholarly and creative projects and accomplishments. Last year, more than 400 students presented their academic work, and we expect this year's event to be even bigger!
During the Academic Excellence Celebration we will also hold the Honors Convocation and induct students into various academic honor societies. Family and friends are invited to attend the celebration.
Students, start thinking about the work you might share with the McKendree community. You may exhibit a poster, give a research presentation, participate in the art exhibit, or give a performance. Check back here for a link to the application form in January 2017.

See the 2016 AEC program for ideas!
Please contact Dr. Chris Bahr at cmbahr@mckendree.edu or (618) 537-6810 if you have any questions.