Academic Excellence Celebration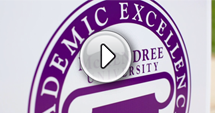 The 2015 Academic Excellence Celebration (AEC, #mckaec) will be held on Thursday, April 23, throughout the Lebanon campus. This is our annual event to showcase students' academic accomplishments. As a participant, you may choose to give a scholarly research presentation, exhibit a poster about your work, read a poem, essay, or story that you wrote, demonstrate a project or skill, display your art work in the McKendree University Gallery of Art, or perform a musical or theatrical piece. The choice is yours. Be creative. Show us what you have learned!

APPLICATION TO PRESENT, EXHIBIT A POSTER, OR PERFORM

DEADLINE FOR APPLICATIONS: March 2, 2015, 5:00 p.m.

During the AEC, we also hold our annual Academic Honors Convocation, recognizing the most accomplished graduating students in each major, and we induct hundreds of students into various academic honor societies. You may be one of them!

If you are a faculty or staff advisor to an academic honor society, and you wish to schedule an honor society induction ceremony during the Academic Excellence Celebration on April 23, please complete this application.


FOR FACULTY/STAFF ADVISORS ONLY: APPLICATION FOR HONOR SOCIETY INDUCTION
DEADLINE FOR APPLICATIONS: March 2, 2015, 5:00 p.m.

Classes on the Lebanon campus will be canceled on April 23 so that the entire McKendree University community, family, and friends can attend the sessions. Make plans to attend and bring your friends!  #MCKAEC

Please contact the Office of Academic Affairs at 537-6810 if you have any questions.