Giving Tuesday
Thank you!

Thanks to everyone who helped make #GivingTuesday a huge success.  We are humbled by alumni, friends, parents, faculty, staff and students who came together to give back.  Your incredible generosity will grant countless opportunities and transform lives.

Together, we move McKendree Forward.

Missed #GivingTuesday? You can still make a gift today or any day.

Save the Date: NOVEMBER 27, 2018

Volunteer




Looking for ways to help spread the word? This is for you! #GivingTuesday can only be successful with your help. If you would like to give of your time, then you are in the right place!

Unlike many volunteer opportunities, #GivingTuesday volunteers can do a great service to McKendree from the comfort of their home in Illinois, Missouri, or anywhere in the world!

The ideal #GivingTuesday volunteer shares content by forwarding emails, and/or interacts with McKendree social media by liking, sharing, tagging, tweeting, bearcating … ok the last one is made up, but the best way to show your bearcat pride is to use the hashtag #McKForward when interacting with McKendree social media about #GivingTuesday.

One of the best ways that you can get involved is to like the McKendree University Alumni Association Facebook page, the University Facebook page, or both!
How to Help



Like the Alumni Association Facebook page
Like the McKendree University Facebook page
Take a selfie showing off your McKendree spirit or gear and post or tweet it
Share Our Story




Your story is our story! Share your favorite McKendree story on social media. Talk about what you're doing now, how your experiences at McKendree helped to get you there, favorite professor(s), your favorite food at Ames, ghost stories, etc.

47% of Americans learn about causes via social media and online channels. This is where you come in. Share your McKendree story on social media and invite your friends and followers to do the same.
Become an Online Ambassador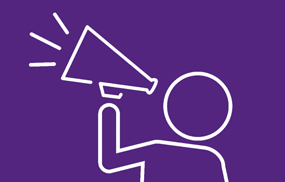 Online Ambassadors are the most important role in the #GivingTuesday campaign. They are the alumni, parents and friends who are willing to share content and promote giving to their peers through their own social networks.

For more information, read over the Role Description. To become an Online Ambassador, submit the eForm below. For more information, please contact Whitney Strang at wbstrang@mckendree.edu.
Where Does the Money Go




All gifts made on #GivingTuesday will support Forward: The Campaign for McKendree University. You may select the specific campaign objective you would like your gift to support. For more information on Forward, please visit the campaign website.
Resources




Online Ambassador Role Description
Facebook Profile Image - Giving Tuesday 2017
Facebook Timeline Cover - Giving Tuesday 2017
Twitter Profile Image - Giving Tuesday 2017
Twitter Header - Giving Tuesday 2017