Jean Scheller-Sampson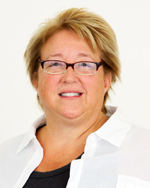 Associate Professor of Management and Marketing
Office: Piper Academic Center (PAC) 106
Phone: (618) 537-6884

Education

D. Management, Webster University 
M.A., Human Resource Development, Webster University 
M.A., Management, Webster University 
B.B.A., McKendree College

Personal Quote

"Be yourself, but be your best self. Dare to be different and follow your own star." S.H. Payer

Teaching Philosophy

I believe it is my responsibility to educate my students in a fun and relaxed atmosphere. Furthermore, I want to instill in my students the need to be a 'lifelong' learner and the importance of knowing how management will relate to a global economy.

Awards

Volunteer award from LINC (Living Independently Now)
Generations of Success Award from SWIC

Prior Work Experience

State Advocate for people with developmental disabilities (Certified QDDP, formerly QMRP) 1989-2004 Worked with state/local government and agencies to improve the lives of people with disabilities. 
Human Resource Manager for a large retail chain 1989 - 1995

Research Interests

I have a real interest in working with persons with disabilities and getting them into the workforce. I have over 15 years experience working with persons with disabilities and I know they add a great synergy to the workplace.

Teaching Interests

Management is an exciting field of study especially now due to globalization and diversity. There are so many companies we can study to integrate theory with learning. And, of course, ethics is interjected in all of the management courses to provide a solid foundation for our future managers.

Presentations

2010 Presented a poster session "Handling Your Stress" for Stress Awareness Month, at Illinois Center for Autism
2009 Presented at the Academy of Educational Studies Conference. The topic "Cooperative Learning Groups-New Terminology for an Age Old Practice".
2008 Presented at the National QMRP Conference, "Attracting and Retaining Great Employees" Memphis
2007 Presented at the Midwest Academy of Management, "Using Kinky Boots in the classroom" Kansas City
2006 Presented "Colleges and University: Benefits for the Developmentally Disabled" at the National Qualified Mental Retardation (QMRP) Conference, August 11, San Antonio, Texas
2006 Presented statistics of St. Clair County and the importance of hiring persons with disabilities, Belleville Chamber of Commerce, October 12
2006 Presented "Persons with Disabilities: Ethics in a Diverse World" at the International Teaching Business Ethics (TBE) Conference, June 8, Denver, Colorado

Committees and Boards

2008-current Illinois Center for Autism
2006-2010 Maryville Parks and Recreation
2006 LINC Business Mentor for St. Clair and Madison County, Illinois
2005 (since 1997)-St. Clair County Transition Planning Committee
1998 Co-Chairperson
2005 (since 1985)-Qualified Mental Retardation Professional-State of Illinois
1998 to 2001-East St. Louis Education-To-Careers Board
1998 Southwestern Illinois Workforce Consortium
1997 to 2000-Illinois Transition Consortium
1997 to 2000-Metro East Education-To-Careers Regional Partnership

Professional Interests

Reviewer for the Midwest Academy of Management Publication
Reviewer for McGraw-Hill, Management Text
Member of the Midwest Academy of Management