Russel E. and Fern M. Hettenhausen Center for the Arts
"The Hett" is Southern Illinois' premier performing arts venue, presenting world class dance, drama, classical music and jazz. The 488-seat auditorium is located on the McKendree University campus in Lebanon, Illinois, 25 miles from St. Louis.


COVID Update: As per Restore Illinois and new CDC guidelines our campus policy is that everyone wear a mask in University buildings.



Dominic Cheli
Friday, September 24, 2021 @ 7:30 p.m.

Classical Piano

Dominic Cheli's playing has been described as "spontaneous yet perfect, the best of how a young person can play." (Symphony Magazine). His rapidly advancing career includes his Walt Disney Concert Hall debut with legendary conductor Valery Gergiev, his Carnegie Hall Recital debut, as well as an upcoming album release on the Naxos label.A native of St. Louis, Cheli has performed with the Metropolitan Orchestra of St. Louis, as well as the San Diego Symphony, DuPage Symphony, Nordwest deutsche Philharmonic in Germany and many other.

Generously supported by Mr. William Eckert and Mrs. Janet Eckert '89
Corporate sponsor: Together Wee Grow

$25 Adult, $23 Senior, $10 Student/Child, McKendree University Students FREE

The ReMINDers

Thursday, September 30, 2021 @ 10:00 a.m., Arts Education Series (grades K-12) - see pricing

Thursday, September 30, 2021 @ 7:30 p.m.
Hip-Hop/Rap, Folk

The ReMINDers' unique mashup of razor sharp rhymes; raw, soulful vocals; and reggae-tinged hip-hop beats form the backdrop for the irrelevant and inspiring themes. The duo seamlessly blends soulful sounds and roots music with insightful messages and thoughtful lyrics. Brussels-born emcee Big Samir weaves intricate rhythmic patterns with a bilingual French-English flow, complemented by Aja Black's confident delivery and unique vocals. Married for almost a decade, they share an undeniable chemistry. The ReMINDers released their debut album "Recollect" in 2008, followed by "Born Champions" in 2012. They have shared the stage with Snoop Dogg, Lauryn Hill, Fishbone, Nas, Mos Def, Big Boi and others, garnering international acclaim. Beyond their performances, the duo often works with community organizations, schools, and universities to deliver workshops, talks, and special performances.

$25 Adult, $23 Senior, $10 Student/Child, McKendree University Students FREE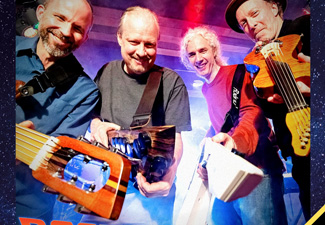 Bach to the Future
Tuesday, October 5, 2021 @ 7:30 p.m.
Classical Modern

Imagine the classics - Bach, Beethoven, Mozart - performed in exciting new ways... modern jazz, African, and Latin rhythms. Bach to the Future brings an exciting, whimsical approach to the most beloved music of all time, and some of the most interesting cutting-edge instruments you'll ever see. How about a Drum-itar? A 6 string electric violin that sounds like Jimi Hendrix? Michael Silverman is the most downloaded solo pianist in the world with over two billion downloads and streams. Rob Silverman is the author of several best-selling drum technique books.

Generously supported by President Daniel Dobbins '81 and Mrs. Mickey Dobbins '81

$25 Adult, $23 Senior, $10 Student/Child, McKendree University Students FREE