McKendree Presents: Arts Education Series
NOTICE: McKendree University and the Hettenhausen Center for the Arts holds the health and safety of its students, community and patrons as a first priority. Acting in accordance with best practices and new guidelines and recommendations issued by Gov. J.B. Pritzker and the Centers for Disease Control and Prevention regarding public gatherings and community events, all events and performances (internal, hosted or rented) scheduled at the Hett through April 15, 2020, have been cancelled, effectively immediately. These cancellations include Shakespeare Festival St. Louis "Cymbeline" (March 16), Young People's Concert (March 19), TAO DRUM (March 24), The ReMINDers (April 6), and speaker, Ishmael Beah (April 15).

The Hett Box Office will be contacting all paid ticket holders via email with directions how to exchange their tickets or receive a credit. Thank you for your patience as we work through this process.
The Hett is pleased to present a wide variety of professional touring companies programmed specifically for K-12.  Our Arts Education Series offers daytime performances for students exposing them to the transformational power of the arts. 

Attendance to any of our performances help students meet Illinois Arts Learning Standards by responding and connecting to the arts. The Arts Education series offers programs for all ages.

Reduced Prices for Groups

Call the box office at (618) 537-6863 to purchase tickets.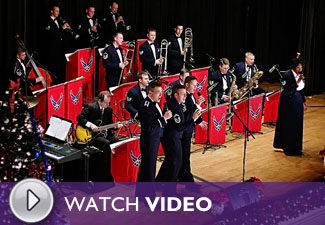 United States Air Force Band of Mid-America

Kids' show! Monday, December 9, 2019, @ 10:00 a.m.: Arts Education Series

Always a holiday favorite! Patriotic, joyful, and uplifting music by the musical ambassadors of Headquarters Air Mobility Command at Scott Air Force Base is sure to put you in the holiday spirit. New this year is an Art's Education performance for school-aged children on Monday,  Dec. 9.

The Band of Mid-America's Concert Band is composed of 45 enlisted professional musicians who represent the professionalism and excellence found throughout the U.S. Air Force. Its diverse repertoire ranges from symphonic band masterworks and traditional marches to modern compositions and jazz. The band also features professional vocal soloists performing a wide variety of popular, classical, patriotic, and holiday selections. Each year, the Band of Mid-America performs throughout a ten-state region, from the upper peninsula of Michigan to Arkansas.


Recommended for all ages.
Mermaid Theatre of Nova Scotia presents: The Rainbow Fish
Friday, March 6, 2020, @ 10:00 a.m.: Arts Education Series - $5 per child K-12 group rate / 1 free chaperone for every 10 child tickets 

The sparkling story that became an international publishing phenomenon!" Mermaid Theatre of Nova Scotia's elegant new show, The Rainbow Fish, will include an original stage adaptation of Marcus Pfister's colourful story as well two of the author's companion tales, Rainbow Fish Discovers the Deep Sea and Opposites. Mermaid Theatre has earned international acclaim for its unique interpretations of the works of Eric Carle (The Very Hungry Caterpillar), Leo Lionni (Swimmy, Frederick & Inch by Inch) and Sam McBratney (Guess How Much I Love You). These widely-travelled productions incorporate innovative puppetry, striking scenic effects, and evocative original music to provide very young audiences with an effortless introduction to the performing arts and the excitement of reading.  The Rainbow Fish features these same elements.

$22 adult, $20 senior, $5 student, McKendree University students FREE


Recommended ages K-3.
Young People's Concert: Music Around the World - CANCELLED

Thursday, March 19, 2020, @ 10:00 a.m. & 12:30 p.m.

 
Journey through the music of world cultures.  Experience the sounds from the Amazon Rain Forest, Japan, Spain, Africa, China, the Mediterranean Sea, the Czech Republic, and the United States.  Audience members will experience instrument demonstrations (both of those being used in the concert band as well as those native to some of the nations in our journey), chamber music (performed out in the audience, not on stage), and short videos between pieces with history and facts about the countries we are journeying to.  One lucky audience member will even get to conduct the concert band!

Join us for this interactive journey through Music Around the World!

Grades K-6
The ReMINDers: Hip Hop Culture 101 - CANCELLED
Monday, April 6, 2020, @ 10:00 a.m. 

Audiences will explore the origins, evolution, and contemporary expression of hip-hop music and culture. They will introduce the five core elements of hip-hop: DJing, breaking, MCing, graffiti art, and knowledge.
Recommended for all ages.