Discovery Series

Mr. Blue Sky
Rock

The ultimate ELO experience! Mr. Blue Sky recreates the majestic splendor that is the music of the Electric Light Orchestra. Beloved by its audiences, the band focuses on classic and familiar ELO hits from the 1970s, '80s, and its latest records, and mixes in selective deep cuts. The all-star cast of St. Louis-area musicians features Jeff Faulkner, lead vocals and guitar; Jake Brookman, cello; Jessie Youngblood, violin; Steve Bunck, drums; Dave Watkins, guitar; Ben Moyer, bass; Annastasia Hamilton, vocals; and Kyle Work, keyboards


Alexandra Kay
Country

Alexandra Kay, the country vocalist and internet sensation, has generated a lot of excitement in the country music community and beyond. With her 11.5 million views on YouTube covering Dolly Partons Jolene and starring in the Netflix original series Westside, Alexandra became the talk of the town. Growing up in a small rural area, she has stuck to her homegrown roots opening up for country stars such as Broseph E. Lee, A Thousand Horses, Thompson Square, and her very own idol, Jo Dee Messina. Alexandra does many song covers, but has released her own originals that includes one of her most popular Dive Bar Dreamer.


Homecoming Show
The Traveling Salvation Show
Rock
Good times never felt so good… so good… An up-tempo, rock-oriented tribute to the legendary Neil Diamond will have you dancing in your seat and singing along to his classic hits. The hard-driving band recreates the energy of Neil Diamond's live arena performances with its own rock flair. Led by "Brother Love" Jay Henke on vocals and acoustic guitar, the St. Louis-based ensemble is Dan Farroll, piano and keyboard; Jeff Pawlow, keyboard and synthesizer; Sebastian Sronce, lead gitar, Randall Eickmeyer, bass; Tim Ilko, drums, Rick Turcotte, percussion; Jamie Dedmon, Leigha Sronce, and Courtney Walker, backing vocals. Let Brother Love save your soul!

Generously supported by Cornells

U.S. Air Force Band of Mid-America Starlifter
Rock

Versatile and engaging, Starlifter is the U.S. Air Force Band of Mid-America's popular music ensemble. The seven active duty airmen-musicians perform a wide range of music from the 1970s to current hits, including rock, pop, jazz, and country. The group displays Air Force excellence to millions of audience members each year as it entertains military and civilian audiences throughout the Midwest, U.S. Central Command, and abroad.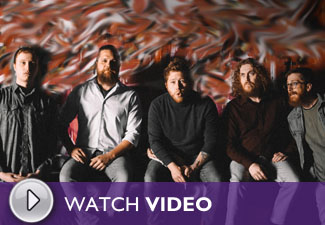 Old Salt Union

Modern Bluegrass

The progressive "newgrass" Americana string band was founded by a horticulturist, cultivated by classically trained musicians, and fueled by a vocalist-bass player who is also a hip-hop producer with a fondness for the Four Freshmen. A collision of musical backgrounds and styles informs the group's fresh approach to bluegrass and gives it an electric live performance vibe that seems to pull more from vaudeville than the front porch. Through relentless touring, the band from Belleville, Ill., has honed and developed its sound and cultivated a steadfast fan base drawn to its high-energy shows.

U.S. Air Force Band of Mid-America

Holiday
A Hett holiday tradition! The talented musical ambassadors of Headquarters Air Mobility Command at Scott Air Force Base return for three joyful, uplifting performances. The 45 enlisted musicians and vocalists of the Band of Mid-America's Concert Band represent the professionalism and excellence found throughout the U.S. Air Force. Their diverse repertoire includes symphonic masterworks, traditional marches, modern compositions, and jazz-inspired holiday music. Always a sell out!
Janet Evra

Bossa nova, jazz, bassist

Janet Evra blends traditional bossa nova, samba, and Latin jazz with modern continental influences and an indie twist to produce fresh, lush, original music in English, Portuguese, Spanish, and French.  Her favorites include Edith Piaf and Charles Trenet, including "La Mer" "La Vie en Rose." From Gloucester, England, Janet is a vocalist, bassist, composer, and songwriter based in St. Louis.  She released her debut album, Ask Her to Dance, to critical acclaim in 2018.

Big Muddy Dance Company: A Christmas Carol
Dance

The Big Muddy Dance Company presents "A Christmas Carol," a contemporary dance retelling of the classic story of love and redemption for our friend Ebenezer Scrooge. The production combines Artistic Director Brian Enos' blend of classical and contemporary choreography, an original arrangement of Tchaikovsky music by Brendan Hollins, and a raucous cast of characters for one holiday performance you won't want to miss!



Dave Dickey Big Band
Jazz, Big Band

The ReMINDers' unique mashup of razor sharp rhymes; raw, soulful vocals; and reggae-tinged hip-hop beats form the backdrop for their relevant and inspiring themes. The duo seamlessly blends soulful sounds and roots music with insightful messages and thoughtful lyrics. Brussels-born emcee Big Samir weaves intricate rhythmic patterns with a bilingual French-English flow, complemented by Aja Black's confident delivery and unique vocals. Married for almost a decade, they share an undeniable chemistry.

The ReMINDers released their debut album "Recollect" in 2008, followed by "Born Champions" in 2012. They have shared the stage with Snoop Dogg, Lauryn Hill, Fishbone, Nas, Mos Def, Big Boi and others, garnering international acclaim. Beyond their performances, the duo often works with community organizations, schools, and universities to deliver workshops, talks, and special performances.



the idea lab
Presenters TBA

McKendree University's the idea lab returns for another evening of informative and performative talks in one 90-minute event. Speakers will be announced in the Fall 2020.


Generously sponsored by the George E. McCammon Memorial Endowment.